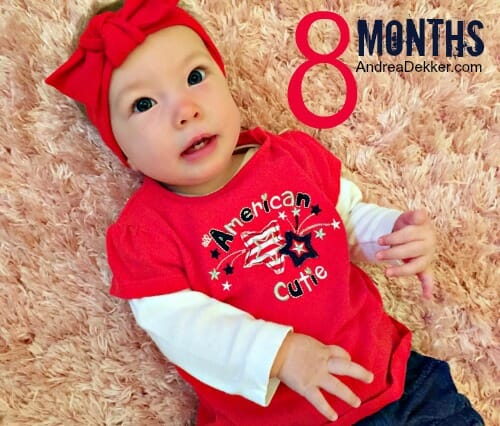 I feel like I just wrote Clara's 7 month post… and here we are at 8 months already (in patriotic attire for the upcoming holiday!)
Our chubby little bundle of sweetness is finally starting to show a bit more of her personality — which seems to be about 3 parts laid-back, and 1 part "I'm here and you are going to acknowledge me now"!
I'm excited to learn more about her little personality as she continues to grow — either way, she really is such a great complement to the entire rest of our family.
She is SO loved!
As you can see by the pictures above, Clara is officially sitting on her own!
Her main mode of transportation is to roll wherever she wants to go, but she has started to do a little army crawling and even get up on all fours and rocked back and forth.
She'll be crawling soon enough, and then we'll have to block the stairs, put all our tiny game and toy pieces up high, and keep the bathroom doors shut (one of my least favorite baby stages.)
As is the case with most youngest children, Clara is very easy-going and ever willing to come along for the ride.
It will be a sad day for me when I need to switch her out of her infant carseat because it has become such an easy way for her to nap when we run errands, visit parks, head to the library, go for walks or bike rides, or even just do yard work (she loves being outside). I simply time our outings with her naps for that day, and everyone is happy.
She is somewhat petite — maybe she'll fit in this seat for a while yet!
For anyone hesitant to have more children, I will say that the older kids definitely do their part to entertain the baby (so really, it's not nearly as difficult as a first or even second baby!)
She is fascinated by her older siblings, and for the most part, they love having her around.
I'm sure Clara will enjoy having Dave and Nora around more for summer vacation — and I know I'll really enjoy having an extra adult home all day, every day!
I have a feeling Clara and I will get some special bonding time over the next 10 weeks as Dave is often willing to take the older 3 on special outings or plan fun activities for them.
I'll definitely enjoy a little extra quiet time at home with this sweet girl!
Until next month, Clara Jo!
Happy Memorial Day weekend!