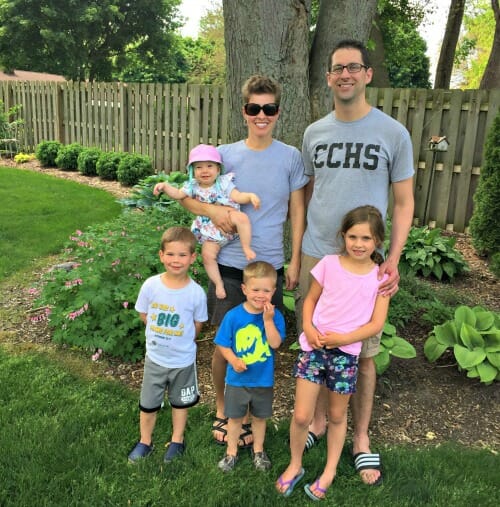 Happy Memorial Day!
Dave and I had a busy and fairly productive weekend so far — doing TONS of yard work, spreading about half of our 20+ yards of mulch, and setting up the pool we purchased at Costco a couple months ago.
My sister and her husband helped us get the pool frame set up (super easy) and then Dave set up the pump, filter, solar heater, etc. We had a few issues with leaking water, but they are now thankfully fixed!
Our hope is that this pool will last us for 2-3 summers, at which point, we would love to put an underground pool in.
.
I often like to do something different for holiday posts — so today, I'm linking back to several posts I think might be fun to read (or reread) over your long holiday weekend.
I'm also taking a mini walk down memory lane and sharing a handful of photos from my family and my yard — it's crazy how much the plants AND the kiddos have grown!
A few holiday-themed posts:
Our Red White And Blue House
I love this post and all the pictures in it — I also (apparently) love decorating with red, white, and blue. I suppose that's fitting for an old American farmhouse though.
Sigh… I still can't believe we live here!
30 Delicious Backyard BBQ Sidedishes
Looking for a yummy recipe to make for later today (or later this summer)? These simple side dish recipes are sure to please almost any crowd!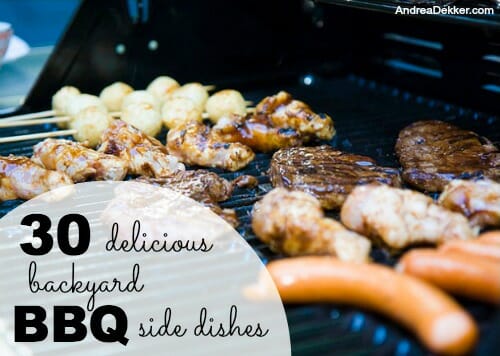 10 Tips for Bringing a Dish to Pass
If you're headed to a BBQ, a picnic, a potluck, or even just to a friend's home for a meal, here are a few of the things I consider when bringing a dish to pass.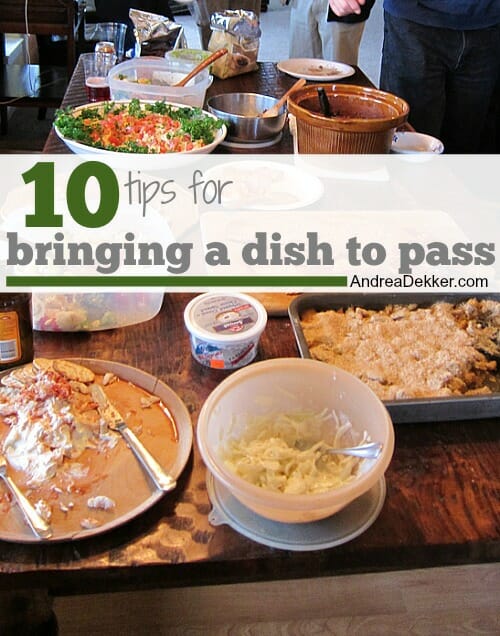 .
A few landscaping shots.
It's so hard to photograph landscape (at least with a phone camera and no real photography skill). Plus, not much is blooming in May yet… but you can definitely see how much the plants have grown over the past 5 years since we started working on our yard!
Always a work in progress, but always a labor of love for me!
2012 – before we did any landscaping (and obviously the pollen was SOOOOOOO bad this year!)
2013 – our very first year doing any landscaping.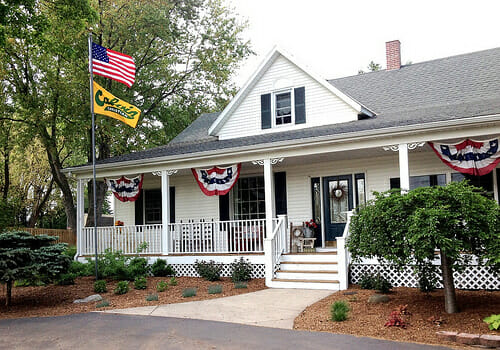 2014 – we removed the evergreen and weeping cherry trees to open it up a bit more.
2015 – lots of flowers, but still really tiny plants!
2016 – everything is growing — obviously this picture was earlier in the season so not as many blooms
2017 – looking SO full as this photo was taken later in the summer! Here's the post I wrote last year with lots more landscaping photos in it.
2018 – I actually removed a bunch of plants from these beds and rearranged some of the shrubs and perennials. I still need to plant annuals yet, but I'm waiting until the prices drop after Memorial Day!
Also, this picture is much earlier in the season than many of the other photos — so not much it blooming yet. I'll definitely share more pictures later this summer once everything is flowering!
.
A few "patriotic porch pictures" of the kids!
2014 – oh how I loved her little ringlets!
2015 – The picture below wasn't ON Memorial Day — but later in June.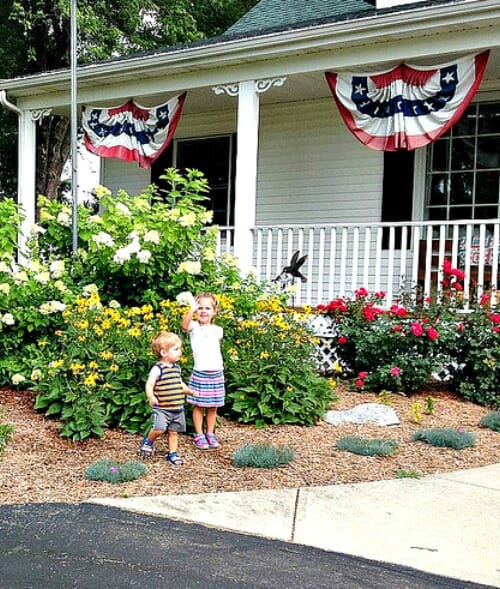 2016 – Love those bibs on James 🙂
2017 – We had just found out Clara was going to be a girl a week or so before Memorial Day!
2018 – the kids had so much fun deciding what patriotic outfit they each wanted to wear this year!
I hope all my U.S. readers have an enjoyable holiday today!
We'll see you back here tomorrow with a more "normal" post.