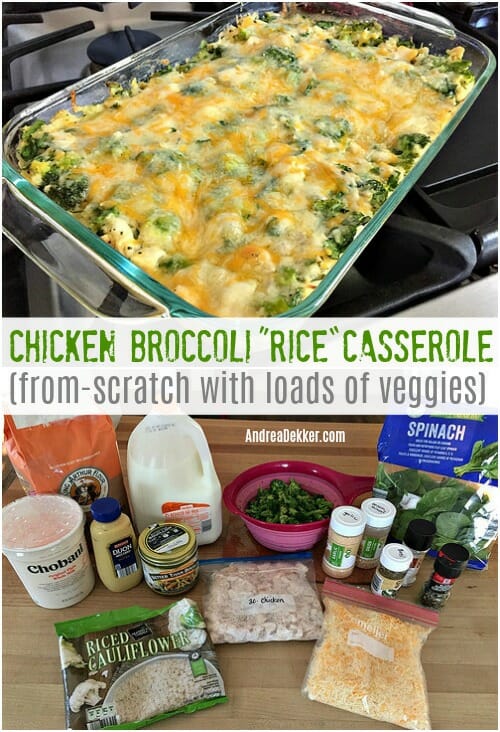 It is no secret that our family LOVES casseroles — and my extremely simple recipe for Chicken Broccoli Rice Casserole (shared on the blog 5 years ago) has always been a favorite.
It is requested on a very regular basis, leftovers are fought over, and it's just SO simple that I rarely ever complain when the kids request this meal.
Over the past 5 years, I've experimented with several different version of this recipe — some using cream of chicken soup, different cheeses, different types of rice, etc. — all of which we seem to enjoy.
However, a few months ago, I started experimenting with my own homemade sauce… and the kids really like it.
Then, last month, during my Aldi shopping experiment, I found cauliflower rice in their frozen section for only $1.50 for a one-pound bag — already riced, parboiled, and ready to go.
I figured my family would freak out if I took their beloved rice out of chicken broccoli rice casserole… but to my surprise, no one even noticed!
If you've never used cauliflower rice before, you'll most likely be shocked with how similar the flavor and texture are!
Of course, you may gladly use regular rice in place of the cauliflower rice — I just wanted to mention how pleased I've been with the taste and texture of frozen cauliflower rice, in case you've wondered about giving it a try.
Since I use frozen "rice", frozen broccoli, frozen spinach, and pre-cooked chicken from my own freezer, I can get this meal in the oven in roughly 15 minutes. Then I use the baking time to clean up the kitchen, set the table, make a few simple side dishes (applesauce, rolls, leftover oven roasted veggies, fresh fruit, etc.) and we're ready to eat a pretty substantial meal just over 30 minutes after I entered the kitchen.
Not too shabby, my friends!
If you're looking for a slightly more nutritious, veggie-loaded, completely from-scratch, yet still VERY simple alternative to this family favorite recipe… I've got you covered!
Seriously, it's good (and oh so easy!)
Recipe for From-Scratch Chicken Broccoli "Rice" Casserole
makes one 9″ x 13″ pan
INGREDIENTS:
1 pound broccoli florets (I used frozen*)
2 c. cauliflower rice (or cooked regular rice**)
2 c. spinach; chopped (I usually chop and freeze 2 c. portions)
3 c. chicken; cooked and shredded or diced
1 c. liquid (broth, water, or milk — I use 1/2 c. milk + 1/2 c. broth)
1 t. dried basil leaves
1 t. minced onion
1/2 t. garlic powder
1/2 t. black pepper
1 T. flour
2 T. Dijon mustard
1/2 c. plain Greek yogurt (or sour cream)
1/2 c. shredded cheese (I use cheddar)
salt as necessary
1 c. additional shredded cheese for the top (optional — but really good!)
* you can easily use fresh broccoli, but you'll need to boil it for 5-7 minutes before adding it to the casserole

** you can swap regular rice for the cauliflower rice, but you'll need to cook it first, and then use 2 cups COOKED rice in place of the 2 c. frozen cauliflower rice.
DIRECTIONS:
Preheat oven to 375ºF.
Grease a 9″ x 13″ casserole dish and set aside.
In a large bowl, mix chopped broccoli florets, cauliflower rice, chopped spinach, and cooked chicken. Set aside.
In a sauce pan, heat broth, milk, spices, and flour over medium heat. Use a whisk to incorporate the flour and stir until mixture thickens (7 minutes or so).
Remove pan from heat and stir in mustard, yogurt, and 1/2 c. shredded cheese. Taste the sauce and add salt as necessary.
Pour sauce over chicken, broccoli, and "rice" and stir to combine.
Scoop mixture into greased baking pan and add additional 1 c. shredded cheese.
Bake in preheated oven for 20 minutes or until center is hot and cheese is bubbly.
Serve and enjoy!
.
Obviously, the ingredient list is longer than my super simple recipe from 5 years ago… BUT, they are (in my opinion) very regular ingredients that I always have in the house.
Just a bunch of spices, some broth, a few condiments, and then the chicken, broccoli, spinach, and "rice".
I was honestly SO shocked when no one mentioned anything about the different rice — in fact, Nora and Simon ate their first portion so quickly and were asking for seconds before Dave and I even finished half our plate!
In my opinion, there is nothing bad or wrong about including real rice instead of cauliflower rice; however, in an effort to eat more veggies these past several months, the cauliflower rice has been a great swap for our family!
What is your favorite casserole recipe?
And as always, visit my virtual recipe box for more simple, delicious, family friendly recipes?