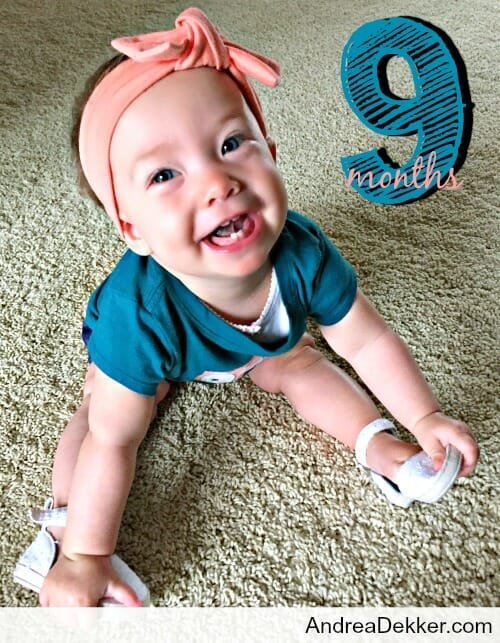 Clara is 9 months old today!
Obviously, she's pretty excited about it… and we are too!
Clara was definitley my most difficult pregnancy (none of them were really that bad, but hers was the worst). I was nauseous all day long at the beginning, I was SOOOOO tired all the time, I slept horribly, I gained a ton of weight, had super restless legs and lots of back pain, etc. etc.
I joked with Dave that she would be our easiest baby since her pregnancy was the most challenging for me… now, 9 months later, I can say she truly has been our easiest (and happiest) baby, BY FAR!
This child smiles most of her waking hours, and she is SO content. She rarely ever makes a noise except when she is very excited, hurt, or scared.
She just started waving (it's very cute!) and I told a friend of mine that I should take Clara to nursing homes and hospitals and let her smile and wave at everyone. Think how happy she would make those people!
As you can probably see from the pictures above, her top 2 teeth came in this month! 🙂
Along with her new waving skill, she now claps, says "da da", and plays peek-a-boo like a pro. She also learned how to crawl REALLY quickly, which means we are constantly shutting bathroom doors, blocking off stairs, and trying to keep small games pieces and toys off the floor (Pearler Beads and marbles are my current nemesis!)
We finally started putting her in nursery at church (I wanted to wait until she could sit up well) and she only shed a couple of tears.
We've also left her with both sets of our parents for a few hours without issues — I can see the light at the end of the baby freedom tunnel!
As if I didn't already have enough positive things to say about this little lady, I'm thrilled to report that she is eating well too — much better than any of my other babies ate at 9 months.
She wolfs down black beans, sweet potato chunks, banana chunks, cheese, eggs, pasta, prunes, strawberries, mashed potatoes, applesauce, Cheerios, and more — grunting eagerly if I don't hand her the fork quickly enough (yes, she insists on eating with a fork!)
She certainly makes being a mother of 4 young children feel much easier than I ever imagined it would feel — let's just hope I can say the same thing in 15 years!
Sweet Clara Jo, we're sure glad you're ours!