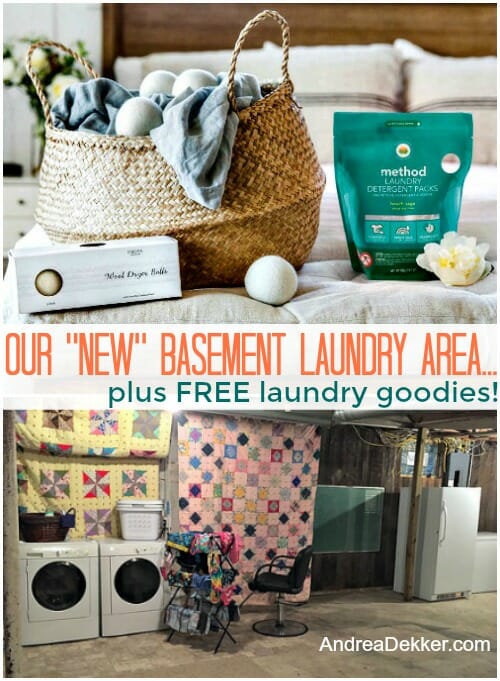 As I mentioned a couple weeks ago, we are in the (slow) process of renovating our current laundry room and the bathroom off our kitchen. I say "SLOOOOOOW" because we are having a heck of a time moving the process along.
The plumber was delayed, the drywall guy we were planning to use just informed me he's not doing any more drywall until winter, I can't get a hold of the company we need for our cabinet doors, and the tile guy can't come until mid August.
So… there's a REALLY good chance these 2 little projects will drag on for the next few months (yup, we're super bummed as we wanted them to be finished before school started again).
One ENORMOUSLY positive aspect of our projects is that we can still do laundry — thanks to the brand new laundry space we created in our basement. Seriously, I can't even imagine going an entire summer with 4 messy kids and no washer or dryer!
As you'll see by the photos below, our basement laundry area is NOT glamorous, it's NOT Pinterest worthy, and it's really NOT even all that cute. However, it IS functional and (much to my surprise) it's actually quite practical for our family's current laundry needs!
.
Here's a look at the new-to-us laundry space…
Yup, there it is — our 130 year old farmhouse basement! Nothing too special, but it's clean(ish) and it works for us for now!
To give you an idea of where the laundry area is located in the basement, it's right next to the stairs down from the mudroom… making it very convenient to bring dirty, grubby, wet outside gear down here before entering the rest of our house.
We've had this drying rack forever but never used it because we didn't have the space to put it up in our previous TINY laundry room. Now we keep it set up in the basement as the PERFCT place to hang damp suits until they are fully dry!
We added a chunk of linoleum under the washer and dryer (and a rug) to cover our dingy cement floors. Linoleum is MUCH easier to keep clean, which is nice in case clean clothing drops as I transfer it to the dryer.
Oh, and if you're wondering why in the world I have a beautician's chair in this area…. it's because this is going to be my new area to cut everyone's hair! I've always cut our entire family's hair, but never had a designated space to do it (or a handy beautician's chair!) I recently got this chair from a friend, so I figured this area was a great place to set it up (it's also on the linoleum floor for easy cleanup).
I have a storage cabinet and a mirror I eventually plan to hang on the wall — and I have a fun light I'm going to try to put up too. It will hopefully be a cute and practical space for our monthly haircuts! Now, if I can just teach Dave to cut MY hair! 🙂
.
Cost breakdown:
It was roughly $400 for the plumber to set up the hot and cold water, put a drain in, bring a gas line over, and hook up our old appliances.
My dad put the new dryer vent in and added new electrical so we have extra outlets and lights in this area.
We got the linoleum remnant from one of my parents' rental properties and already had the rug in our storage closet.
The 2 quilts are from Dave's grandma. I don't have a current use for them and thought they were the perfect size to cover some of the pipes, duct work, and dingy walls!
We already had the washer, dryer, laundry baskets and drying racks in our previous laundry room upstairs.
Not too bad, considering the fact this will eventually be our SECOND laundry space once we finally finish the new laundry room on the main floor!
I'm honestly SO excited to have 2 laundry areas!
If I use the quick cycles, I'll be able to wash 4 loads of laundry in just over an hour!
.
Since we're talking about laundry today, I thought it would be the perfect time to let you know about a really great deal from Grove for the month of June.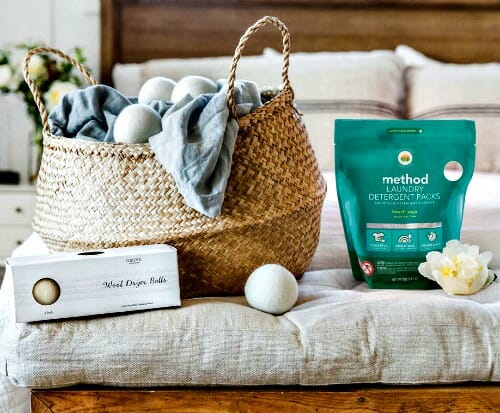 Get FREE Laundry Goodies from Grove!
If you're new to Grove, you can currently get Method Laundry Packs and Grove Wool Dryer Balls FREE with your first purchase! You'll also get FREE shipping and a free VIP trial (being a VIP is great because you'll always get free shipping and you get several bonus offers throughout the year!)

NOTE: If you're a current Grove customer, you will get a free pack of Walnut Scrubber Sponges with your next order!
I've never used the laundry packs, but I've been using the wool dryer balls for YEARS and YEARS in place of dryer sheets — they are fantastic! I just leave them in the dryer all the time (I have 6 of them) so they are never in the way and they don't need to be stored somewhere when not in use.
I've been using Grove (formerly ePantry) for convenient monthly deliveries of diapers, wipes, various toiletries, cleaning products, and more for almost 5 years now, and I still absolutely love it. Their prices are competitive, their products are top-notch, and their customer service is second to none! They are a great company that I'm proud to use and promote on my blog!
.
I'm sure I'll be sharing more laundry related posts over the next couple of months, as we continue on with our renovation process… in the meantime, I'm thrilled we have another convenient place in our home to tackle one of my least favorite household chores!
After all, baskets of clean laundry are always preferable to baskets of dirty laundry!
I'd love to hear your laundry room tips and suggestions!
What are your favorite and least favorite things about your laundry room?
What would you for-sure want if you were renovating your laundry area?
Do you have a basement laundry area? If so, what do you love about it?