How to Clean Up Battery Corrosion
posted by Andrea | 12/19/2017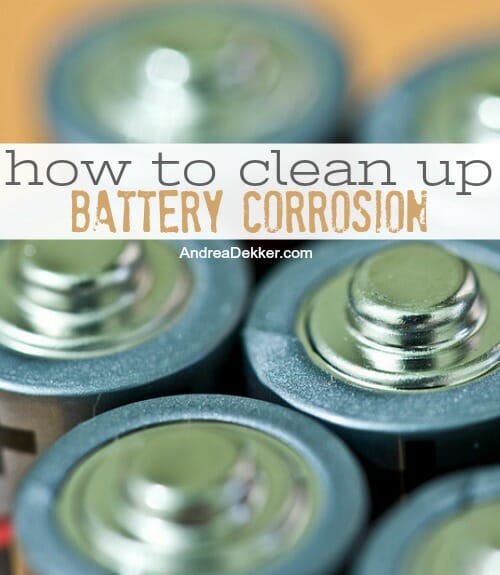 If you have children or grandchildren, chances are you go through lots and lots of batteries!
And no, you don't have to give your children techy toys to need lots and lots of batteries. Some of our kids' most favorite "toys" are flashlights (which they always seem to leave on), walkie-talkies, their kiddie pianos, Catch Phrase, and their rocking horse — all of which require batteries.
Thankfully, I got smart a few years ago and asked for batteries as part of our Christmas gift!  🙂
My parents literally gave us over 100 batteries they had gotten free, or almost free, after rebate!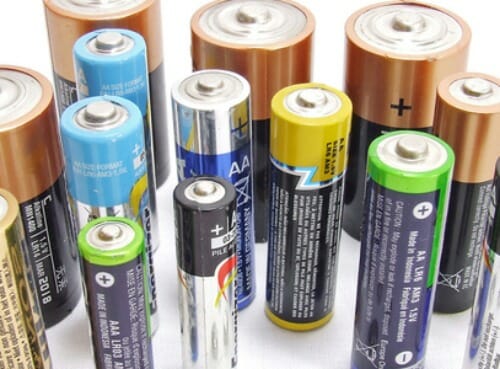 Since we often give our children used toys as birthday and Christmas gifts, and since I regularly buy kid's items on Craigslist, it is not uncommon for me to come across a fair amount of battery corrosion (especially from thrift stores).
I used to shy away from buying anything with battery corrosion, but a few years ago, I learned how to quickly and easily clean most mild to moderate cases of battery corrosion… and as a result, we've been enjoying even more second hand bargains!
If you have any corroded toys or electronics lying around your house (or if you like to buy second hand items like I do), I think today's post will be helpful for you.
How to Quickly Clean Up Battery Corrosion:
STEP 1: Remove and discard old batteries. 
In almost all cases of battery corrosion, you'll need to dispose of the old batteries. In my experience, it's fairly easy to clean the corrosion off the toy or other electronic, but you can't really "clean" it off the batteries.
STEP 2: Wipe out any loose chunks. 
Sometimes you won't need to do this, but if there are any loose chunks of corrosion, I try to wipe those out with a damp paper towel (or just shake them out).
STEP 3: Make a paste of baking soda and water. 
You'll only need a teaspoon or so of baking soda and just a few drops of water. I use a Q-tip and a small bowl to mix it into a paste.
STEP 4: Rub the paste onto the corroded areas. 
Using the same Q-tip, simply rub a small amount of the baking soda paste on and around the corroded area until the corrosion starts to rub off. Use new Q-tips as necessary.
STEP 5: Wipe out excess with a paper towel.
Once you have it mostly cleaned out, use a damp (almost dry) paper towel to wipe out the area. Then let it air dry before putting new batteries in.
STEP 6: Test it with new batteries. 
There have been a couple of times when this cleaning method has not worked for me — and it turned out there were bigger issues than just a corroded battery compartment. But for the most part, once I put new batteries in, the item works just like new again!
.
I can't even begin to add up how much money I've saved buying used toys, electronics, games, and other battery-powered items over the years — especially once I learned this quick cleaning tip!
I know it won't work every single time, but considering it only takes a few minutes and a tiny bit of baking soda, it definitely can't hurt to give it a try.
Oh, and if you're giving a gift that requires batteries this Christmas… include a pack of extra batteries!
I know it will be appreciated 🙂
.