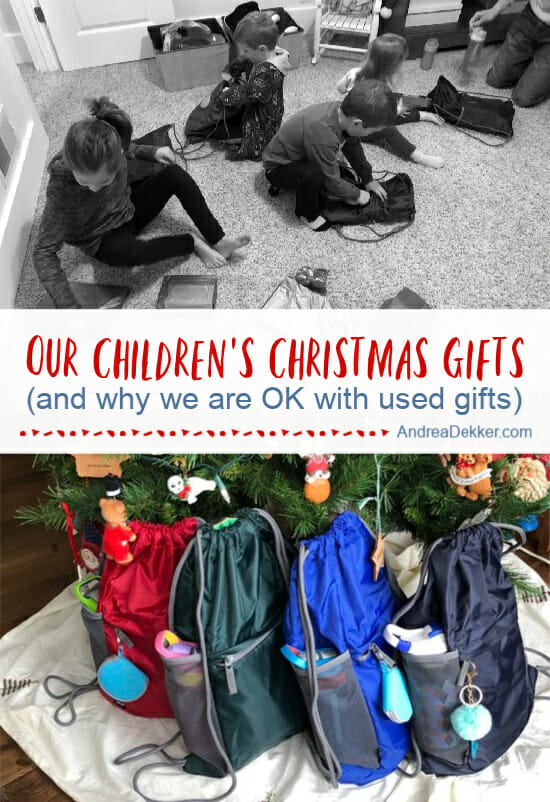 Every year I get lots of questions about what we give our children for Christmas… specifically, if we give them used and second-hand gifts.
As many of you know, we try to buy used items whenever we can. We have amazing thrift stores by us, and I personally enjoy finding things we legitimately need at rock-bottom prices!
When it comes to gift-giving, I truly don't do much shopping outside of thrift stores, ThredUp, Craigslist, Facebook Marketplace, or purchasing gift cards. Dave and I have no issues giving used gifts to our children — nor do we care if we receive used gifts from others.
So yes, we did give our children several used and second-hand gifts for Christmas – along with a few brand new items.
Since we usually celebrate our own family's Christmas quite early (our attempt to simplify this time of year) we actually opened gifts with our kiddos last weekend.
We sent them on a scavenger hunt through the house — finding candy canes with clues at each destination, until they eventually found their gifts in the back of the dress-up closet (behind the bins of hats and shoes).
After opening all their gifts and then excitedly playing with their new things for well over an hour, Nora ran downstairs, gave me a hug, and said: "this is the best Christmas ever!"
Clearly the used gifts didn't affect her all that much.
.
Here's a quick rundown of every gift we gave our children this year.
NOTE: We spent less than $100 on EVERYTHING for all 4 kids — and they each got 12 gifts!
This post contains affiliate links. If you click through and take action, I may receive a small compensation. Read my full disclosure here.
Clothing Gifts:
Shoes:
Nora and Simon have been begging for "high tops" all school year. Simon specifically wanted black Under Armour high tops (which I found on Facebook Marketplace for $10!) Nora showed me pictures of what she liked and I found almost the exact pair via ThredUp!
I also found Clara an adorable pair of sparkly pink high tops from Goodwill for $2!
James didn't need shoes, but he did ask for slippers. I found him a pair of clearance slippers at Meijer a couple of weeks ago (bonus points that they were Paw Patrol!)
New Shirt:
They all got 1 "new" shirt or sweatshirt for Christmas — all purchased from local thrift stores for $1 each (I washed them before wrapping).
Educational Gifts:
School Lesson Books:
Our kids absolutely LOOOOOOOOVE playing "school". It's probably the most common thing they play together these days — Nora is always the teacher (shocking, I know!)
They constantly ask me to print them school papers, so I figured they would all be excited about the large school lesson books I found on clearance at Aldi this summer (I believe they were $2.99 each).
Our Aldi only had a few left, but I snagged a Preschool book, a Kindergarten book, and a 2nd Grade book!
I was also sent this Daniel Tiger's Neighborhood book to review. Clara is now the proud owner of her very first "school book".
School and Craft Supplies:
The boys both wanted their own pair of scissors and Nora wanted new paint markers and highlighters — so I purchased these during the back-to-school clearances this fall. I think I paid around $0.50 for Fsicars brand scissors that look like a basketball and a football!!!
They also got a personalized notepad from StuckOnYou. This company sells SUCH FUN products for kids.
Toy Gifts:
I'll be honest, we didn't do many toys this year — mainly because I know the kids will get several toys from grandparents, aunts, uncles, and cousins! Also… WE DON'T NEED MORE TOYS!
Each child got 2 small "toy gifts" from us this year… ALL of which we purchased used.
Nora = a little craft kit and a small wooden drawer unit I found at our thrift store and made into a tiny dresser for her new American Girl doll (she decided on Julie who is the 1970's "hippie").
Simon = a small monster truck he's been asking for and a set of dinosaurs
James = a pair of mini nerf guns and a set of the same dinosaurs (it was a bag of 8 for $2 at the thrift store, so I gave 4 to each boy)
Clara = a mini stuffed bear and a teeny tiny guitar!
NOTE: I thoroughly wash all our thrift store toys prior to giving them as gifts!
Miscellaneous Gifts:
Land's End Drawstring Backpack:
I purchased these bags in a back-to-school clearance sale in August for $5.99 each. The website no longer carries the exact bags, but here's a similar bag on Amazon.
I love that the bags have a smaller zippered pocket on the front and TWO water bottle holders on each side.
NOTE: We used these bags to hold the majority of their other gifts — sort of like a giant stocking. 🙂
Key Chains:
They all love key chains, so I picked up a few for $0.25 each during the back-to-school sales this fall.
Contigo Water Bottles:
I found a BOGO deal on these Contigo Water Bottles (ours are different colors) at a local store several weeks ago — so I only paid about $18 for all 4 water bottles.
I knew the kids would be SO excited to use their new water bottles so I washed them all the day before and actually filled them with water inside the gift!
NOTE: I know there are currently recalls on some Contigo bottles, but ours are good-to-go!
Hand-held Mirror:
This might sound like a weird gift for children, but our kids ALWAYS take Dave's hand-held mirror (and fight over it) so I got them each their own mirror from the thrift store (and I put their names on it so they can't fight!)
Cash:
We gave the older 3 each a $5 bill that they can either put in their money banks or spend after the holidays (if there is something small they feel they still want)
That's everything under the tree for our kiddos this year!
Some of you probably think we totally deprived our children… others might feel we went overboard.
There's probably a case for both sides! 😉
One thing I will mention is that we almost never do things the same year after year.
Some years we do stockings, other years we don't.
Sometimes we do a "gift from Santa", other times we don't.
There are years when we do mostly new gifts and years when we do mostly used gifts.
Sometimes we open all the gifts at one time, other times we spread them out and do a few each day for a whole week.
Some years we give "experience gifts" or a bigger family gift (like a trampoline), other years we give them lots of cheapy toys that they play with until they break and then we throw them out.
One year we did 4 gifts "want, need, wear, read", this year we were much less intentional.
I honestly don't think there's a "right" or "wrong" way to do holiday gifts as a family!
If you love spoiling your children with a big fancy Christmas — do it!
If you like keeping things ultra simple (or if you need to for personal or financial reasons) I'm positive your children will still enjoy this special time of year!
I'd love to know…
How do you feel about used gifts?
How does YOUR family do Christmas gifts?
What are your favorite gift-giving traditions?