My Favorite 5-Part Foolproof Appetizers
posted by Andrea | 12/12/2018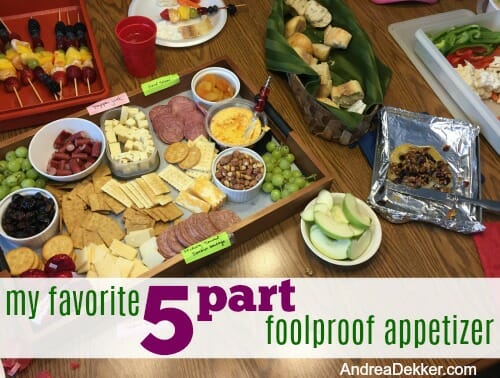 Are you searching for easy appetizers to bring to an upcoming holiday party? Or maybe you need something for an office function, a summer BBQ, or just a casual play date with neighborhood moms and kids?
Whatever the case, my favorite 5-part foolproof appetizer should fit the bill!
While I'm certainly not the best hostess around, I do have a few tricks up my sleeve to simplify the process of entertaining — big or small groups.
In general, my goal for the food aspect of entertaining is to SERVE FOOD I CAN MAKE IN ADVANCE (yes, even for big meals like Thanksgiving!) so I don't have to worry about last-minute food prep when guests are arriving or when I'd rather hang out with people than be cooped up in my kitchen the entire time.
I do lots of meat in the slow-cooker, make-ahead casseroles and side dishes, raw veggies, make-ahead salads, and fruit that can be cut in advance without going brown.
However, in an effort to simplify entertaining EVEN MORE, I have a favorite go-to appetizer platter that I can whip up in minutes if we have last-minute guests. I can also make well in advance if I have the time.
This 5-part foolproof appetizer is perfect any time of year, for any type of party, and can accommodate almost any dietary restriction or food allergy.
Plus, it's super simple, fairly frugal, and uses many ingredients you can stock up on so you always have them in the house.
Win, win, win, win!
In fact, our family loves these 5 "food groups" so much that we regularly eat a large appetizer platter as a full meal!
My Favorite 5-Part Foolproof Appetizer:
Part 1 = Meats
Meat can sometimes be tricky for appetizers (especially if it needs to stay really warm or really cold) but I feel that SOME type of meat is essential for a well-rounded appetizer platter.
My go-to, super-simple meat options are:
sliced summer sausage (sometimes a few different varieties and flavors)
pepperoni and/or pepperoni bites (turkey or regular)
salami rolls (thinly sliced salami from the deli, rolled up and held with a toothpick)
shrimp cocktail
Of course, I love hot meat options as well (meatballs and these bacon-wrapped sausage links are 2 of my favorites) but those aren't always practical and can't always be transported well.
So for a quick appetizer, I usually stick with the cold cut meats; and I always have them sliced and prepared well in advance (sometimes a few days) so there's no last-minute work except setting the meat on the platters for people to grab!
Part 2 = Cheeses
This is probably my favorite part of an appetizer platter — partially because our whole family LOVES cheese, but also because there are so many amazing varieties of delicious cheese available at most grocery stores that it's very easy to get creative and prepare a gourmet-looking appetizer tray with minimal effort.
NOTE: our Aldi store has an AMAZING variety of fancier cheese for pretty reasonable prices!
I usually try to have at least 3 or 4 different cheese varieties, and I slice/serve them differently as well.
medium or sharp Cheddar cut into small cubes
Colby Jack sliced thinly for crackers
Mozzarella in little balls
the mini Babybell cheese pods (these are always a big hit with kids!)
string cheese cut into small chunks
a cream cheese spread or savory cheese ball for crackers or raw veggies
There are endless possibilities when it comes to delicious cheese! You can be as fancy or as frugal as you want with cheese — even the spray cheese in a can could go over well depending on your crowd and the type of party you'll be serving the food at.
The beauty of all these different cheese options is that they can all be sliced, cubed, or prepared in advance and simply stored in separate air-tight containers until you're ready to serve them.
Often, around the holiday season, I'll bring baked brie with candied pecans and dried fruit on top — but of course, that only works if I'll be somewhere with an oven and if I want to do the last-minute prep work.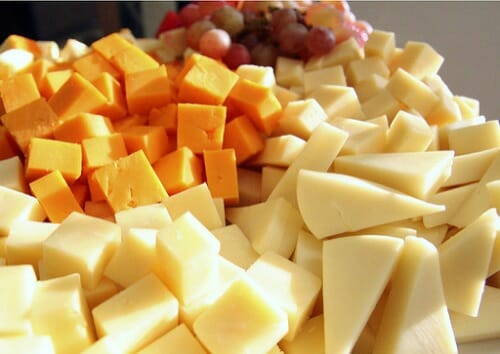 Part 3 = Crackers, Nuts and/or Seeds
This is another one with endless options — seriously, there are SO many different types of delicious crackers, nuts, and seeds — just pick a few of your favorites and keep them in your pantry (or freezer) and you'll always be ready to throw a quick appetizer platter together.
Here are some of my favorite very simple options:
Wheat Thins
Club crackers
Some sort of "grain" cracker (like a thicker, more substantial cracker)
Goldfish or veggie straws (for the kids!)
Pretzels
Cashews (my favorite!)
Pistachios
Sunflower seeds
Pumpkin seeds (especially great in the fall)
Chex mix
Popcorn
Candied walnuts, pecans, or peanuts
I usually decide on my cracker choices after I know what types of meats and cheeses I'll be serving.
I will also include chunks of crusty bread if I think it works (or even homemade rolls) but that's not as easy to keep on hand or to prepare at the last minute — plus, the bread will get stale much quicker than the crackers or nuts will.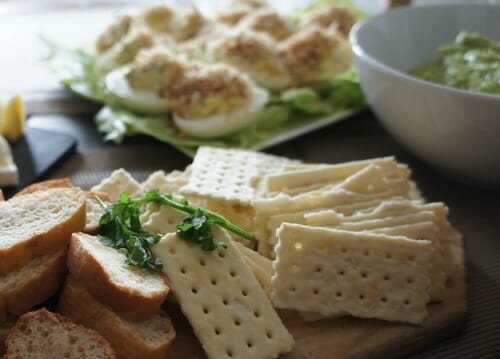 Part 4 = Fruits
My main objective with fruit is to choose varieties that can be eaten without utensils (a.k.a. no peaches!) and that won't turn brown or taste bad after sitting out in the open (no bananas).
I also try to pick fruits that will go well with the meat and cheese I'm serving.
Grapes (I serve them in small clumps on basically every appetizer tray).
Sweet Cherries (I like these in the summer, but they are a bit messy if you don't pit them first)
Thinly sliced Granny Smith apples (the tangy flavor pairs well with cheese, and if you soak them in Sprite or lemon juice for a few minutes, they won't turn brown as quickly)
Berries (blackberries and strawberries are favorites because they are big enough to just pick up and eat and small enough that they don't need to be pre-sliced)
Dried Fruit (almost any variety works — my favorites are Craisins, Raisins, Cherries, Apricots, Banana chips, and Papaya
If you don't mind using utensils, then you can include cubed melons, other berries, peaches, pears, pineapple, etc.
And again, you can be as simple or as extravagant as you want. We ALWAYS have dried fruit in the house, and almost always have grapes and apples — so if I'm in a pinch, grapes, apples, and craisins are what I serve.
Oh, and I usually do NOT serve fruit dips like caramel, marshmallow dips, or cream cheese-based dips because I personally just never make them or have them in the house — however, it would be a good addition if you were serving lots of fruits and had large enough plates for your guests.
Part 5 = Veggies
Although there are so many options when it comes to raw veggies, I try to stick to more "common" varieties when I make my appetizer platters.
Baby carrots
Grape or cherry tomatoes
Sliced sweet or bell peppers
Small chunks of broccoli and cauliflower
Cucumbers
Sugar snap peas
Also, olives and pickles often go over well on these types of trays.
I like to choose at least 3-5 different veggies, and I try to make sure they are all different colors so the platter looks nicer. I usually DO include some type of vegetable dip and hummus.
.
So that's it – my favorite 5-part foolproof appetizer platter!
It might seem like I listed off a lot of food above, but that's simply because I wanted to share a variety of options you might consider. When I actually make up an appetizer platter, I often just choose 2-3 options from each category (sometimes less if I know everyone likes the same things.)
You can get as fancy as you want with presentation too — sometimes I just put out plastic food storage containers with the different types of food in it. Other times, I break out all sorts of cool serving trays and platters to display everything nicely.
As I mentioned above, this 5-part platter can work for almost any party and almost any time of year — just mix up the contents based on in-season fruits and veggies, whatever meats and cheeses you have in the house, or whatever is on sale at the grocery store.
The great thing about including 5 different food groups in your appetizer is that almost everyone should be able to eat something (regardless of their dietary restrictions).
Vegetarians can eat everything but the meat
Gluten-free can eat everything but the crackers
Nut-free can eat everything but the nuts
Dairy-free can eat everything but the cheese
Anyone on a whole-foods diet can pig out on the fruits, veggies, and nuts
There's a little something for everyone in this "foolproof" appetizer platter!
What are your go-to appetizers?