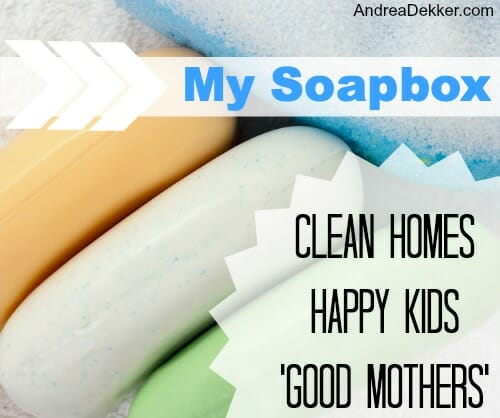 Before Nora was born, I was frequently informed that my days of a clean and organized home were limited, because after my new baby arrived, I would have no more time for cleaning, organizing, or caring for our home.
I even heard (on numerous occasions) phrases like:
"I can't wait to see your house after your baby is born — I bet it will be a disaster."
"Just wait. After your baby is born, you'll understand why our house is so messy and disorganized."
So, after Nora was born, I gave myself permission to have a messier home if necessary… but I found that it was actually quite easy to keep up with housework — even though Nora rarely ever took naps and was an extremely fussy, high-needs baby.
Although having a baby IS completely life-changing, within a month or two, I had developed a very basic cleaning method that allowed me to quickly clean all the areas of our home, just a few minutes at a time.
No, our house wasn't spotless (that's never my goal), and I didn't spend every waking moment worrying about cleaning and organizing (you all know how busy I am with other things). However, our house was always clean ENOUGH for us to feel comfortable.
So I figured the rude comments and sarcastic remarks would stop — however, THEN I started getting comments like:
"My house is messy but at least my children are happy."
"I have my priorities straight — and my children come before housework."
Really?
Are you kidding me!
Now they're implying that Nora is somehow less happy or less loved simply because my home is relatively clean and organized?
Give me a break!
Nora is always loved, but she is not always happy. However, I can guarantee that if she's not happy, it's certainly NOT a result of me taking 15 minutes out of my day to run the vacuum, make the bed, and fold a load of laundry.
It's usually because she can't have another cookie, or it's raining and she can't go outside, or I took a rock out of her mouth, or she got in trouble after climbing up on the kitchen table… again.
Nora's happiness has nothing to do with how clean or messy our home is.
.
I'm assuming you've all seen photos like this floating around Facebook and Pinterest.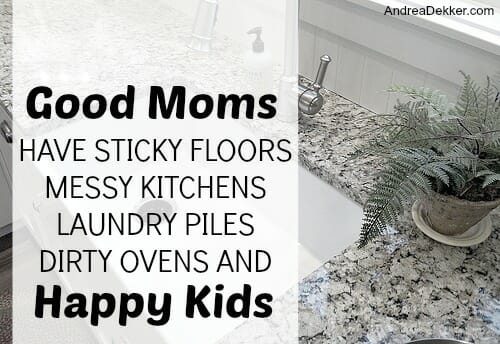 PLEASE don't buy into this nonsense.
Yes, I understand the idea behind these photos and phrases — that good moms make time for their kids and don't stress out about smaller, less important things like household chores.
However…
Being a "good mom" (as if there's even a way to actually define what makes a good mom) has NOTHING to do with how clean or messy her house is. Nothing!
In my opinion, being a "good mom" means loving your children, doing hard things when you really don't feel like doing them, doing the best you can, learning from your mistakes, and then waking up the next day to do it all over again.
If I'm not mistaken, we can do all of these things with either a clean or messy home — they are NOT connected in any way.
A messy home in no way determines the "goodness" of your mothering abilities or the happiness of your children.
.
You all know how busy I am — I work more than full-time hours (Dave does too during the school year), we have a huge list of home/yard projects, we're both involved in school, church, and community, we spend lots of time with friends and family… and we're still able to maintain a relatively clean and organized home each day. But that's because cleanliness and organization are important to both of us.
However, if cleanliness and organization are not at the top of your to-do list, that's fine… honestly!
While I personally prefer clean over messy, this preference in no way determines the quality of my mothering abilities — and it doesn't determine yours either!
You can be a good mother with happy children AND a clean home.
I promise!
However, you can also be a fabulous mother with happy children and a messy house 🙂
.
So do me a favor — the next time you see those silly quotes and photos pop up on Facebook and Pinterest, don't "like" them, don't "share" them, don't "re-pin" them, and don't say anything like this to another mom.
These phrases are sending negative messages to women and moms, especially new moms — none of us need any more negativity.
And honestly, if we're going to say that being messy and neglecting our house work somehow makes us better mothers, then why don't we "like" and "share" and "pin" this message…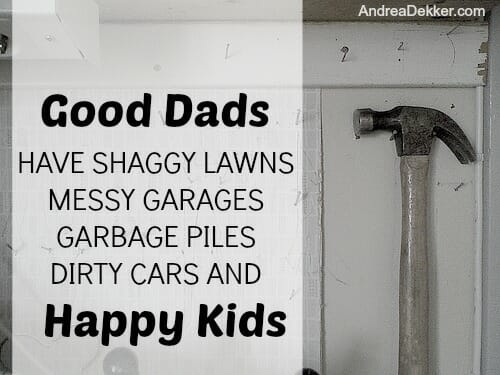 Doesn't that just sound ridiculous — as if the state of a garage or a car or a lawn could determine how good of a father some guy is!
.
If you want to like, share, or pin something – how about this: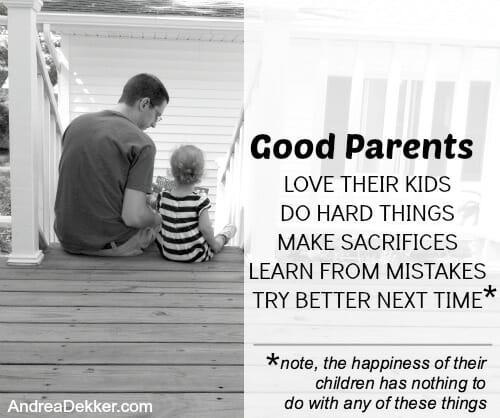 OK, I'm climbing down off my soapbox and will be back to regular programming tomorrow!
UPDATE: I did a follow up to this post… here 🙂