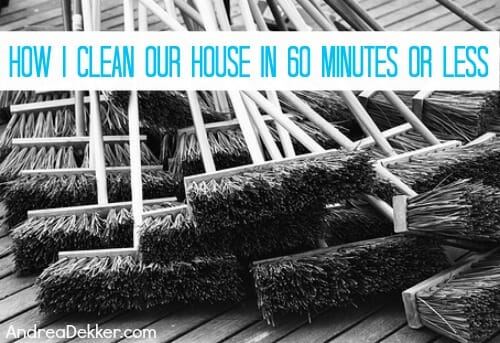 I've talked about my lack of cleaning routine in the past, but since the warm days of summer are just around the corner (and no one wants to waste them inside cleaning) I thought it might be a good time to share my super simple speed-cleaning tips that allow me to clean our entire house in less than 60 minutes.
Yes, you read that right. I've timed myself and I can whip through our entire home (4 bedrooms, 3 bathrooms, office, living room, kitchen, dining room, etc.) in roughly 60 minutes.
However, this doesn't mean that I literally spend one full hour cleaning. I might clean the bathrooms when Nora is taking her daily cat-nap or clean the kitchen as I'm cleaning up after dinner. The point is that I DON'T spend a whole lot of time keeping our house clean… and if for some reason I need to get things clean ASAP, I can!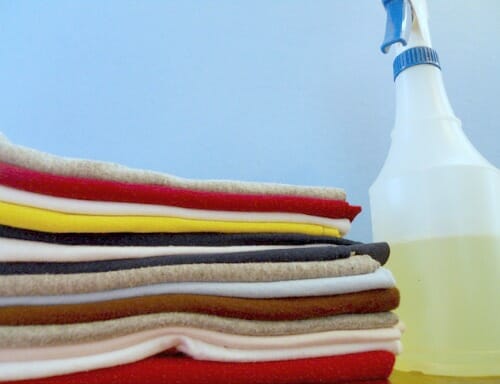 One of the main reasons I'm able to keep things clean with such little time and effort is because Dave and I try really hard to maintain the cleanliness and organization of our house each day and each week.
This doesn't mean our house is perfectly clean and organized all the time. It simply means that when we get something out, we put it away. When we use something up, we throw it away. When we get something dirty, we wash it. etc. etc. All of these little tasks take 2-5 minutes (or less) to do, but they save me SO much time at the end of the week — or whenever I get around to doing my speed cleaning.
My method of speed cleaning isn't rocket science (wink wink!), but it works for me and I love that I can quickly get my house clean enough in roughly 60 minutes!
Here's how I do it:
1. Entryway.
I've never had the luxury of a formal entryway or a mudroom, so it's essential that we keep our tenny, tiny entrway clean and clutter-free. (The picture below is at our first house… our curent house has a much smaller entryway!)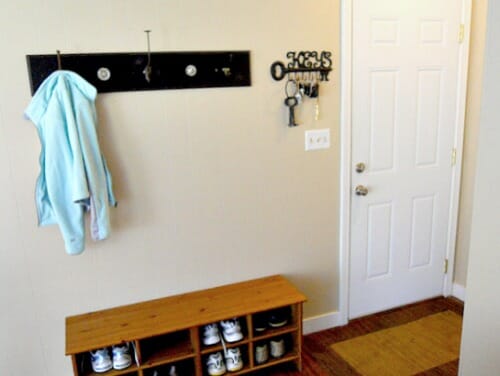 Speed-Cleaning:
Shake out rug, sweep floor, and a quick declutter.
Time Estimate = (5 minutes)
Daily Maintenance:
Unless we're headed out again, we usually put away any shoes, coats, bags, keys, etc. right when we arrive home. We're also pretty good about recycling or tossing junk mail, newspapers, and magazines before they pile up.
.
2. Kitchen
Our kitchen and dining room are combined into one big room so it's the first thing you see when walking in the back door, and one of the first things you see when walking in the front door. Because of this, I really like to keep the kitchen clean and clutter-free.
Speed-Cleaning:
Wipe down the front of all appliances and cabinet doors. Shake out rugs and vacuum floors. Scrub the sink with Soft Scrub and quickly dust any necessary surfaces.
Time Estimate = (12 minutes)
Daily Maintenance:
I wipe down the counters and load dishes in the dishwasher as I cook so they don't pile up. If we have dishes that need to be washed by hand, we stack them to the side of the sink (and Dave almost always does them before we go to bed that night).
I try not to let any paper pile up in the kitchen — I move it to my office desk so I can deal with it the next time I sit down to work.
I know this might sound crazy, but I also try to make sure all the chairs and stools are pushed up to the table and island — it just makes everything look so much neater
.
3. Living Areas
I like the living areas of our home to feel "lived in" so I definitely don't pick up after people all day long. However, at the end of the day, Dave and I are pretty good about picking up the living room, the office, and any other common living areas. If you do the same, I'm sure you know how wonderful it feels to wake up to a semi-clean and decluttered home.
Speed-Cleaning:
Run a microfiber cloth over the 2 end tables, the book case, our office desk, and the TV cabinet. Vacuum carpet.
Time Estimate = (8 minutes)
Daily Maintenance:
Before we go to bed, I always fold any blankets we used, put all the pillows back on the couch and chairs, put away all Nora's toys, neatly stack any magazines or books we're reading, and put any dishes in the dishwasher
.
4. Bathrooms
I don't like dirty bathrooms, but at the same time, bathrooms are my least favorite place to clean. I try to remind myself that in just a few minutes, I can easily have our bathrooms sparkling again, and then force myself to get to work.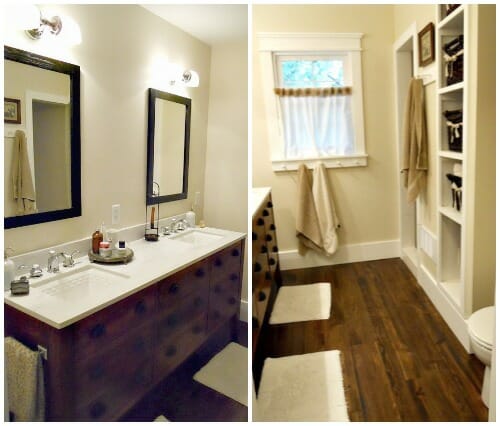 Speed-Cleaning:
Wipe down mirrors, counters, and sinks with vinegar spray. Clean toilet, shake out rugs, and sweep the floors. I only clean the showers about once a month so that's not part of my speed cleaning.
Time Estimate = (15 minutes total — or 5 minutes per bathroom)
Daily Maintenance:
Hang up towels, clear off the counter top, remove any clothing or other non-bathroom items, restock toilet paper, and wipe down the sinks.
.
5. Bedrooms
We really only use 2 of our 4 bedrooms so this cuts down on the time it takes for me to clean them… but we also try to keep any excess clutter out of our bedrooms.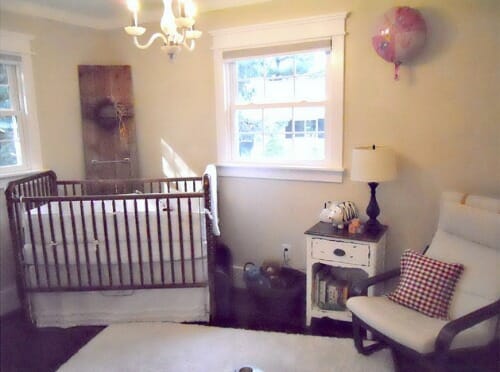 Speed-Cleaning:
Quickly dust the furniture, sweep/vacuum the floors.
Time Estimate = (10 minutes total for all bedrooms)
Daily Maintenance:
We make the beds every morning and always put our clothes away (or in the laundry basket if it's dirty). We keep our dressers clutter-free and generally don't let anything end up in our bedrooms that doesn't belong.
.
6. Misc.
None of these things absolutely have to be done, but I've found that they only take a few minutes and can make a big difference in how clean our home feels.
Speed-Cleaning:
I use the hose attachment on our vacuum to dust the baseboards, window sills, and door frames whenever I vacuum the rest of the house. I also grab a microfiber cloth and wipe down any spots on the walls, light switch plates, door frames, or smudges on windows.
Time Estimate = (10 minutes)
Daily Maintenance:
We open our blinds every morning, and if the weather is warm enough, we keep our windows open to let in a fresh breeze.
We keep donation bags in our closet and by the back door for anything we might want to purge. This reduces the need for time-consuming organizing projects and helps keep our spaces from filling up with items we don't need, use, want, or love.
Whenever I leave a room, I always take a quick look around to see if there is anything I need to remove from the room, bring to another room, or put away. This takes only seconds but it's a great habit to get into as it's a sure-fire way to eliminate clutter.
.
With a little daily maintenance and a few quick speed-cleaning blasts every now and then, our home stays clean enough so we don't feel dirty, clean enough so we don't feel claustrophobic with stuff all around us, and clean enough so we can be ready for company at any time — and that works for me (especially in the summer months!)
Obviously, Nora isn't quite old enough to be helping with the cleaning chores yet, but if you have older children, you could assign each child one area of the home to clean on a specified day. They might not do it as quickly or as thoroughly as you would — but it will allow you a little extra time for something you enjoy more than cleaning 🙂
So are you ready to set your timer and see how quickly you can clean your home? Here are 40 of my favorite cleaning resources to help you get started!
What are your best speed-cleaning tips?