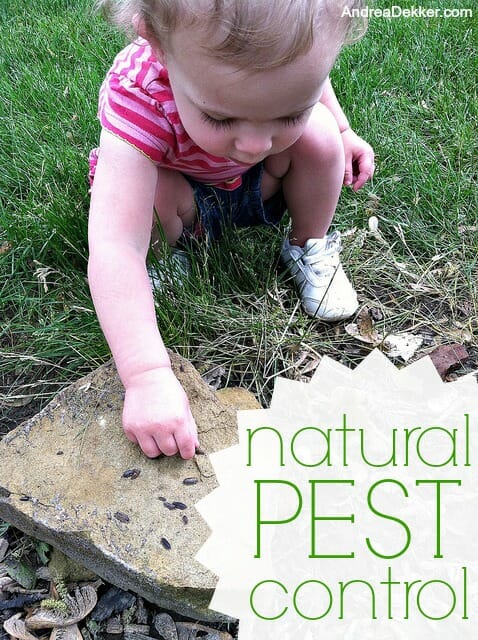 Nora absolutely LOVES being outside — which is great because Dave and I enjoy being outside too (and great because she can play while we do yard work.)
We're fortunate that we have an acre yard for Nora to explore and play — and a super long asphalt driveway for fun with scooters and sidewalk chalk. However, something we don't like about being outside are all the bugs.
So many bugs — gross!
Even if they don't bite or sting, it's not tons of fun to be be outside with bugs flying around everywhere (especially if we're trying to eat!)
In the past, Dave and I haven't thought anything of spraying harsh chemicals around our house and yard to prevent these unwanted pests. However, now that Nora is so curious — touching and licking everything she sees — we figured harsh chemicals might not be the best idea this year.
Around our house, the 4 pests we have the most issues with are Box Elder bugs, Mosquitoes, Flies, and Bees (in that order) — and I'm happy to share that I've found relatively simple, and natural remedies for all of them.
.
Box Elder Bugs:
These things are nasty — they don't bite or sting, but they are big and they fly everywhere. We have them crawling all over our deck, our porch, the siding on our house, Nora's swing-set, in our planting beds, etc. And even thought they are just around for about a month — they are stil super annoying.
Natural Box Elder Bug Remedy:

Fill a 2 gallon pressure sprayer with water (to the fill line). Add a healthy squeeze of Dawn dish soap (about 1/4 cup), swirl mixture in the container, pump to pressurize, and spray any bugs you see.

If you don't have as many bugs, you can also mix up a smaller batch in a spray bottle and just squirt as necessary.

The dish soap paralyzes the bugs and they literally die instantly — it's actually pretty amazing! Because they die so quickly, you'll need to eventually go back and sweep them up or suck them up with a shop vac — unless you want loads of dead bugs lying around!

NOTE: I was told to specifically use Dawn dish soap and that worked really well for me. You can try other types of dish soap if you'd like — and then let me know if you have success!

.
Mosquitoes:
Mosquito's LOVE me. We can be outside and no one else will be bothered by them, but I'll be swatting and swatting (and I'll still end up with 15 bites by the time I come inside).
I also hate mosquito spray because it smells awful and always seems to get in my mouth! So I've looked into a few different (mostly natural) ways to keep mosquitoes away.
Natural Mosquito Remedies:

First of all, remove any standing water from your yard (kiddie pools, bird baths, water sitting in your gutters, etc)

Then, the easiest idea I've found so far is to tuck a Bounce brand dryer sheet in your pocket or in your belt loop as this will ward off mosquitoes. I've tried this a couple times and it does seem to work pretty well. I realize it's not 100% natural, but it's quick, simple, and smells a whole lot better than traditional mosquito spray.

I've just recently tried this recipe for natural mosquito spray and it seems to be working well. Here is another similar homemade spray that seemed to have really positive reviews.

Of course the citronella candles and tiki torches work too — but those are a fabulous solution with little kids running around.

.
Flies:
Flies are kind of like the Box Elder Bugs — they don't sting or bite (most of the time) but they are just super annoying to have around.
Natural Fly Remedies:

You can make your own fly paper by mixing 1/4 c. syrup with 1T. white sugar and 1T brown sugar. Then dip strips of craft paper into this mixture and let dry overnight. Hang the paper from strings or clothes pins outside to attract flies

I also found this fabulous non-toxic fly trap for less than $15. It lasts for a month and can catch up to 20,000 flies before it needs to be replaced!

.
Bees:
I realize that bees are good for pollination but I still don't want them buzzing around our porch, in our garage, or by Nora's swing-set. When I was searching the internet for natural bee control ideas, I found this awesome article about how to get rid of bees. It has tons of helpful ideas and tips (with clear photos and videos). It also explains the difference between types of bees and what bees are most prone to sting.
Natural Bee Remedies:

To reduce the number of individual bees that might be flying around a particular area, simply make a "pop bottle trap" and place it next to the area (but not right IN that area). The bees will fly in and will eventually drown.

However, if you have visible bee hives that you want to remove, you can make a mixture of 50/50 water and vinegar. Put the mixture in a spray bottle, wear protective clothing, and spray the hive at dusk once the bees are inside. In the morning, you can check for any activity — or dead bees laying on the ground around the hive.

Please note that if the hive is large, or if you don't feel comfortable tackling this on your own, it's probably best to call a professional since bees can be nasty!

Here is some additional information specifically for natural wasp control (and yes, wasps are different than bees — something I didn't understand before!)
.
My Favorite Natural Bite/Sting Remedy: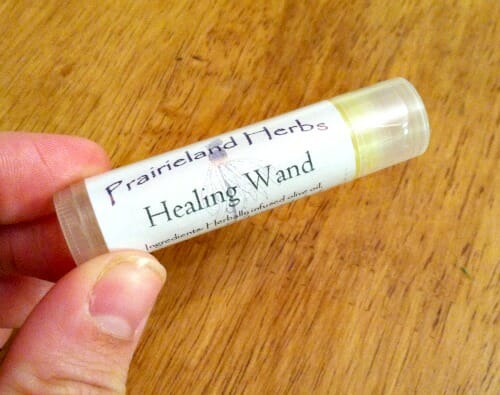 If you do get bit or stung, my favorite natural remedy is the Healing Wand from Prairieland Herbs. I talked about this product in my Favorite Things post a couple weeks ago — but it really is amazing. I have it out all summer long for all those pesky bites, stings, cuts, scratches, and burns.
More Resources:
This article shares how to build homemade bug traps with milk jugs and pop bottles — there are a bunch of different traps to try and it's basically the same concept as the bee trap I mentioned above.
Here are a bunch of natural insect control tips and ideas from EarthEasy.com
I love this natural way to get rid of fruit flies from MyBlessedLife.net.
Here are a few more natural fruit fly remedies from Whole New Mom.
Do you have pests in your vegetable garden, if so, this post from TogetherFarm.com might offer some helpful tips.
Want to get rid of ants in your home? This post from Kitchen Stewardship shows you how to do it the natural way.
.
So this is just some of the information I've learned over the past few months as I looked for more natural ways to ward off these pesky bugs. Most of it seems to work really well — and all these solutions are quite simple.
What are your favorite natural pest remedies?