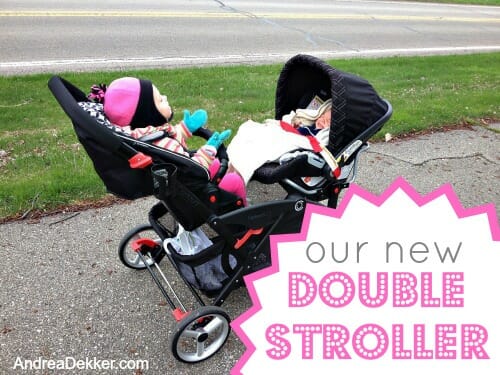 Our brand new double stroller was delivered just over a month ago — yes, you read that right — BRAND NEW! Aside from diapers, wipes, and other "perishable" items, I think this double stroller was the very first baby thing I've ever personally purchased brand new.
NOTE: This post is not sponsored in any way and I did not get this stroller for free or discounted as a result of writing this post.
I've known what features I definitely wanted in a double for a very long time already; and even before Simon was born, I started doing my research. Since we had REALLY bad luck with purchasing cheapy used single strollers from garage sales and Craigslist (I literally bought and sold 10 different strollers before I found the ones we have now) I wanted to try to find "the one" on my first try so I wouldn't have to hassle with buying and selling again.
The MAIN feature I wanted was the ability to configure the seating options in a variety of ways — including the ability to turn each seat around 180*. This is apparently really really hard to find unless you're willing to spend over $600 on a double stroller (which I was not willing to do). Even the used strollers that had the features I wanted were between $250 and $300… and I wasn't willing to spend THAT much money on a used stroller I wouldn't be able to return if I ended up hating it.
So I did a little more research, I asked friends what they liked, and I searched Craigslist almost every night just to see if anything new popped up in our area.
I finally decided that my ideal stroller (for my budget) was the Contours Options LT Tandem Stroller in black (the color is actually called "Wilshire").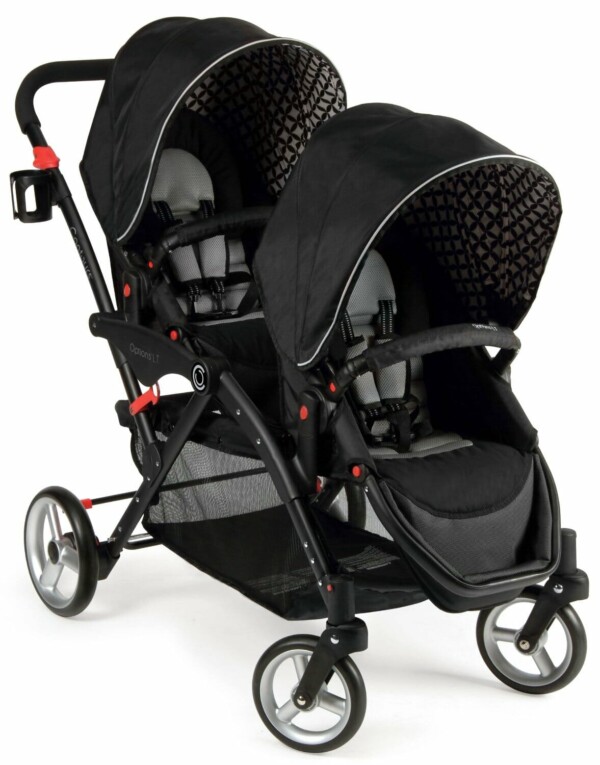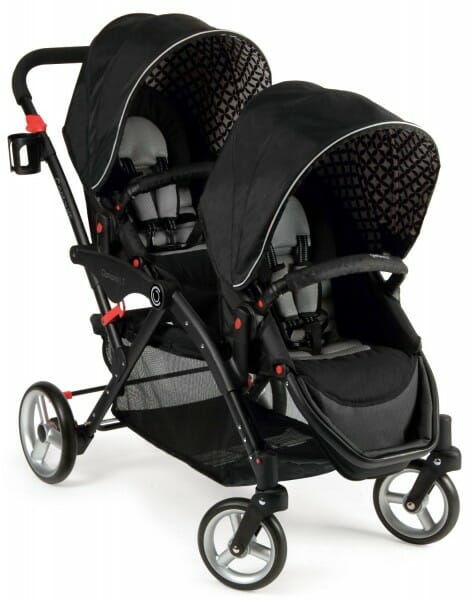 Not only was it one of the least expensive double strollers I stumbled across ($250 brand new with no coupons or discounts), it also had pretty much every feature I was looking for — including the ability to rearrange the seats in a variety of different ways.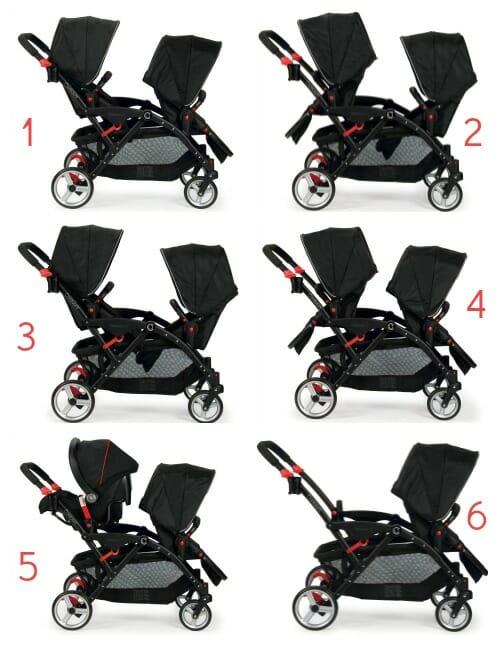 The website says there are 6 different ways to configure the seats…
both seats facing forward
both seats facing back towards you
the seats facing into each other
the seats back-to-back
a carseat in the back and the front seat facing forward
only using the front seat leaving tons of room for storage
However, they didn't include OUR most favorite way to travel…
The carseat in the front facing back at me while the back seat faces forward. This is by-far our favorite arrangement as I can still see Simon, he can see me, Nora can easily see out, I can still talk with Nora, and Nora can talk to Simon 🙂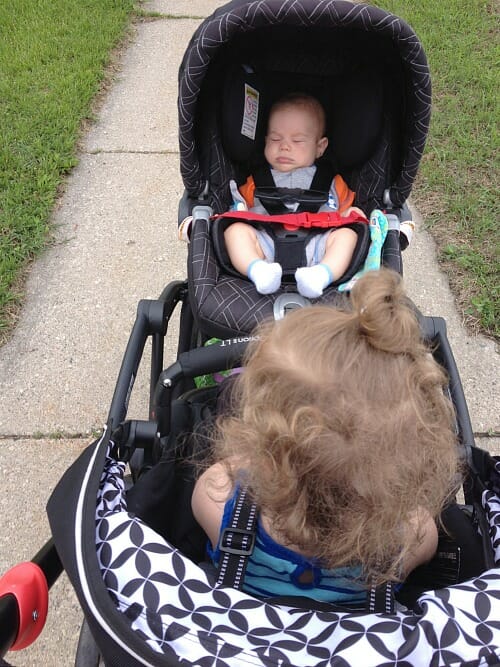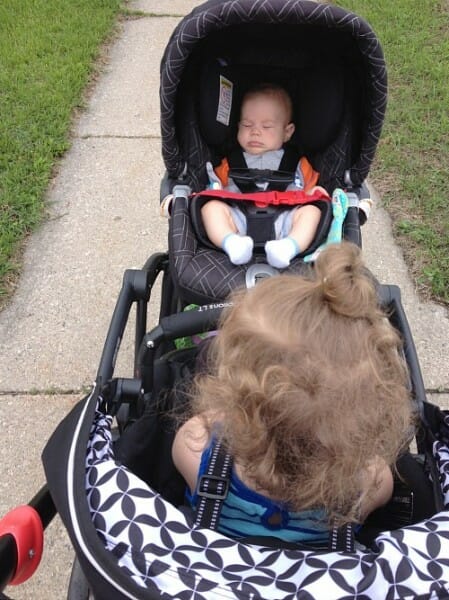 Some of the other features I like:
It was relatively frugal. It's $250 brand new at the Buy Buy Baby store by me. However I had a 20% off coupon, I got free shipping, and I used gift cards. I ended up paying $212 (including tax) and it was shipped directly to my front door 3 days later! I did see a handful on Craigslist for around $150, but they were always bright red and always a decent drive from my house.
It steers REALLY REALLY easy and the turn-radius is really tight.
It comes with a cup holder — seriously, I can't tell you how many strollers required you to pay extra for that!
It comes with the 2 stroller seats PLUS the infant carseat adapter — this was also a separate fee in most of the other strollers I looked at.
The carseat adapter fits virtually ANY carseat. SO smart… not sure why other companies don't do this.
The storage basket is ginormous. You could easily put a few bags of groceries down there if you needed to.
It folds down pretty flat, especially when using the carseat adapter instead of the 2nd seat.
It's relatively light weight — at only 35 pounds, it's about 10 pounds lighter than most of the other strollers I looked at.
It's really "skinny" and easily fits through doorways and narrow aisles. I know many people like the side-by-side double strollers, but I knew I definitely wanted the front and back double stroller because I don't like getting stuck in doorways or tight spaces. Plus, since I don't jog and have no desire to start jogging any time in the near future, a jogging stroller definitely was not a necessity for me 🙂
It's available in black. So many of the strollers I looked at where only available in red, orange, blue, yellow or another bright color. I just want black, thank you very much!
The foot rests and backs of the seats are SEPARATELY adjustable. So I can adjust both the back reclining position and the foot rest position separately to fit each kid's need.
It was super easy to assemble. Since I've never purchased any baby equipment brand new, I didn't actually realize that I would need to assemble it. However, when the box arrived, we were literally test-driving it in about 30 minutes (and that was after bundling the kids up and getting out the door!)
Dave and I (and Nora) are all loving the new double stroller… however there is ONE thing I'm not 100% thrilled with — and I knew this before I purchased it.
The sunshades are not technically "full coverage", so if the sun is at a really low angle, it's difficult to block it out. You can detach the sunshade from the back of the seat and rotate it forward (and this would work really well for small children), however, Nora is too tall so when I detach the sunshade and rotate it forward, the back part is basically resting on her head — and I'm sure you can imagine she does NOT like that.
I'm honestly not sure why they wouldn't have just added a little bit of extra coverage to the sunshade, but based on the fact that this stroller meets ALL my other criteria, I felt that I could deal with the sunshade. So far, it hasn't been a huge deal. Nora is tall enough that the sun has to be REALLY low in order to get in her eyes, and Simon is still in his car seat so I can rotate that sunshade however I need to. Also, if it was really a big deal, I could simply flip the seat direction around so they wouldn't be facing the sun.
All in all, we are beyond thrilled with our new stroller purchase and anticipate using it for many many walks in the years to come.