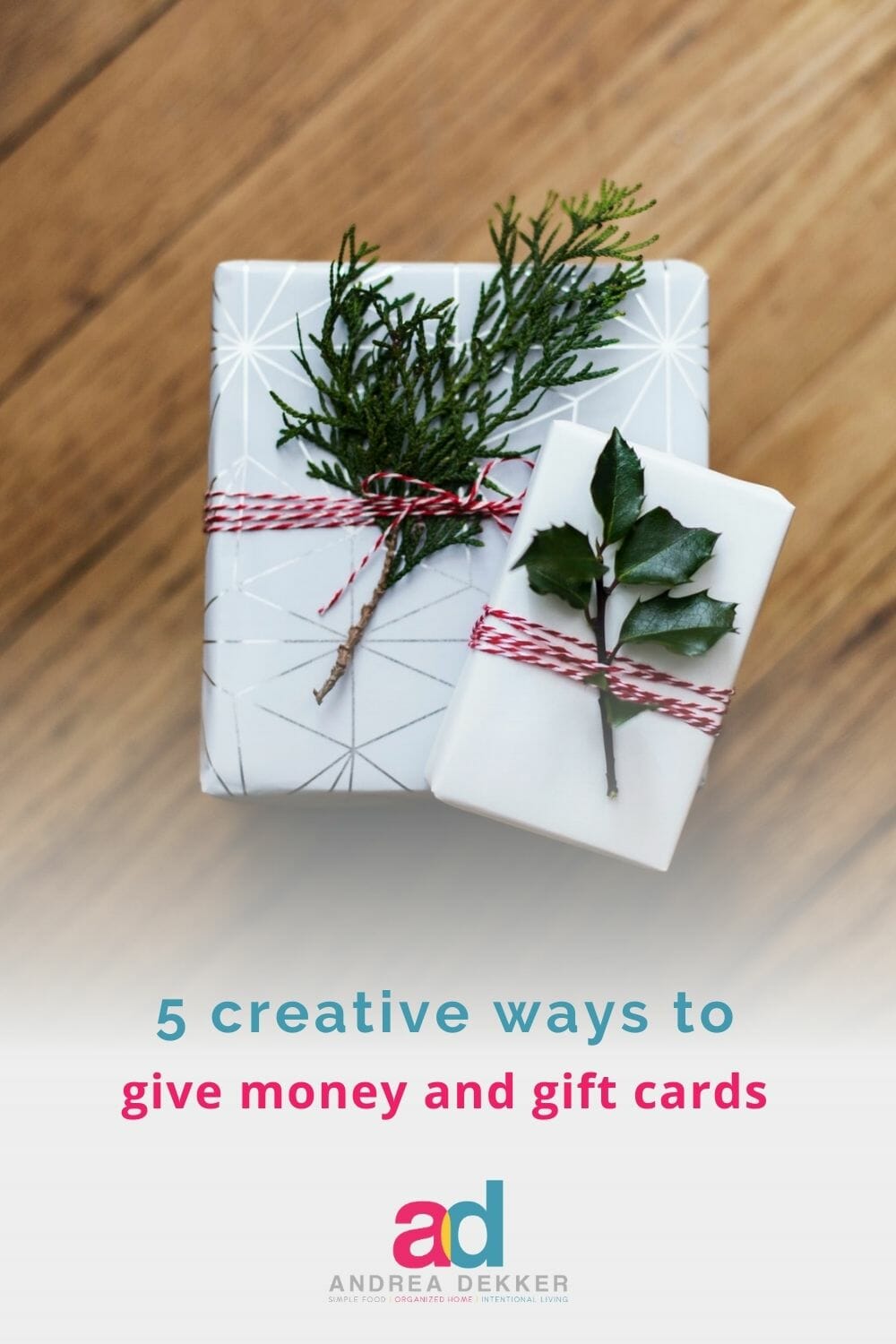 Simplify your holiday season with these creative ways to give money and gift cards — a.k.a. the "perfect" gift for anyone on your holiday gift list.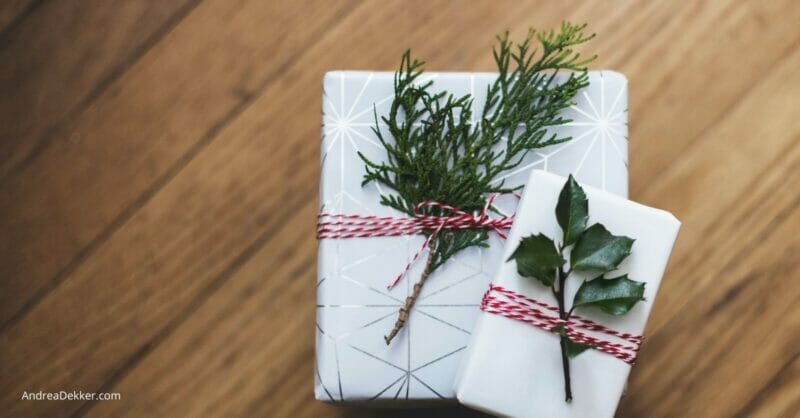 When it comes to giving gifts, I've always been a minimalist of sorts.
I definitely do enjoy showing friends and family (and teachers, bus drivers, coaches, etc.) that we love, appreciate, and remember them on their birthdays, during the holiday season, and other special occasions throughout the year.
BUT… I have a hard time buying into all the consumerism (pun intended).
Plus, I really hate shopping!
Every year, I buy fewer and fewer gifts for birthdays and holidays — and instead, turn to the more practical gifts of cash (or check) and gift cards.
Contrary to what you might think, cash and gift card gifts CAN be very creative and personal… if you put in a bit of effort.
I've given fun and creative money and gift card gifts for years and years… and I've never once had anyone return my gift. 😅
Just think of the hours I've saved trying to think up (and shop for) clever or useful gifts. Plus, I never go over budget and I have more time and energy to focus on the aspects of the holidays I enjoy more (like holiday baking and hanging out at home with my family).
Are you tired of shopping or burned out on consumerism? Would you like to simplify your holiday gift-giving? Or do you just need a few creative ideas to supplement the gifts you've already purchased?

If so, keep reading for several creative ways to give money and gift cards!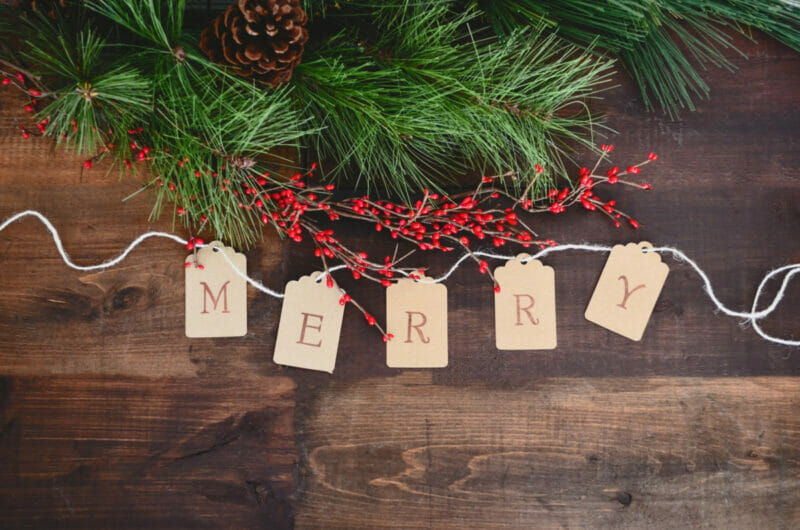 1. Origami Money
This is, and always has been, my favorite of all creative ways to give cash gifts.
Origami is actually fairly simple if you can follow instructions… and it's just so FUN!
After all, who wouldn't be thrilled to receive a delicately folded bill as a beautiful gift — showing you actually put some time and thought into your cash gift?
Here's an origami money gift we made for our piano teacher — so cute, and so simple!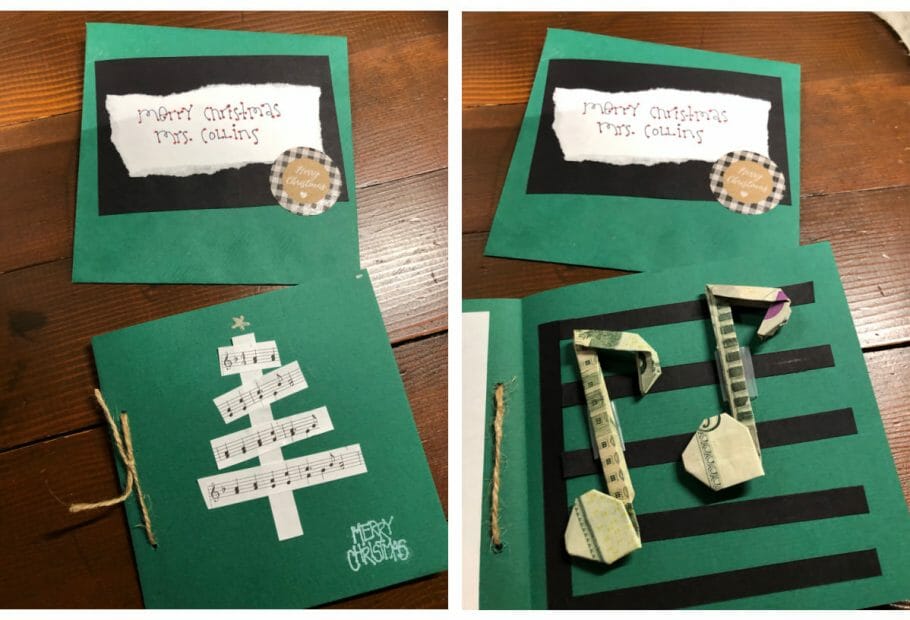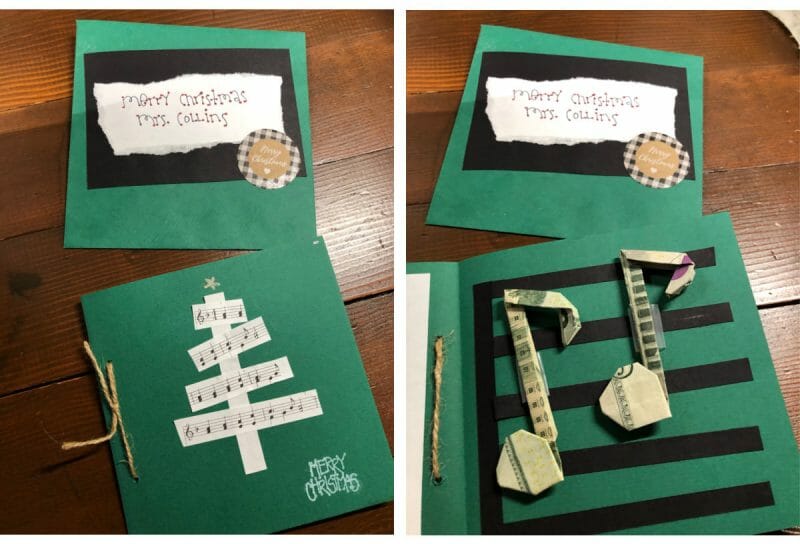 Not sure how to do origami?
YouTube has you covered!
A simple search for "Origami Money" instantly pulls up dozens of video tutorials to help you fold your own creative money gift for any occasion.
Things like:
I've also seen money origami for sale on Etsy — but I'd suggest trying it yourself first!
Even giving $1 or $5 bills in this creative way is so fun for the recipient.
---
2. Money (or Gift Card) Trees
This creative money gift is great for all ages (it's especially fun for graduation gifts!)
Simply put a leafless branch into a large container or vase (filled with floral foam or small pebbles to keep it standing upright). Then attach dollar bills or gift cards to the branch with twine, mini clothespins, ribbon, ornament hooks, etc. (use a tiny hole punch if necessary.)
OR, if you want to be more festive, try your hand at one of these cute Christmas Money Trees.
---
3. Frozen
The kids always love this one — and even though the idea is for "cold hard cash" it totally works for gift cards too!
NOTE: Put the money or gift cards in a zip-top bag to keep them from getting wet.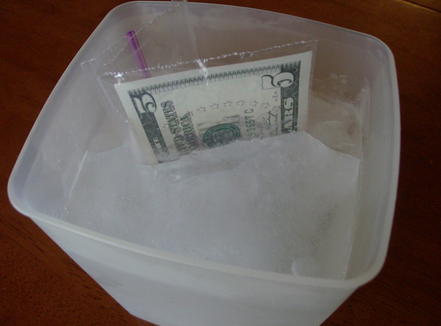 ---
4. Inside a Balloon or Christmas Ornament
This is so fun for younger kids — and SO easy to do!
Just roll up the cash or slide the gift card into the balloons BEFORE you blow them up. Then blow them up (either with helium or regular air) and create a balloon bouquet or tape the balloons to a specific location (door frame, window sill, chair, etc.)
This is especially fun with the giant punching balloons (we've done this for our kids and they love it!)
Another option is to put the gift card or cash into a fillable ornament (maybe with a little glitter or fake snow) and you've got yourself a super cute, super practical gift for anyone on your Christmas list.
This is one of our favorite gift ideas for friends, cousins, and other kiddos.
---
Dave and I have given our fair share of creative money gifts this way… and it never gets old (at least not for us!)
Some ideas of places to hide your cash or gift cards:
Inside a book, magazine, newspaper, DVD, or CD case.
Inside a wallet, purse, or bag.
In the back pocket of a pair of pants.
Inside a pair of shoes or socks
Taped to the back of a picture frame or piece of wall art.
Inside the pages of a calendar.
On the back of a food or beverage wrapper/container.
Taped to the bottom of a huge box or gift bag filled with packing peanuts.
Wrapped around a bar of soap (or taped to the back).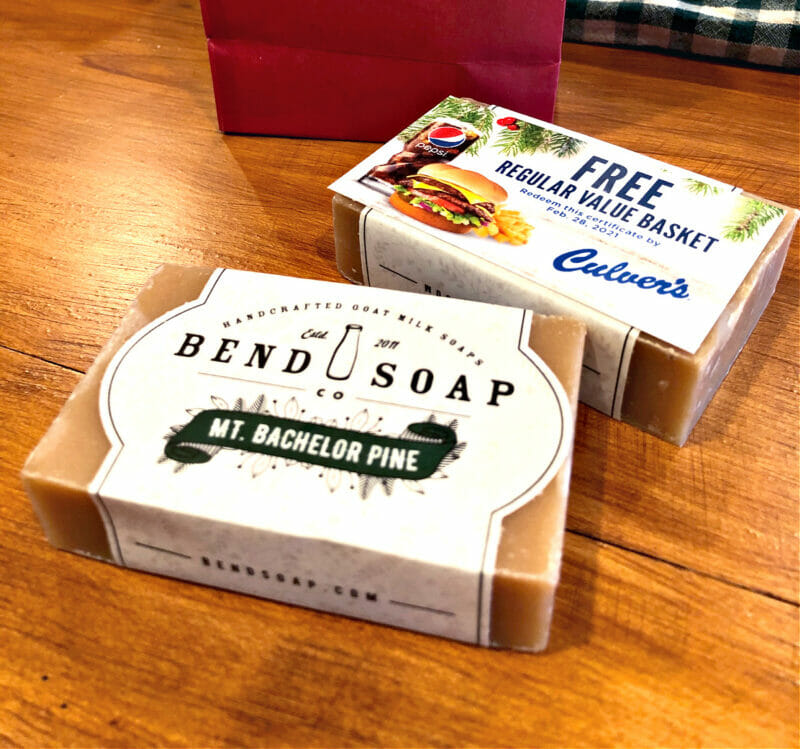 You could hide the cash or gift cards inside actual gifts the person really wants, or (for a little extra fun) hide them inside gag gifts!
Of course, these ideas would be most fitting for someone you know could handle the joke.
Thrift stores are fantastic for these gifts.
For example:
Hide the money or gift card inside a cat calendar for your sister who hates cats.
Hide it in the pocket of an out-of-style pair of pants or overly worn pair of shoes for your mom.
Buy your dad a political book (for the opposite political party) and slide the money or gift cards inside the pages.
Tape money or gift cards to the back of art that is totally out of character for your best friend's home.
Rolled up dollar bills or gift cards inside a roll of garbage bags, Saran wrap, or toilet paper.
NOTE: The toilet paper idea would be especially fitting this year with the shortages! It does require a bit of patience, but it's SO funny when they need to unroll all the garbage bags, Saran wrap, or toilet paper to get their gift!
---
Forget shopping, wrapping, online ordering, returning, and agonizing about the "perfect" gift for your friends and family this year… just swing through the bank or pick up a bunch of gift cards and use these creative ways to give money for your gifts this year!
Then use all your extra time to do whatever it is you enjoy most about this time of year!
---
Related Reading:
How I store and organize our gift cards.
More ideas for creative and clutter-free gifts:
I have dozens of posts dedicated to clutter-free gifts… these are a few of my favorites.
Now I'd love to know…
What are your favorite creative ways to give money or gift cards?