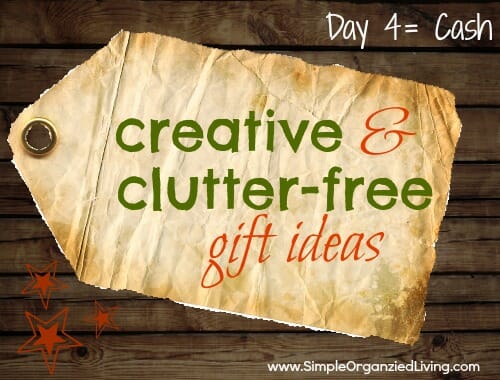 Today is day 4 in my week-long Creative & Clutter-Free Gifts series… and we're talking about creative ways to give cold hard cash! All week long I'll be sharing lots and lots of creative ways to give practical and clutter-free holiday gifts that should please everyone on your Christmas list!
Monday = Food
Tuesday = Gift Cards
Wednesday = Experiences
Thursdays = Cash
Friday = Charitable Donations
Saturday = Acts of Service
Oh, and I'd love to hear your ideas too, so feel free to leave them in the comment section below!
Day 4: Cash
I've been looking forward to today's post because I can guarantee that every person on your Christmas list will love a gift of cash — it's the perfect clutter-free gift!
However, since cash often seems somewhat impersonal, we tend to shy away from giving cash because we think we need to be more creative or get something fancier (or maybe that's just me).
Over the past year, I've started giving more cash gifts because I realized that I can save loads of time at the mall and I know the recipient will be able to use it… plus, I've stumbled upon some pretty creative and clever ways to give cash 🙂
Here are a few ideas…
1. Origami:
This is probably one of my favorites — because it just looks so pretty. Who wouldn't love to get a delicately folded $100 bill (or even a $10 bill)? You could even fold several $1 bills and one $20 bill so they have to unfold every single one to see how much they got!
And if you have no idea how to fold money, just do a search on YouTube and you'll find tons of video tutorials!
2. Money Tree:
This is another favorite of mine — especially for wedding gifts or newly married couples.
Simply take a bunch of "leafless" branches and put them in a large container or vase. Then attach dollar bills to the branches with twine, clips, ribbon, ornament hook, etc. (use a hold punch to punch a hole in the end of each dollar bill so you have something to tie onto)
OR, if you want to be more festive, here are two tutorials on how to make Christmas money trees.
(Left Image Tutorial / Right Image Tutorial)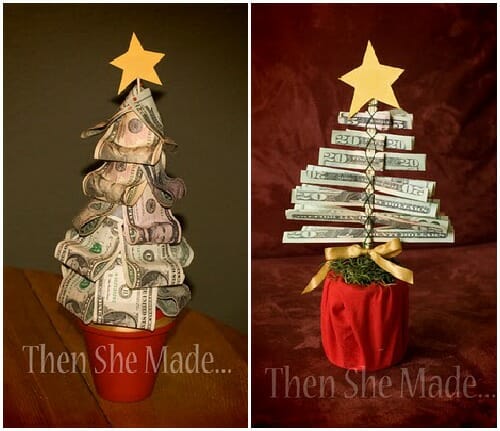 3. Inside a Balloon or Clear Christmas Ornament:
I've used the balloon idea for birthdays/graduation and the ornament idea for Christmas. Both are the same idea — and yet another VERY SIMPLE, creative way to give cash.
Simply put the money inside a balloon (or multiple balloons) and then blow up the balloons. The will have to pop the balloons to get their money.
Or, roll up the money and put it inside a clear ornament. They might have to break the ornament to get the money out — so this probably is not a good idea for children!
4. Hidden in a Roll of Trash Bags or Toilet Paper:
OK, so this one might take a little time on your part, but if you have the patience to unroll an entire package of trash bags or an entire roll or toilet paper, you can then insert bills in between the bags/paper as your roll them back up.
Clever huh!
5. Frozen — a.k.a. "Cold, Hard, Cash":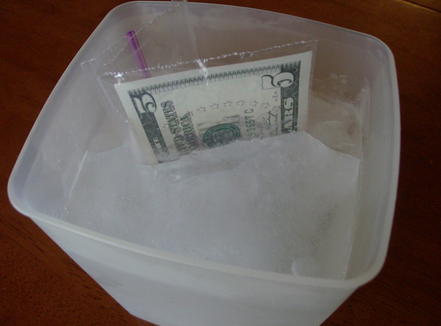 photo source
Nothing better than cold hard cash right? Simply put a single bill or a stack of bills in a zip-top plastic bag, then submerge it in a container of water and freeze.
Obviously, you'll need to make sure you can keep it frozen until it's time to open gifts, but this is always a fun idea — especially for kids who might be somewhat impatient to get their cash!
6. Rolled Coins:
If you want your cash gift to have some weight (literally) give them rolled coins instead of paper bills.
Another idea would be to tie dollar bills to a brick or heavy wooden block.
7. Inside a Food or Beverage Wrapper:
If your mom loves chocolate, slide one or more $20 bills inside a Hershey Bar wrapper… or if your best friend loves good quality beer, wrap a bill around every bottle of beer and then put the bottles in a drink carrier so they won't see the bills until they pull out a beer.
8. Hidden in the Page of a Magazine or Book: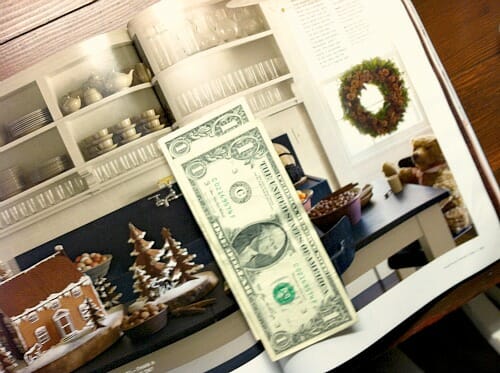 Pick up a thrift store book or the Christmas issue of their favorite magazine and then tape several bills inside the pages. You could put a note on the front that says something like, "turn to pages 15,57, 82, and 196 to see the rest of my gift" or just let them be surprised when they find more than recipes and decorating ideas inside!
You could also get a little more creative and fold the money into an origami bookmark (see #1 above!)
9. In a Frame: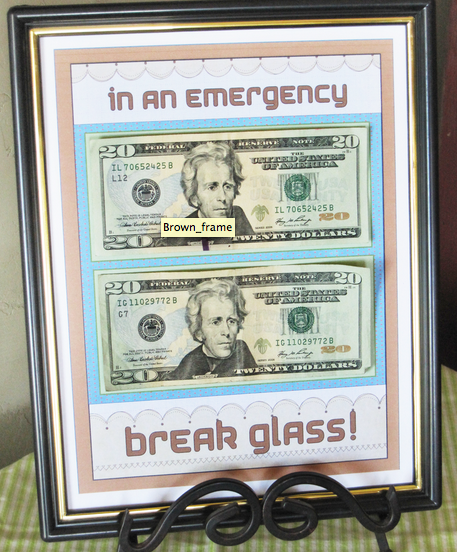 photo source
Place the bill(s) inside a picture frame instead of a picture (or behind a picture). You could also make something like the photo above by printing or writing on decorative paper inside the frame.
10. Folded up in a Hershey's Pot of Gold Chocolate Box: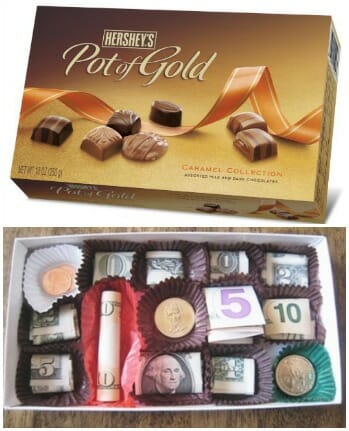 Not only is this a super creative way to give cash, it also means that you get to eat the chocolates before you give the gift! Win, win!
I could go on and on with all the creative ways to give the clutter-free gift of cash — but I think you get the idea. And of course, you can always substitute a check in place of cash if you feel cash is unsafe or if you need to mail the package.
Do you have any other creative ideas to add to my list?