Today's post is an updated repost from April, 2015.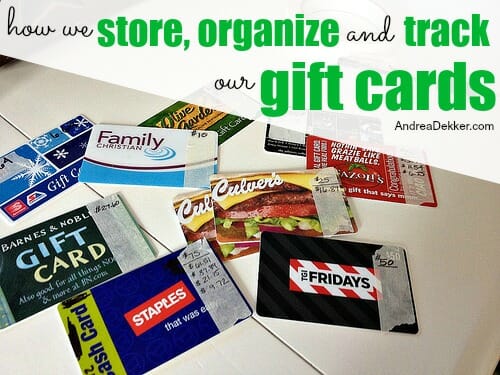 Gift cards are one of our most favorite gifts!
We certainly don't complain about getting cash either… but when we get cash, we almost always just put it in the bank and forget about it. Gift cards, on the other hand, force us to use them at the intended location – which means we will eventually get out at some point!
In fact, Dave and I love gift cards so much that during the holiday season (when all the stores and restaurants are offering special promotions) we often stock up on gift cards to our favorite places – and enjoy the extra bonus rewards and coupons that go with them!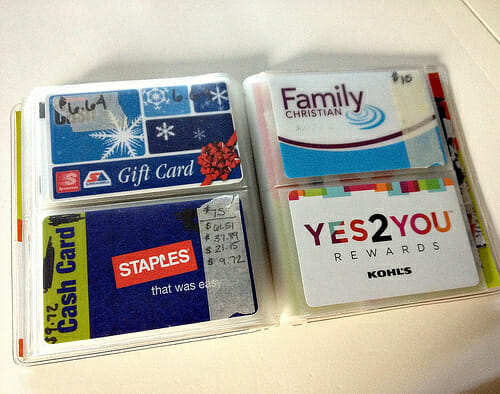 Obviously, with all these gift cards coming and going, I need to have some sort of organization method to keep them organized, to keep them easily accessible, and to keep track of the balances on each card.
I realize there are Apps for that – and I've tried a few of them. However, I've never liked any of them enough to get rid of my old, tried-and-true system that has been working well for me for almost 15 years now (starting when I was in college).
As expected, it's a relatively simple system that only requires a few basic supplies:
Masking tape or some type of sticker or label
Pen or marker
Some sort of container for the cards (zip-top bag, envelope, business card holder, credit card organizer, wallet photo organizer, etc.)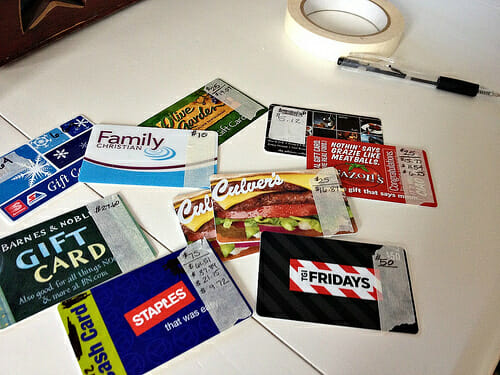 Once you have your supplies, the rest is pretty self-explanatory…
I simply put a sticker or piece of masking tape on the front of each card (leaving the card logo still visible) and write the monetary value of the card on the sticker or tape.
As you use the card and the balance decreases, cross out the old balance and write the new balance below.
Put card back in designated storage bag/container and continue re-writing the new balance until the card has been used up.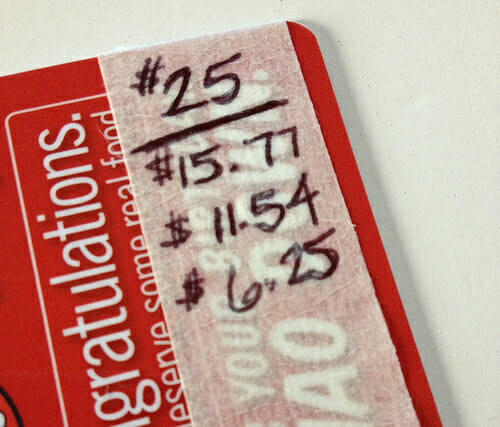 I store all our gift cards in a simple business card organizer (similar to this one) I got from a company YEARS ago.
It works fabulously well and is quite small so it easily fits inside my diaper bag, or whatever other bag I'm using.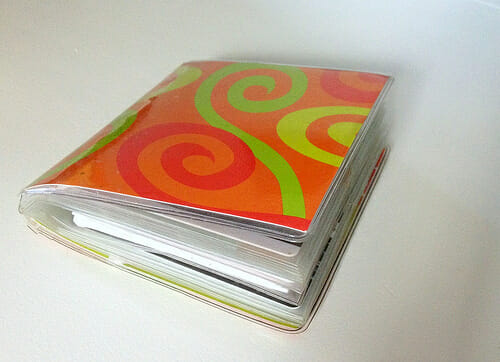 As you can see by the images below, I also use this business card organizer for store reward and loyalty cards.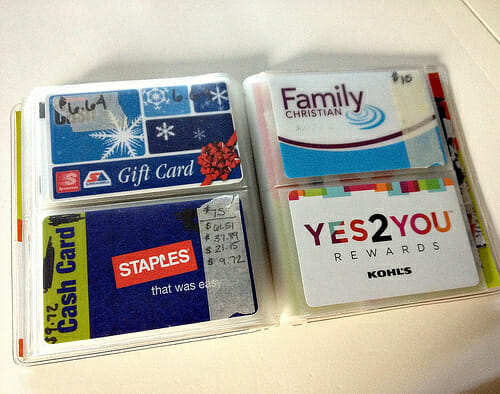 This is the method I've been using for about 15 years and I've never ONCE lost or misplaced or forgot about a gift card.
I've also gotten LOADS of comments (and compliments) about my super simple system of writing the value on masking tape on each card.
In fact, just a couple weeks ago (at Culver's, of course) the cashier literally grabbed the card out of my hand to look at the front of it. She sort of blushed after realizing how "hasty" she had been… and then said, "that is the best, most simple system I've ever seen for keeping track of a gift card balance. I'm going to do that to all my cards when I get home tonight!"
I told her I had been using this method for many years and it does work really well!
The thing I love most about this super simple method is that it's "instant".
I always have a pen with me (or close by) so I can INSTANTLY write the balance on my card and not worry about taking the paper receipt with me or trying to store the receipt with the card (which makes a mess). I also INSTANTLY know how much is on my cards at all times without doing a balance check online or by phone. And by keeping all my gift cards in one central location, I can INSTANTLY know where all my gift cards are when it's time to use one.
If you have a few gift cards lying around, slap on a piece of masking tape, figure out the current balance, and enjoy being just a tiny bit more organized 🙂
Do you have any other fabulous methods for organizing gift cards?