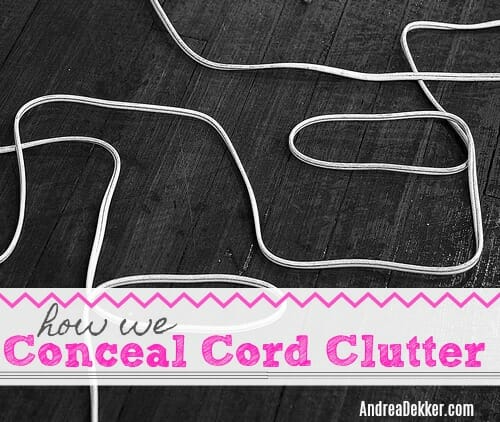 One of my least favorite types of visual clutter is CORD CLUTTER — second only to PAPER CLUTTER, which I really detest!
I hate the look of cords hanging all over the place, jumbled up, collecting dust, waiting to be pulled or tripped over, or frayed by the vacuum, or accidentally unplugged.
Because of this, I've always been very particular about keeping all our electronic cords up off the floor, usually concealed in some form or fashion.
One of the most "cord congested" area in our home is our office — specifically the desk area.
Here's a look at our office desk area…
You can't see it, but we have LOTS of cords hidden under that desk!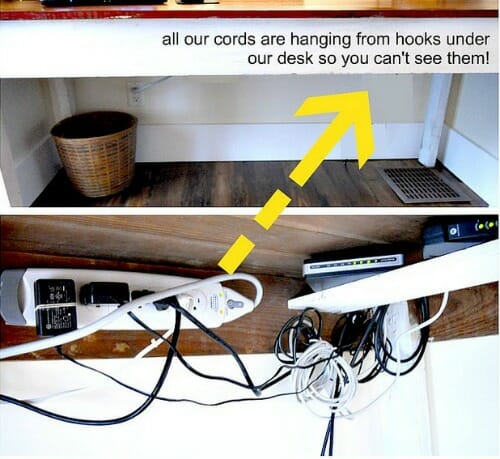 .
Here's a list of all the cords we have in the desk area of our office:
my computer power cord
the laptop charging cord
my sewing machine
the light mounted under the cabinets
the modem
the router
a "booster" that sends our internet signal further
It COULD be a huge tangled mess of cords hanging all over the place, but due to my super simple organizational system, you can't see anything but my sewing machine peddle and the cable cord running up to the "hidden" modem — even when we remove the chairs!
.
I set this system up years and years ago, but due to installing a new modem and router last weekend, I realized it was probably something I should share (or maybe re-share) on my blog.
Here's what it looks like under the desk…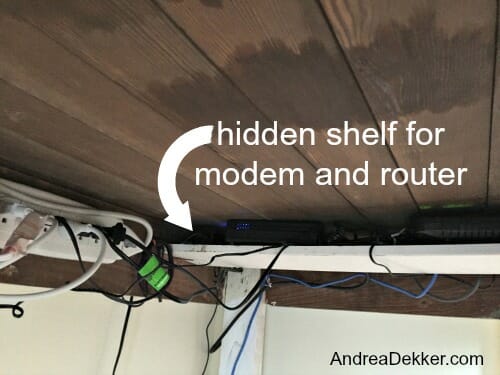 It's definitely not a "pretty" system with decorative labels or color-coded twist-ties, but it works SO well and is super easy to set up.
Supplies I used:
A power strip that can mount to the wall/desk
Twist ties, rubber bands, or string to hold the cords together
A few nails or hooks to keep cords elevated.
Some sort of wooden board or shelf to allow large items to rest (Our shelf is sitting on 2 screws on each end of the desk)
Once you have the necessary supplies, the "installation" is pretty straight-forward.
Mount the power strip under the desk (or to the wall behind the desk).
Plug all necessary cords into the power strip.
Once the cords are plugged in, use twist ties or rubber bands to secure the extra length of the cord as close to the power strip as possible.
Add nails, screws, or hooks as necessary to hold up heavier cords
Add a shelf or brackets as necessary to hold larger items like modems, routers, power blocks, etc.
Stand back and enjoy the clutter-free floor!
Like I mentioned above, I KNOW there are more attractive and more professional ways of concealing cord clutter — but considering this option was completely free AND has been working well for us for 8 years now, I think it's worth sharing!
If you're looking for a simple way to conceal your cord clutter, give our method a try!
How do YOU conceal your cord clutter?