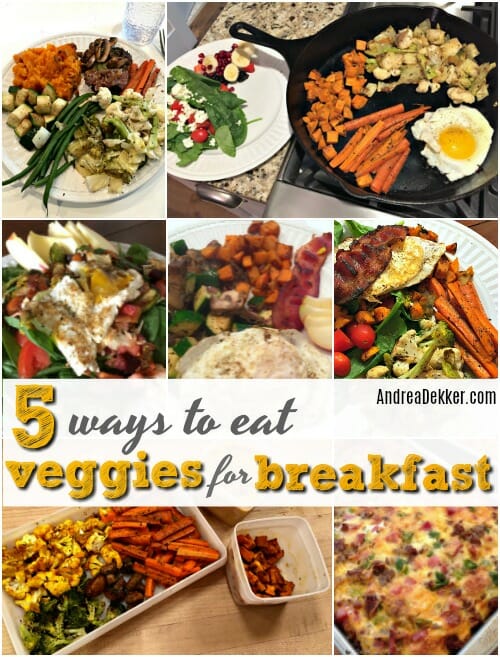 As someone who has never been overly concerned with "super healthy eating" and as someone who has never loved to exercise, I've made it a point to develop 1 or 2 small healthier habits every single year for the past 8 years. (You can read all about my different healthier habits in this post).
This past year, I focused on packing low-waste lunches and eating as many veggies as I could.
The veggie challenge began because I wanted my kids to tolerate raw veggies… and I wanted to "train" myself to snack on raw veggies instead of cookies or brownies.
Once we had that taken care of, I pursued several others ways of incorporating more vegetables into every single meal — yes, even breakfast!
It was a little strange at first, but now, a year later, I can honestly say I LOVE eating vegetables for breakfast! Of course, it helps that I've been a fan of veggies for my entire life (even as a young child) but breakfast is currently my most favorite meal of the day as I have so much fun experimenting with new and different ways to enjoy vegetables for my morning meal.
Since I've gotten quite a few questions about how I recommend cooking and preparing veggies for breakfast, I thought it might be a fun blog post topic.
If you'd like to try incorporating a few more vegetables into your daily meal plan, here are 5 ideas to get you started!
1. Omelettes or Quiche (the Safe way)
This is a pretty "safe" and traditional way to incorporate many different veggies into your breakfast without a lot of whining or complaining from others.
It's considered "normal" to eat vegetables with eggs — and if you throw a few pancakes or slices of toast on the plate, no one should be too alarmed.
RECIPES TO TRY:
2. Smoothies (the Sneaky way)
If you (or your family members) are so thrown off by the idea of eating vegetables for breakfast, a fruit and veggie smoothie might be the best way to start.
It's a "sneaky" way that, when done correctly, makes it virtually impossible to notice any vegetable taste or texture.
I always make sure to include at least 1 over-ripe banana (frozen), and blueberries as the banana flavor will over-power other tastes and the dark blue of the blue berries will mask any dark green color of the veggies.
Start by dumping in a bunch of fresh or frozen spinach and/or kale and see if anyone notices… I doubt they will!
RECIPES TO TRY: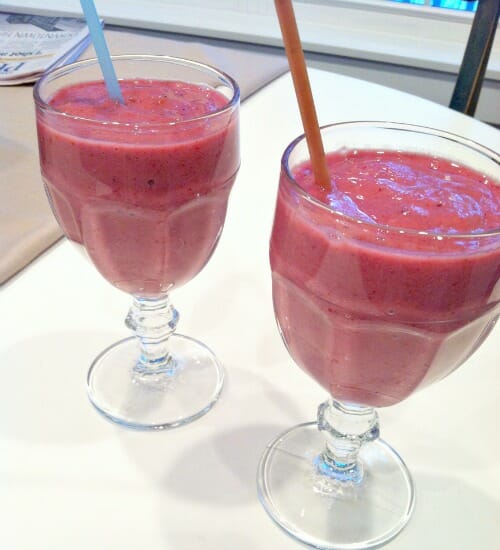 3. Roasted or sautéed with bacon, sausage, eggs, hash browns, etc. (the Substantial way)
Have you ever eaten Steak and Eggs for breakfast? I have — and it's really good! However, it's even better if you add a bunch of roasted or sautéed veggies (and maybe some sweet potato hash browns) along with it!
Seriously, any type of meat + fried eggs + roasted veggie combo has been my go-to breakfast for the past year, and I have no intention of switching this up any time soon.
Want toast or a muffin along with your meat, eggs, and veggies? Go for it!
This meal will FILL YOU UP until lunch — hopefully eliminating your mid-morning snack cravings.
NOTE: in the morning, I simply reheat (either in the microwave or in a frying pan) veggies I already roasted a day or two before. They taste just fine to me and are not mushy or overdone at all.
RECIPES TO TRY:
4. Leftovers from the night before (the "Strange" way)
I know, this might sound extremely strange, but even way back in high school, I loved eating leftovers for breakfast (pasta was my preferred leftover back then!)
Now days, if the fridge is feeling a little too full, I'll just eat a handful of various leftovers for breakfast and call it good.
Sometimes that's spaghetti squash, sometimes it's a casserole, soup, or stew, sometimes it's a burger (topped with a fried egg) or leftover salmon and sweet potatoes — whatever the case, there are almost always a variety of leftover veggies I eat along with the other leftovers for a very filling morning meal.
And yes, for the 10th time, I DO realize this is not considered "normal" breakfast food — but our family regularly has "breakfast for dinner" so I really don't see why I can't have "dinner for breakfast"!
If you think about it, there's really no reason why we shouldn't eat veggies for breakfast, especially if we have them with both lunch and dinner!
5. Raw and/or in a salad (the Simple way)
If you're not a morning person and don't allow much time for breakfast, why not have a bunch of raw veggies with hummus, ranch, guacamole, or even salsa?
Or better yet, have a salad ready to go in the night before (along with whatever you're packing for lunch) and take it with you for "breakfast" when you get to work.
There is no rule against having salads for breakfast, you know!
I personally enjoy topping my leafy greens with roasted sweet potatoes, fried bacon, a fried egg or 2, feta cheese, and cherry tomatoes. It tastes like a BLT (which I love) and, served with a side of fruit or piece of toast, is an excellent way to increase the number of veggies you eat each day.
.
I fully understand that many of you might think I'm crazy — I probably would have said the same thing 18 months ago!
It took time for me to get onboard with veggies for breakfast — and even more time for my family to stop thinking I was completely crazy — but now breakfast is honestly my favorite meal of the day. I love coming up with new and different ways to work more veggies into our morning meal.
Since Dave and I wake up very early, I have tons of extra time to try out new recipes or make a somewhat "gourmet" breakfast for Dave and myself before the kids wake up.
No one bugs me or needs me while I'm cooking, and best of all, I get to eat my food piping hot!
In case you can't tell by the pictures in this post, I eat a massive amount of food for breakfast — often, my plate is so full I have to pile things up in order to fit everything on.
However, I eat breakfast fairly early (usually between 5:30 and 6am) and I want my breakfast to hold me over until lunch. By including so many vegetables, I get quite a bit of fiber — which definitely helps keep me fuller longer.
If you're intrigued by the idea of adding more veggies to your diet, breakfast is a great place to start.
But please, START SMALL!
Make a veggie omelette or put some spinach in your smoothie — then try a few roasted vegetables with your eggs, bacon, and toast. Once you get used to incorporating veggies into your morning meal, it won't seem as strange (I promise!)
What are your favorite ways to sneak more veggies into your daily diet?