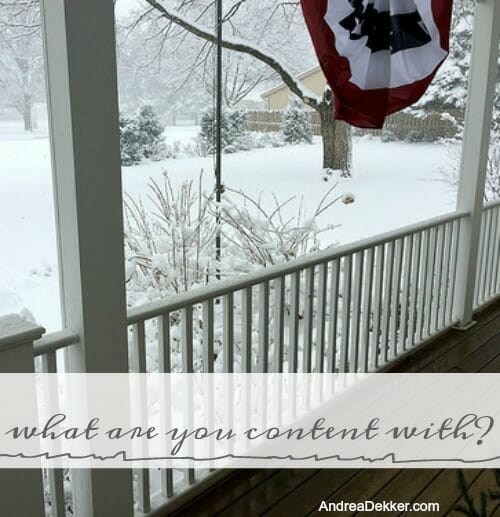 Oh the gloriousness of a fresh new year… a blank slate!
So many goals, resolutions, and aspirations.
So many things we want to change.
Maybe this is the year you're finally going to:
put more into your savings account
pay off debt
lose those last 10 (or 50) pounds
start eating healthier
join a gym and actually go each week
get more organized
better manage your time
start up the business you've talked about for years
finally ask for that promotion at work
heal a broken relationship
start (or finish) a big home renovation
revamp your wardrobe
simplify your beauty routine
get more involved in your church or school
start up a local charity
volunteer more
I'm sure you have a long list!
These are all fantastic goals and aspirations… I certainly do NOT want to deter you from working towards fulfilling something you feel very passionate about.
However, before we get too carried away making all sorts of changes and "improvements", I'd like to encourage you to stop and note at least 5 things you are currently very content with.
What do you do really well?
What do you love about your life?
What do you enjoy most about your job?
What are your favorite physical features?
What space in your home gives you the most joy?
What (or who) makes you happiest each day?
What is one thing you definitely do NOT want to change?
What area of your life are you completely satisfied with?
.
With all the busyness of the holiday season — trying to make an appearance at every event, buying the "perfect" gifts, sending color-coordinated Christmas cards, making the most appetizing meals, hosting the best parties — followed by the pressure of making the most ambitious New Years resolutions or setting the most impressive goals, it can be easy to lose sight of everything we have to be thankful and grateful for.
Consider today's post a little exercise in contentment that will hopefully help you to destress, relax, slow down, regroup, and feel satisfied with yourself today (and moving forward) instead of only thinking of everything you want to change or improve.
There is plenty of time for change and improvement this year (I fully encourage you to push forward with your goals) but for today, just take a deep breath and enjoy anything you are perfectly content with right now.
Even if you can only think of 5 teeny tiny things, it's nice to know we are content with something!
I realize many of the thoughts floating around in your head right now might be very personal — but if there's something you'd like to share (or just put in writing) feel free to leave it in the comments!
What are YOU most content with right now?