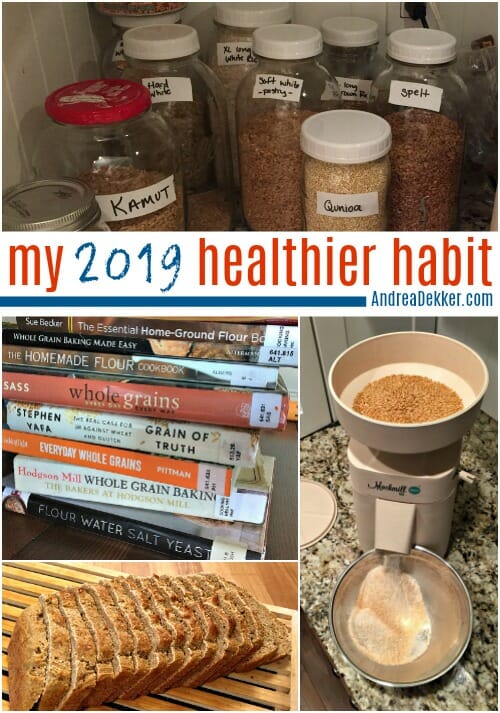 For the past several years, I've chosen one or two smallish "Healthier Habits" to incorporate into my life and my family's life.
2018 = Pack low-waste lunches and eat TONS of veggies

2017 = Use real Maple Syrup & start flossing every day

2016 = Eat less processed meats

2015 = Buy higher quality breads and eat "healthier fats"

2014 = Switch to full-fat dairy (sorry, no link)

2013 = Use butter instead of margarine

2012 = Drink more water
On their own, they really are very small changes — especially when you consider I have a FULL year to implement them.
And because they are relatively small changes, I can honestly say that every single one of them has completely STUCK with my family — to the point where we never even think about them anymore. They take zero effort or brain power for me to remember as they are habits I do without a second thought… which means they are not issues I constantly battle with.
I don't have to force myself (or my kids) to drink more water because we naturally do. In fact, it got to the point where juice was going bad in our fridge so I just stopped buying it about a year ago. We now only have water and milk as drink options — with lemonade for special occasions.
I don't have to constantly remind myself to use butter and maple syrup instead of margarine or imitation syrups because it's all we have in the house now. Nora was the hardest convert to maple syrup, but I just pour the maple syrup into her old favorite syrup bottle and she happily eats her pancakes and waffles!
I don't have to think about how to get my children to eat more vegetables because we now eat them with every single meal, and with many of our snacks. James is the best veggie eater and will often request a pile of raw veggies with "wanch" (Ranch dressing) for his morning snack. 🙂
I could NEVER have made all of these changes at once!
It would have been so overwhelming, I'm positive I would have burned out and quit — assuming I wasn't cut out for a healthier lifestyle.
However, adding in little changes SLOWLY over time has made all the difference!
Our current diet is radically different than it was 8-10 years ago, and while we still eat and enjoy so many NON-nutritious foods, we are all in the habit of eating more nutritiously on a regular basis and it no longer feels like extra work or something that requires extra time and energy to think about and prepare.
For 2019, my healthier habit is to Cook, Bake, Eat, AND Grind Whole Grains every day.
This goal all started a few years ago when I wanted to begin baking my own bread again (I used to bake much of our own bread before we had kids). At the time, I had just found out I was pregnant with Clara so I knew the timing wasn't right. However, I told myself that if Clara was our last baby, I'd start baking my own bread in 2019.
So… my initial goal for 2019 was to bake all our own bread.
However, that goal morphed into trying to eat a huge variety of whole grains every single day.
And I don't just mean buying whole wheat flour from the store!
After months of reading books from the library, watching online tutorials, listening to podcasts from nutritionists and professional chefs, I have not only been cooking and baking with various whole grains, but I've also been grinding my own grain to make all our own flour for bread, pancakes, waffles, pizza crust, cinnamon rolls, etc., cooking various grains to make delicious salads, soups, casseroles, etc. and soaking the grains for different flavors and textures.
Of course, it has been a HUUUUUUUUUGE learning curve.
I've spent hours and hours and hours reading and listening and learning.
I've spent a ridiculous amount of money on ingredients, wheat berries, various other grains, and other supplies I need.
I've ruined so many loaves of bread (we practically have a life-time supply of homemade croutons in our freezer right now!)
I've gotten so frustrated, confused, and angry at times.
I've sworn off homemade bread forever, deciding it's just not worth this much effort.
I've also learned A TON!
I've had a bunch of successful recipes that taste amazing.
I've made some amazingly delicious meals and baked goods using ancient grains like Kamut, Emmer, and Spelt.
My children know the difference between Farro, Quinoa, Buckwheat, and Wild Rice — all foods they never even heard of a couple years ago.
Most importantly, I'm having SOOOO much fun!
I suppose this healthier habit is more of a hobby for me right now — it just so happens to be a hobby that is also beneficial for our family's nutrition!
.
Now don't worry, I won't be posting recipes using home ground flour or all sorts of crazy-weird, hard-to-find ingredients. Our family still eats normal soups, stews, casseroles, and salads for many of our meals, and of course, we still enjoy delicious desserts every day — so those will be the recipes I focus on for my blog.
However, I couldn't not share my newest hobby with you all — especially since you're bound to see my homemade breads and yummy grains popping up in various posts (even if I'm just casually mentioning them as part of a story).
That said, once I find a really good whole grain sandwich bread recipe, I will most definitely share that on the blog!
I've tried so many recipes that claim to be "the perfect whole grain sandwich bread" only to pull another bland-tasting brick out of the oven after hours and hours of work.
This was my first attempt at 100% whole grain bread using flour I milled myself… it wasn't totally horrible, but it looked awful and the kids wouldn't touch it.
I'm getting better though!
In the mean time, I'll continue experimenting with all sorts of grains and seeds, grinding my own combinations of grains to make interesting flours, and checking out as many books from the library as I can get my hands on (I promised our librarians some bread once I perfect my recipes!)
We'll enjoy lots of homemade croutons, homemade bread crumbs, grilled cheese, french toast, and stuffing with the bread that doesn't quite meet our standards!
So that's what I'll be doing in the kitchen this year!
I know it will take lots of trial and error (and patience) but I'm hoping I stick with it until making my own whole grain products is just one more thing on my to-do list and not this huge project that seems overwhelming!
I'd love to know… what are any goals or healthier habits you're hoping to implement this year?