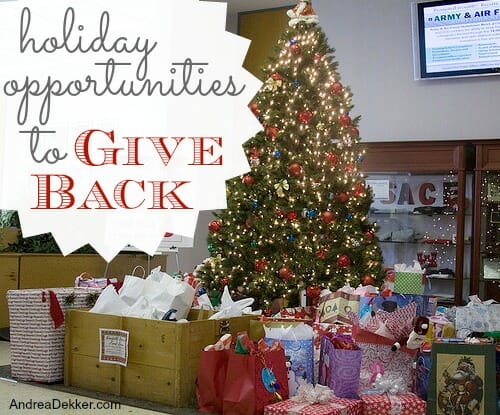 Christmas is less than 6 weeks away — the holiday season is definitely in full swing!
However, even if I didn't have a calendar and I never stepped foot into a store, I could still tell you we were getting close to Christmas based on the amount of donation and volunteer requests we've been getting.
I'm not annoyed — I realize this is the busiest time of year for non-profit organizations, but it does get overwhelming when we try to decide what organizations we will divvy up our time and money to help support.
I realize that many people like to "give as they feel led" and while I think that's great, I personally feel like I have to have some sort of plan in place before the holiday season starts — otherwise I end up feeling guilty that we can't give to everything or wondering if we should have given more.
So in an effort to jump-start the generous spirit of the holiday season, I thought I'd share some of my thoughts about holiday giving along with a few ways we can all give back this season.
I'd also love to hear some of your favorite ways to give back — both during the holiday season and all year long.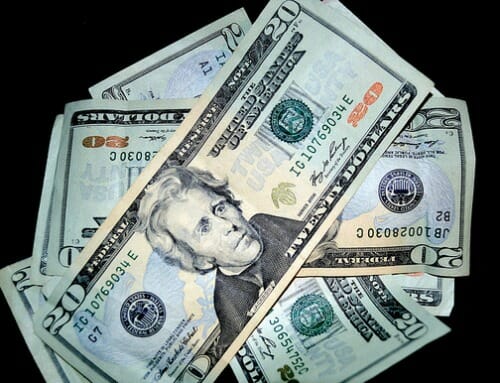 Create a Giving Budget
At the beginning of each New Year, Dave and I usually take a few minutes to decide on our "giving budget" for the following year. How much do we want to give to church, to his school, to any other specific organizations, and how much do we want to "reserve" for all the extra opportunities to give that arise throughout the course of the year (especially this time of year).
I think two key factors in creating a giving budget are:
1. It needs to be written down
2. It needs to be broken down into monthly increments so you know how much to put aside each month
Then, throughout the year, when you get various donation requests, you can revisit this budget and decide #1: if this request is in your budget, and #2: if it's something you feel called to give to. If the answers are "no", then just simply explain that you'll keep this organization in mind for next year.
NOTE: This same technique also works really well when it comes to giving of your time. Simply pick the groups and organizations that mean something to you, decide how much time you can realistically allocate for volunteer work, and then don't feel bad saying no to ALL the other requests you get.
Don't give out of guilt!
For me, there's nothing worse than giving out of guilt… so by having a plan in place, we are able to give willingly to the organizations we choose (and a few extras as we feel led) and not feel guilty saying no to the rest.
In my opinion, if you say "yes" to every monetary and volunteer request you get (because you feel pressured or guilty) you're ultimately saying "no" to a whole bunch of other things — like quality time with your family, some much needed rest, or climbing out from your credit card debt (and the stress that probably accompanies this debt).
Please know that I'm not trying to discourage you from giving in general, I just know from experience that giving out of guilt is not enjoyable — especially when I'm forgoing time with my family or other important goals to do so.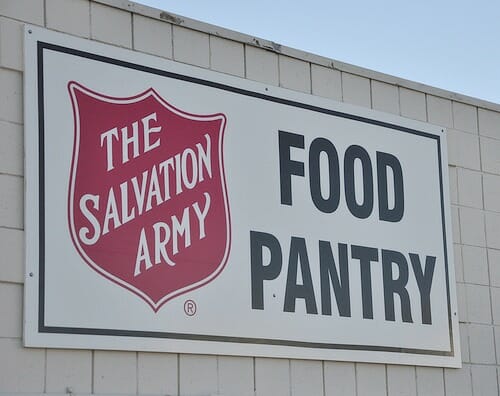 A Few Ideas to Give Back
Do you have a shoe box, some extra toiletries, and a few small toys? I love how simple Samaritan's Purse makes it for anyone to give back to a child who may not receive any gifts this year.
This is an amazing program in West Michigan that offers meals to hundreds of needy children. I had the opportunity to volunteer with Kid's Food Basket a couple years ago and can attest to the huge volume of food they give away EVERY DAY! I realize this program is just in West Michigan, but I'm guessing there are similar programs in your area so pick one and schedule a time for your family, friends, or coworkers to give back.
Cards that Give is a website that allows you to purchase holiday cards from select non-profit organizations, so you can stock up on all your holiday cards while supporting a great organization!
Personally, I just think these t-shirts are super cool and would make awesome gifts for anyone who has recently moved, anyone going off to college (or in college), or anyone who just really likes super soft t-shirts. They aren't necessarily a traditional way of giving back (they give a portion of sales to Multiple Sclerosis research) but it's still a neat opportunity to give a little while getting a great gift.
Here's a link to the post I wrote about The Home T last year.
It's crazy how contagious these acts of kindness can be — and they don't need to cost you a thing! Here's a blog post from a fellow reader who is taking a random act kindness challenge ALL YEAR LONG! She has some awesome ideas for simple, frugal random acts of kindness that can make a big impact on those around you.
This is a really cool non-profit that takes donated wedding dresses and makes teeny tiny burial outfits for stillborn babies. I know there are tons of these types of organizations out there — feel free to leave links to others in the comments.
Oh, and if you're looking for other ways to re-purpose a wedding dress, read this post.
Better Life Bags:
These bags are SO cute — anyone I know would love to have one of them. Better Life Bags are made by women in very low-income areas (based out of Detroit, MI) who would otherwise be unemployed — plus a percentage of all profits go to help support entrepreneurs in developing countries. You can learn more here.
A Few More Ideas
Pick an angel off the Angel Tree in the mall
Donate a book (or 10) to your local library
Donate a few toys to your child's nursery, daycare, church, etc.
Bake some delicious treats for your friends, family, neighbors, coworkers, or for the community bake sale
Bring bags of non-perishable food to a local food pantry
Sponsor a Thanksgiving or Christmas meal for a family in need (we ALWAYS get these requests in the mail)
Sponsor an entire family and purchase gifts for all their children
Volunteer at a local soup kitchen or homeless shelter
Get a group of friends or family together and sing Christmas carols at a local hospital or nursing home
Bring several bunches of flowers or balloons to a variety of chronically sick people in the hospital
Buy something from every kids who comes selling door to door — I guarantee you'll make their day!
Spend time with an elderly grandparent, aunt, or neighbor — even just a few minutes could really make them feel appreciated
Buy Ann Voskamp's book "One Thousand Gifts". Read it, then gift it to a friend and count your many blessings
Help out a mom with a new baby (or with any number of kids) for the afternoon
Support a local (or global) disaster relief organization
Give to a missionary or other religious type organization — Dave and I have frequently given to World Renew
And one more link to the post I wrote about giving Charitable Donations as clutter-free Christmas gifts!
Obviously there are many, MANY ways you can give of your time and money throughout the entire year… so I'd love to know:
What are your favorite ways to give back?