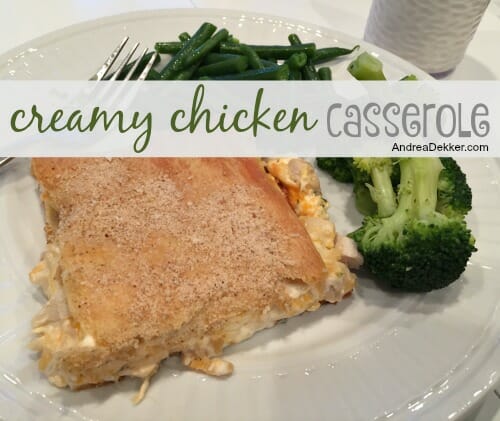 Almost FIVE years ago, I shared one of our family's favorite quick, simple, weeknight meals — Creamy Chicken Packets.
I still get emails and comments from readers who've tried it and LOVED it — and our family still enjoys this recipe on a very regular basis (usually once a month).
However, for the past few years, I've simplified this recipe even more… thanks to the fabulous "seamless crescent dough sheets" that are now available at our grocery store!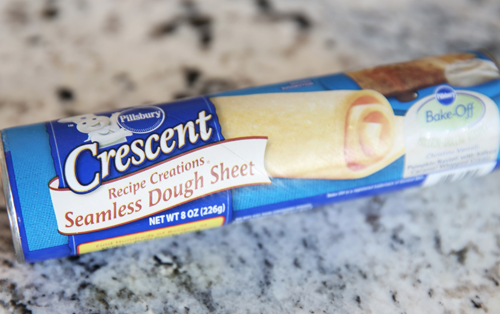 Instead of making individual chicken packets by pressing the triangular crescent rolls together (see photos below), I now use the seamless dough sheets and make this recipe in a casserole dish.
By making this one simple twist, I am now able to have this meal completely oven-ready in less than 10 minutes (considering I have the cooked chicken ready to go in the freezer).
No more worrying if the dough on the bottoms of the packets is too thin, no more wondering if the filling will seep out the sides, no more time spent pinching and pinching and pinching the dough, AND no more whiny kids if I cut one packet in half to split between them!
Plus, I added cheese — so of course it tastes better too!
This is still a huge family favorite around our house — and I love it even more since it's faster and easier to whip together!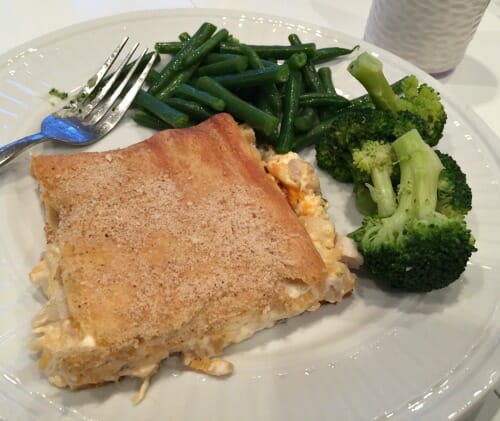 Recipe for Creamy Chicken Casserole:
serves 4-6
INGREDIENTS:
4 oz (half package) cream cheese
2 T. milk
1/4 t. garlic powder
1/2 t. onion flakes
1 T. chives
1-2 c. chicken; cooked and shredded
1/2 c. shredded cheese (we usually use cheddar)
1 package (8oz) refrigerated crescent roll dough sheets (you can do it with the regular crescent roll dough too — you'll just want to press the seams together)
1/4 c. seasoned bread crumbs
DIRECTIONS:
Preheat oven to 350ºF and grease the bottom of a 9″ x 9″ pan
In a medium bowl, mix cream cheese, milk, garlic powder, onion flakes, and chives together
Add in chicken and cheese and mix until combined
Press the crescent roll dough sheet into the bottom of the pan — leaving half the dough hanging over the edge
Scoop filling into dough and spread remaining half of dough over the filling
Sprinkle top dough with bread crumbs
Bake in preheated oven for 20 minutes, or until crust is golden brown
NOTE: You could easily double this recipe and make it in a 9″ x 13″ pan. Simply press one complete sheet of crescent roll dough into the bottom of the pan, top with double the amount of filling, and lay another crescent roll dough sheet on top. The baking time might be a few minutes longer, but not much.
I usually prepare this recipe while the kids are finishing breakfast or lunch, and store it (covered) in the refrigerator until right before we're ready to eat. Then I uncover it, pop it in the oven for 20 minute, steam a few veggies and cut up fruit while I wait for it to cook, and serve up a super quick and simple meal our whole family enjoys!
Do you use the crescent dough sheets?
Visit my virtual recipe box for more simple, delicious, family friendly, recipes!