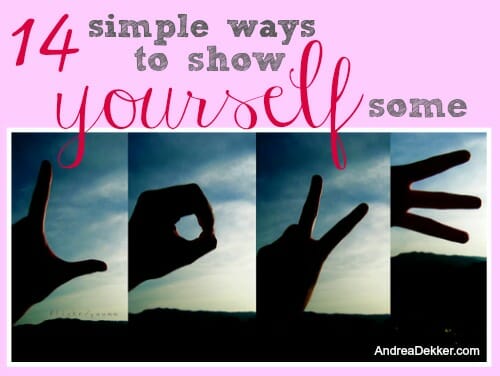 Happy Valentine's Day!
As I've mentioned before, I'm not big on commercial holidays (I know there's debate on whether Valentine's Day is commercial or not — for me, it's totally "commercial") and I'm definitely not big on gift-giving for commercial holidays.
Yes, the kids and I have had fun wearing all different shades of pinks and reds this month, we've been using pink and red heart plates and napkins for our lunches, and I even broke out a heart-shaped cookie cutter for our finger Jell-O and PB&J sandwiches… but that's about it.
Of course, I don't think it's bad or wrong to do more for commercial holidays… but instead of sharing cute Valentine's craft ideas, decorating ideas, gift ideas, recipe ideas, or other ideas that take time, effort, energy, money, and a decent amount of planning ahead, I thought I'd share 14 simple ways we can show OURSELVES a little extra love over the next few weeks, months, and even years!
Enjoy!
1. Get more sleep.
Over the past 5 years, I have learned to survive (and even thrive) on much less sleep than I got pre-children. HOWEVER, my goal has never been to survive or thrive on as little sleep as possible. I have always tried to make sleep a priority… and before kids, I regularly got a full 8 hours (or more) every single night.
Although it's rarely possible for me to get 8 hours of sleep anymore (certainly not 8 hours of uninterrupted sleep) Dave and I both try to make "more sleep" a priority — especially during his breaks from school and over the summer.
We are both the type of people who want to do just "one more thing" on our to-do lists before we go to bed, so we really have to work diligently to get to bed on time — but it's SO worth it when we don't feel completely exhausted all day long.
I know getting more sleep is not always possible (yes, I TOTALLY GET IT!), but one of the best ways I "love myself" is to head to bed 15-20 minutes sooner. Even if I just lay there and read for a bit, it's still more restful than plowing my way through my to-do list!
2. Drink more water.
I am fortunate that I enjoy drinking water; however, if you don't naturally enjoy drinking several cups of water each day, you might try adding lemon or other citrus fruits to your water — or even buying the sparkling water or flavored waters as special treats.
This is such a great habit to develop and a super simple way to show yourself some love (and it's free!)
If you're still not convinced, here are several additional benefits of drinking more water!
3. Treat yourself to something out-of-the-ordinary.
Maybe this is a special food treat or a new pair of shoes, maybe it's a massage or a manicure, or maybe it's bringing your kids to a babysitter's house for a couple hours so you can take a nap or just sit at home and watch Netflix in the middle of the day in total silence. Maybe it's a day out with friends or an afternoon away with your spouse. Maybe it's sitting and reading a book on the couch without being bothered.
Whatever the case, one little out-of-the-ordinary treat always seems to make a HUGE positive difference in my mood and my attitude — and considering these treats are often free or extremely inexpensive, they are definitely worth it for me!
4. Stretch and breath.
I know many women do not make the time for exercising (myself included most of the time) but the simple act of standing, stretching, and taking a few really deep breaths can honestly do wonders for your whole day.
I'm a big fan of the free Fitness Blender online exercise videos — they have just about any type of exercise you want to do, targeting almost any body part, in all different intensity levels, and for various increments of time.
They have an awesome 5-minute Relaxing Stretching "Workout" that I sometimes do if I'm tired of sitting at my desk for too long or just as a way to relax before bed. It's amazing what just 5 minutes of stretching and breathing can do for my body!
5. Do one thing to create less housework.
As I mentioned above, the kids and I have been using Valentine's themed paper plates and napkins for our lunches. We got the plates and napkins for free so there was no financial investment, and it's REALLY nice not to have much cleanup after lunches.
When our Valentine's plates are gone, we'll switch back to regular plates and our cloth napkins, but it's a fun treat for them AND for me — win win!
Also, the other day I surprised them with a hot 'n ready pizza from Little Ceasars for lunch. The kids all LOVE pizza, I was getting tired of the same-old-same-old lunch ideas, we were coming back from the library just before lunch, and our local Little Caesars (about 1/2 mile from our house) has a drive thru window!
For less than $6 and less than 10 extra minutes, it was such a treat not to make lunch that day and the kids were excited about a very abnormal and special lunchtime surprise.
Some other ideas might be hiring a maid service for a one-time cleaning, paying a neighbor boy to mow your lawn or pull weeds, ordering takeout for the whole weekend, asking your spouse to take over grocery shopping for the week, or recruiting a teen child to do the laundry for the week (or even just for the day).
Even as someone who doesn't really mind most household chores, I find that after a while, the chores all blend together and start to feel somewhat monotonous. Having a short break from cooking or laundry or grocery shopping or yard work is usually all it takes for me to feel a renewed sense of purpose for all those daily and weekly household chores.
6. Remove your makeup every night.
I don't wear much makeup (usually just mascara and bronzer) but over the course of my entire teen and adult life, I can probably count on one hand the number of times I went to bed withOUT removing my makeup.
I honestly can't even fathom sleeping with makeup on — especially since it only takes a minute or two to take it off.
Plus, it's SOOOOOOOOOO bad for your skin to leave your makeup on (just Google it if you don't believe me!)
7. Make ONE healthier lifestyle change.
Maybe it will be going to bed earlier or drinking more water like I mentioned earlier… or maybe it's eating one new fruit or veggie, cutting back on your caffeine consumption, taking a multivitamin, or going for daily walks.
I have personally noticed a drastic change in my own health and nutrition simply by making one or two SMALL healthier lifestyle changes every year. It's sort of like the snowball effect where one small change morphs into 2, then 4, the 8… and before you know it, you've adapted several healthy-living habits.
SIDE NOTE: I've flossed almost every day of 2017 so far — after a lifetime of NEVER flossing!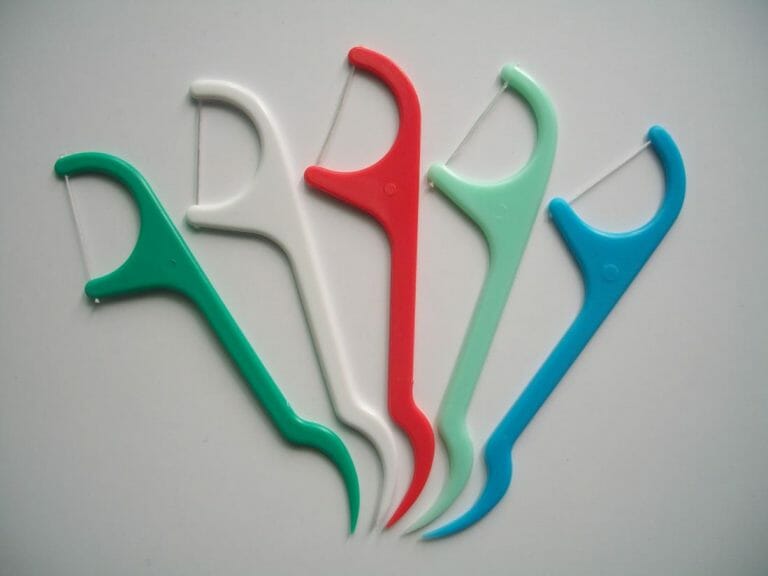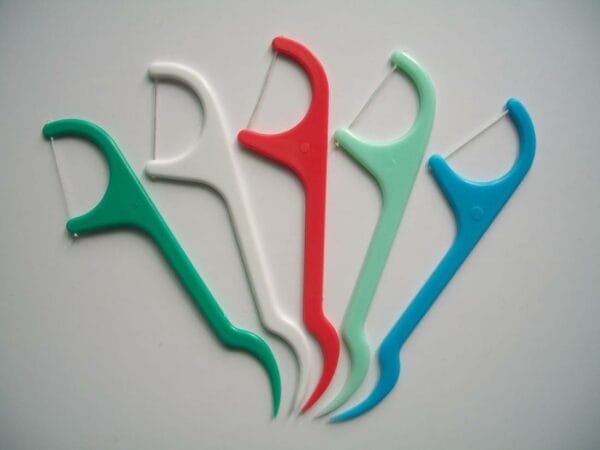 8. Give yourself a compliment.
As women, we are VERY hard on ourselves — and I totally understand why.
When we get a compliment, we are expected to immediately turn around and give a similar compliment… and if we just say "thank you", we are thought to be conceited.
And the moment we stop apologizing or making excuses for our less-than perfect home, our late arrival, our bread that didn't rise quite high enough, or our unkempt children, we are labeled as "lazy" or "inconsiderate" or maybe even "arrogant".
Sometimes I feel like it's almost impossible to be satisfied with ourselves and our lives without feeling selfish or conceited!
Nevertheless, if you're looking for a simple way to instantly give yourself a little boost, look in the mirror and give yourself a genuine compliment — one you might never admit to in public! Maybe you have great eyes or great legs. Maybe you love your freckles or your curly hair. Maybe you feel like you're an amazing mother, wife, friend, daughter, sister, etc. Maybe you are the best at your job within your company — whatever the case, enjoy the compliment!
9. Stop reading or watching things that make you feel bad.
I've never EVER been one to watch horror movies or really anything with much violence at all. And after having kids, I have literally stopped watching all Law and Order and NCIS type shows because there are always creepy pedophiles and bad things happening to kids on those shows and I truly can't handle it.
It causes anxiety for me to watch those types of shoes, I have bad dreams, I worry more, and I stress more — all because of a dumb movie or TV show!
To be perfectly honest, it's been a good 3 years since I've really watched any live TV (besides a few sporting events when Dave has the TV on in the background). I don't even watch the news because I can't stand all the negative messages — maybe that makes me uninformed and naive, but at least I'm happy!
I've unsubscribed from the newspaper and from all magazines, I don't do any social media except Facebook (mainly for business, not for personal), and I rarely read books that aren't some type of feel-good, romantic novel because I don't want any more negative, or bad, or unhealthy messages entering my brain.
If you feel overwhelmed with life, somewhat anxious about all the seemingly bad events surrounding you, or just fed up with monotonous negativity in our world, just step away from all media that makes you feel bad.
Even if it's just for one day, I KNOW you'll feel a difference.
10. Give yourself a free-pass.
Were you late for your meeting this morning (again)? Did you forget the special project for your kid's school? Did you put that birthday card in the mail several days too late? Are you without a plan for dinner tonight (or the next night, or the next night)? Did you let your kids watch TV all afternoon because you were too tired to play with them?
Although I usually don't encourage running late or a lack of planning ahead, I also think there are times when we just need to give ourselves a "free pass" for the day.
We all have bad days, we all get sick, we all forget important deadlines and meetings, we all are short-tempered with our spouse or our children at times, we all regret decisions at times.
However, today… give yourself a free pass to start over and forget about whatever it was you want to forget about!
11. Say "no" to one thing you no longer love doing.
Even after years of intentional practice, it is still very difficult for me to say "no" to requests for my time, talents, money, and other gifts.
I know I technically COULD do something — and I figure someone eventually MUST do it — so why shouldn't I just give in a do it. It's a logical thought process; however, there comes a point when we literally cannot fit one more thing into our schedules. Can anyone relate?
If you feel like you're running on fumes or if you just need a change of pace, think through your daily and weekly responsibilities and choose one thing to say "no" to today.
12. Bring fresh flowers into your home.
The kids and I bring fresh flowers into our home on a regular basis from May through October, and by this time in the year, I actually start to miss my dandelion bouquets!
I know Aldi and Trader Joe's both sell very inexpensive potted plants and fresh flowers (if you can't find anything free outside) — and, assuming you are allergic to flowers, I have a feeling seeing your flowers will bring joy to your day!
13. Light a candle.
I know this sounds very girly — and I'm not necessarily super "girly" — but I do love lighting a candle every once in a while as a special treat (I don't do it every day because then it would just be normal).
My current favorite candles are the soy 70+ hour candles from grove.co.
14. Smile.
If you don't think you can manage to do even one thing from my list… I would encourage you to simply look in the mirror and give yourself a genuine smile.
And if you can't smile at yourself, then smile at the next child you see — I can almost guarantee they'll smile back and you'll feel just a little bit better about yourself and your day! 🙂
I could keep going with this list for a while — but I figured 14 was a great place to start for February 14.
I'd love it if everyone left more ideas in the comments!
What are a few SIMPLE ways you show love to yourself?