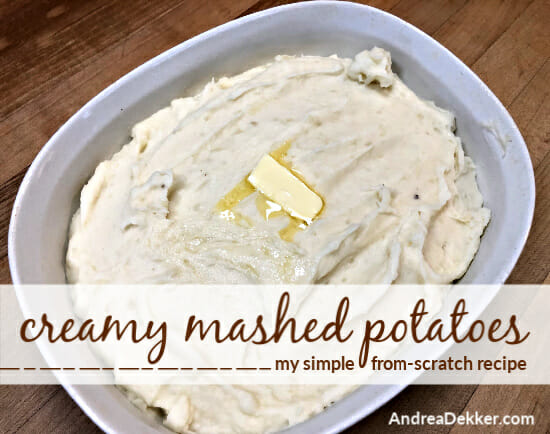 A steaming hot bowl of creamy mashed potatoes is one of my most favorite comfort foods… and an amazing side dish for any of your upcoming holiday parties!
If you've never made mashed potatoes from scratch before, you might just be surprised how SIMPLE the process is!
I suppose I was spoiled growing up as my parents always made mashed potatoes from scratch. When I heard a Bob Evan's commercial advertising "real mashed potatoes" I questioned how someone could have "fake" mashed potatoes — which is when my parents introduced me to dried potato flakes.
Nothing against dried potato flakes (they are great to thicken soups and really helpful for baking bread) but they are absolutely inferior to the "real deal".
If you'd like to wow your family members and holiday guests with delicious, creamy mashed potatoes from scratch, this recipe will help you do just that!
Watch My Video Below, and Keep Scrolling for the Printable Recipe Card!
NOTE: if you're reading via email, you may need to click through to see the video.
SO simple… right!
This is one of those "recipes" that can hardly be called a recipe because it's just so easy.
If you want more potatoes, add more — just make sure they are covered with water when boiling.
If you like "thinner" potatoes, add more milk. If you prefer thicker potatoes, add less milk.
If you want them chunky, skip the whipping process.
If you want garlic, chives, or cheese — add them in.
You really can't mess it up!
Yield: 8
Creamy Mashed Potatoes From Scratch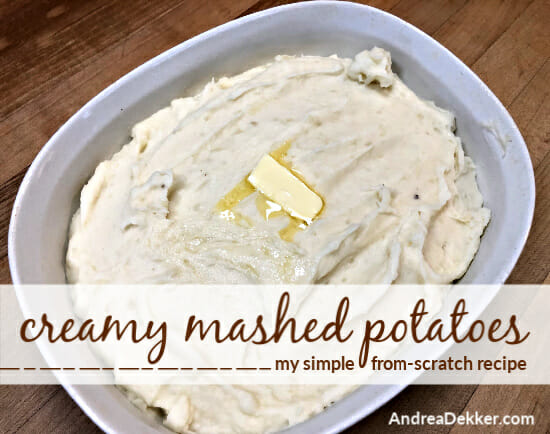 Deliciously smooth and creamy, these mashed potatoes are the perfect side dish to almost any meal in almost any season.
If you've never tried making potatoes from scratch, this simple recipe will wow you with how easy the process can be!
Ingredients
8-10 medium potatoes, peeled and chopped
Water to cover potatoes in pan
1 T. salt
1/4 c. butter
1/2 c. sour cream
1/2 - 1 c. milk
4 oz. cream cheese
shredded cheddar cheese (optional)
garlic, chives, or other seasonings (optional)
Instructions
Peel, rinse and chop potatoes (larger chunks are fine)
Place potato chunks in a large pan and cover with water
Add a generous T. of salt
Put the lid on pan and bring to a full boil
Reduce heat, remove lid, and simmer for 20-25 minutes
Drain potatoes, add in "extras" and mash
Use an electric mixer to whip potatoes into an extremely smooth, creamy consistency
Serve immediately or put in a slow cooker or baking dish to reheat for later
Optional -- top with cheese (I only do this if I'm not making gravy)
Notes
If you're short on time, you can easily prepare these potatoes a day or so in advance and simply reheat them in a slow cooker or in the oven. They also freeze well!
Nutrition Information
Yield
8
Serving Size
1
Amount Per Serving
Calories

371
Total Fat

15g
Saturated Fat

9g
Trans Fat

0g
Unsaturated Fat

5g
Cholesterol

42mg
Sodium

422mg
Carbohydrates

53g
Fiber

5g
Sugar

4g
Protein

9g
Nutritional information is approximate and does not account for additional ingredients or added toppings.
Sorry — I forgot to take pictures of the mashing process as I was taking a video instead!
As I mentioned in the recipe card, you can EASILY make these potatoes a full day or more in advance and simply reheat them for your big meal.
I almost always make our dinner side dishes as I'm cleaning up breakfast each morning. Then all I need to do is reheat them later in the afternoon — this saves me SO much time, stress, hassle, and mess later in the day when everyone is rushing through the door after school.
NOTE: If you plan to reheat them in the slow cooker, I would suggest adding a little extra butter or milk to keep them from getting a "crust" on the top.
However you choose to eat them, these creamy mashed potatoes are SO delicious (and SO simple!)
I hope you give them a try this holiday season!
If you have any leftover mashed potatoes, you can make this yummy soup.
Are mashed potatoes on your list of "favorite comfort foods"?
Visit my virtual recipe box for more simple, delicious, family-friendly recipes!
And follow me on Instagram for more behind-the-scenes peeks into my kitchen.