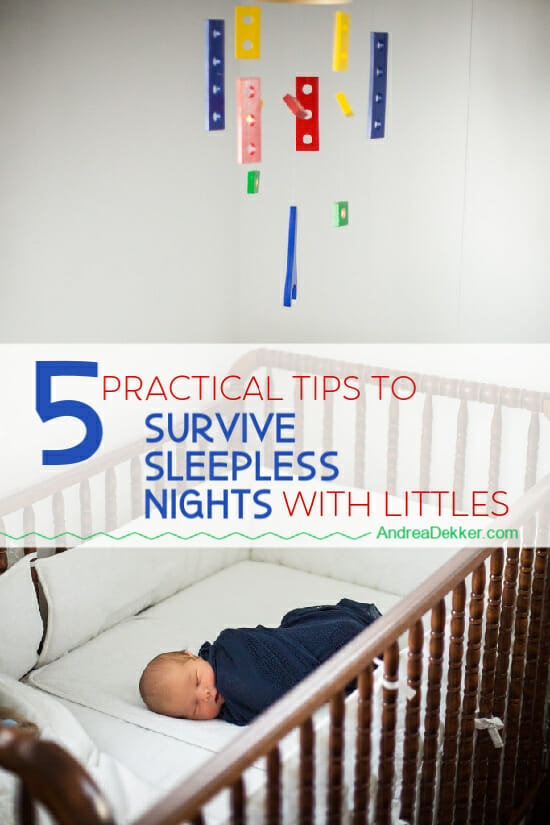 The last 8 years of my life have been filled with more sleepless nights than I care to recall! As a coping mechanism for my ultra-structured Type-A self, I came up with a short list of techniques to survive sleepless nights.
These techniques won't necessarily help your children sleep any better (sorry!), but they WILL help you handle the sleeplessness a little better.
In my experience raising 4 infants (2 of which were horrible sleepers, 2 of which were fantastic sleepers) we, as parents, can do and try and test and implement all the tips so-called "experts" tell us to do to get our children to sleep — but ultimately, the kids are in control. If they aren't sleeping, we aren't sleeping.
While I'm a HUGE advocate for training children to sleep, I'm also practical… and I know that all the training in the world won't help certain children! I figure that if I can't control my child's sleep, I can at least control how I react and respond to it!
THAT'S what I'm sharing with you today!
These are the tried-and-true tips that have helped me survive sleepless nights with our 4 young children for the past 8 years!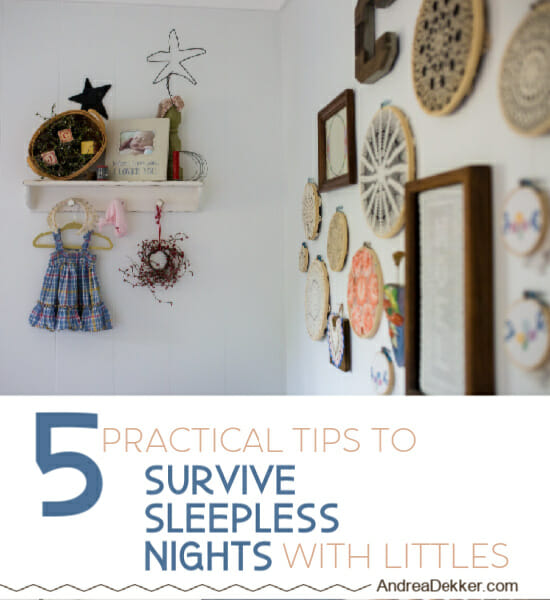 1. Keep your Smartphone with you at all times!
Although I'm not a huge advocate of technology in the bedrooms, having a smartphone has been life-change for me when dealing with sleepless children in the middle of the night.
When I was up all night, every night with Nora I had nothing to read, nothing to do, nothing to occupy my mind except the fact that I was SO tired and couldn't sleep.
Now, I use my phone to read a book (with the black background so it's not too bright). It's almost like a mini mom-vacation… almost!
Sometimes, when my babies were really little, I'd bring earbuds into the nursery with me and literally watch a movie on Netflix or Amazon Prime while I sat there rocking them back to sleep. Obviously, this wouldn't work with older children — but it was a game-changer for me with infants!
I also use the light from the phone's screen (and the flashlight app) to help me see things in the dark nursery without needing to turn a brighter light on.
And, I've spent many hours researching things like "what are signs of pneumonia in infants?" or "how long can a breastfed infant go without pooping?"
For someone who is NOT usually "attached" to devices, I can confidently say that having a smartphone felt somewhat like a "lifeline" for me. It has been a crucial part of my sleepless night survival plan!
.
2. Hang a robe (with pockets) near your own bed.
Yes, this is actually my #2 tip!
I have a thick robe and a thin robe hanging on the backside of my closet door (just 3 steps from my side of the bed) and any time someone wakes me up in the middle of the night, my first priority is to grab my robe.
My main reason for the robe is the POCKETS!
I always keep the pockets of my robe "stocked" with tissues and I put other items in the pockets as necessary — like my phone (see #1 above), cough drops, children's medicine, digital thermometer, and more.
The pockets are so handy for various middle-of-the-night needs, especially when trying to juggle a squirmy infant or defiant toddler. Plus, I personally just feel cozier and happier if I'm snuggled in a robe!
NOTE: This is the warm fluffy robe I've worn for YEARS. And this is a similar style to my light-weight robe for summer.
.
3. Stock the Nursery with YOUR "Supplies"
This tip is geared more towards sleepless nights with infants and toddlers — but it could work for older children too.
When I was regularly up many times a night with our newborns, I had a separate water bottle that I kept right in the nursery at all times (especially helpful when nursing and feeling SO thirsty all the time).
I also kept chapstick, nursing pads, my earbuds (see #1 above), and even a few snacks in the nightstand drawer (along with my stockpile of burp cloths).
Still to this day I keep a light blanket hanging on the back of the nursery chair (in case I'm cold), a small fan on the nightstand (in case I'm hot), and a neck pillow over the armrest so I can drift off to sleep even while holding a sleeping baby (I've never dropped a child yet!)
So often, we focus on stocking our nursery with things the baby needs… which is great. But don't forget about yourself too!
As you probably realize by now, you will spend a significant amount of time in your baby's nursery — make sure YOU feel comfortable in the room as well!
NOTE: Here's the tiny fan I use, and this is the neck pillow I use.
.
4. Consider Alternate Sleeping Arrangements.
As much as I hate to include this tip, I feel it's necessary to address as it's one of the only reasons I survived the unfathomable number of sleepless nights throughout the first 3 years of Nora's life.
Dave and I did not want our children to sleep in our beds OR in our room because we are both fairly light sleepers and I didn't want to hear the baby's noises all night long.
Since we didn't want the kids in with us, I went in with the kids… seriously!
We ended up buying a new mattress for our bed when Nora was 1. We then put our queen mattress on the floor in her nursery (we took down her crib around 6 months because she refused to sleep in it). I slept on this floor bed with Nora for many hours every night until Simon was born, at which point Dave took over (much to Nora's dismay!)
It was not ideal. It's not something I ever thought I would do. But it worked and allowed me to squeeze in a few more minutes of sleep each night.
After our horrible experience with Nora's sleeplessness (more info at the end of the post), we decided to actually put a twin bed in our nursery for our other kiddos. I slept in the nursery every night until our babies developed some sort of sleep pattern (usually at least 2 months).
This meant one adult could get a full night of sleep in our own bed, and the other adult could still sleep somewhat comfortably in the nursery.
It won't last forever (I promise) but it might be worth considering alternate sleeping arrangements for a few months… just to get a little more sleep!
.
5. Change Your Attitude.
I know… this is HARD.
It might even feel impossible!
When you are running on very little sleep, even the slightest annoyance can upset you more than it otherwise would (been there, done that!)
I'm certain I don't need to remind you how maddening it is to hear cries over the monitor. Again. Only an hour later!
However, I have personally come to realize that IF (and it's a big if) I can mentally re-group enough to change MY attitude a bit, the whole sleepless night gig feels just a teeny-tiny bit more doable.
I remind myself (over and over and over again) that this will not last forever.
I remind myself of every single old lady who has told me how fast these years go (even if I rolled my eyes at them).
I remind myself that I am my child's main confidant. I do everything (or almost everything) for them. For whatever reason, they are incapable of sleeping right now. They might be scared, they are probably tired, they don't know how to fall asleep. All they know is that I can help them and they want me.
Sometimes this seems unfair or annoying to me — but honestly, an attitude adjustment is a tremendous help for me when I'm awake (yet again) with another child in the middle of the night.
Of course, it might take several minutes for my raging internal dialogue to allow space for these more positive, nurturing thoughts… but once I get there mentally, I find I'm able to calm my children more effectively, and we all get back to sleep more quickly.
NOTE: If you're struggling with Postpartum Depression, it will be much more challenging to adopt a positive attitude regarding sleeplessness. Read this post… it might help!
.
Sleepless nights have been the most difficult part of parenting young children for me.
I can deal with the clutter and the additional laundry.
I can handle the insane number of to-dos and requests they come at me with each day.
I can meal-plan, pack fun lunches, and plate up hot breakfasts like a pro.
I can prioritize and schedule and remember almost everything required to help life with 4 young children flow more smoothly.
But for the love… is it too much to ask for a consistent 6-7 hours of uninterrupted sleep at night?!?!
.
Unfortunately, I realize my tips won't magically help your children sleep any better.
However, I do think they will help YOU cope with the ramifications of your children's sleepless nights — at least that's my goal!
Just keep reminding yourself that they WILL sleep eventually!
More of My Sleep-Related Posts:
How we FINALLY got our oldest child to sleep through the night (it only took us 3 years!)
Our experience using a trained Sleep Consultant for our 3rd child (it was a game-changer for us)
Tips to deal with exhaustion and chronic sleep-deprivation (helpful for anyone battling sleeplessness — not just parents of young children)
My thoughts on children's sleep schedules (hopefully this is encouraging for you)
My most-recent bedtime routine post (this is still pretty much how we run things around here)
Our SUPER early morning routine (the only way I get anything done around here!)
3 Ways I improve my quality of sleep (simple, yet effective)
The effects of sleep on EVERYTHING! (seriously, it's SO important!)
Clearly, I'm fairly passionate about sleep — either that or I've just been sleep-deprived for so long that it's something I constantly think about!
When it comes to sleepless nights, we need all the tips we can get… please leave your tips below!
What has helped (or currently helps) you survive those awful sleepless nights?