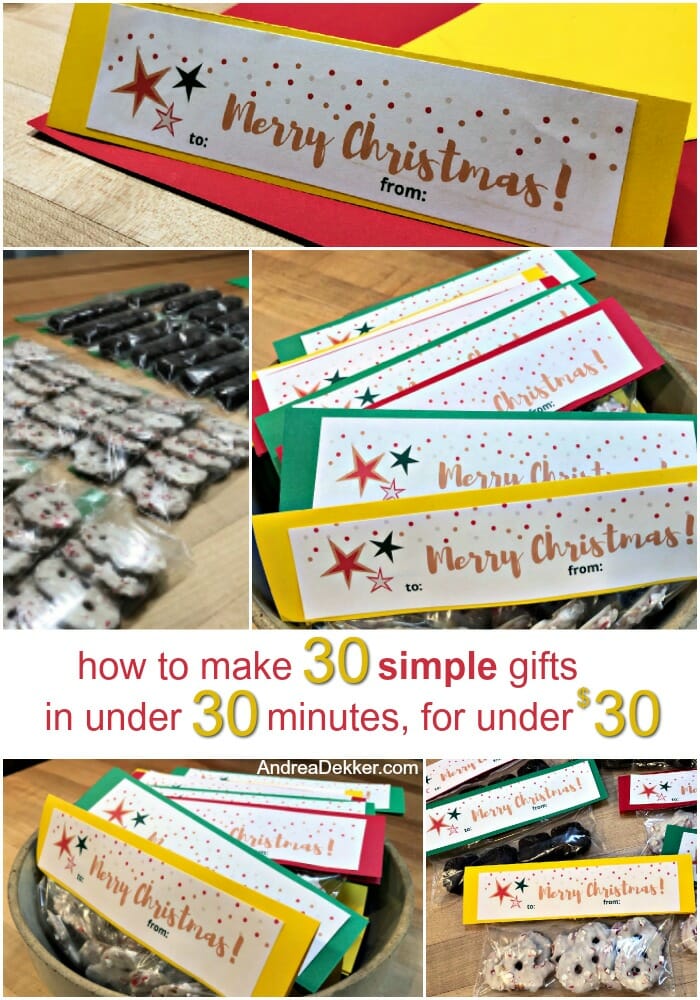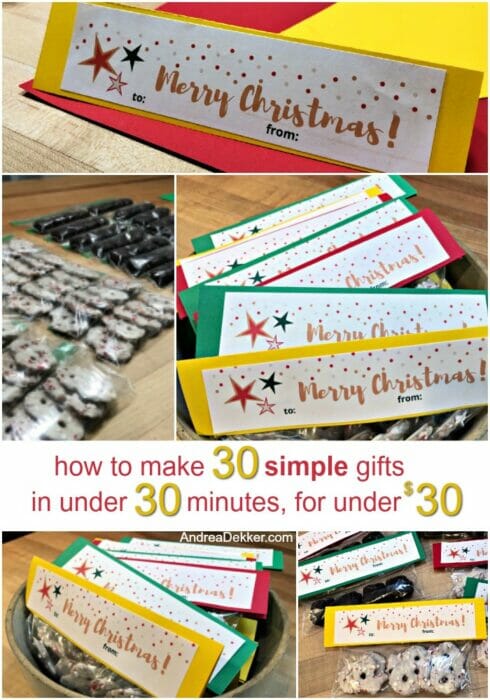 Are you looking for simple teacher gifts that will work for ALL of your teachers, coaches, instructors, counselors, leaders, directors, bus drivers, babysitters, youth pastors, and all the other important people involved in your children's daily lives?
Or maybe you want to bring holiday treats to your own friends, neighbors, coworkers, colleagues, extended family members, church staff, mentors, instructors, leaders, Bible Study group, mail delivery people, favorite barista, etc.?
If you're like me, you have grand gift-giving plans, but don't always follow through because it's hard to find the time (or the budget) to give gifts to all these extra people.
This time of year is already so "full" of extra stuff, it's hard to find the time to think of, make, buy, wrap, and deliver gifts for so many different people — especially on a tight schedule (and an even tighter budget).
If this scenario sounds familiar, I think you'll love the simple holiday gifts I'm sharing today.
And yes, I have FREE printable gift tags to make the process that much simpler and easier for you!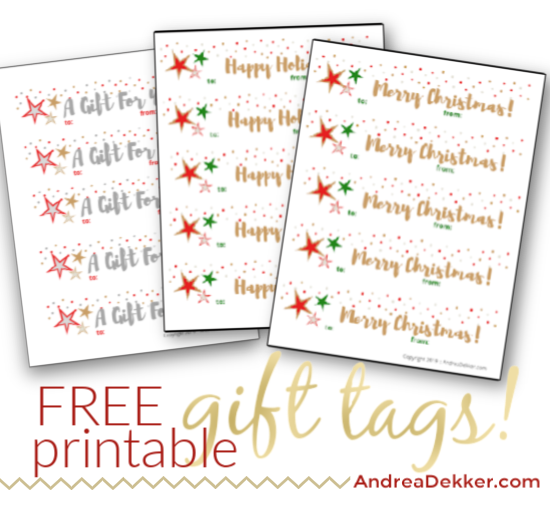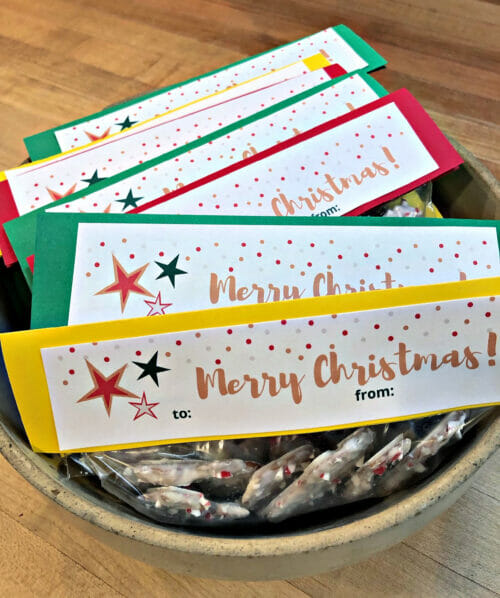 I love giving small gifts to all the special people in our lives, and my clutter-free lifestyle means I'm always searching for disposable and consumable gifts versus giving one more coffee mug or Christmas tree ornament! 😉
And since I give LOTS of gifts during the holiday season, I need to come up with a way to keep the cost and time-commitment in check.
.
Thanks in part to the printable tags, I think this year's gift is quite possibly my simplest, easiest, fastest gift idea yet!
In fact, I made my first 30 simple teacher gifts in under 30 minutes for under $30!
Does that sound doable?
Keep reading for detailed instructions, how-to tips, product sources, and my free printable gift tags!
Yield: 30 gifts
How to Make 30 Simple Holiday Gifts in Under 30 Minutes for Under $30!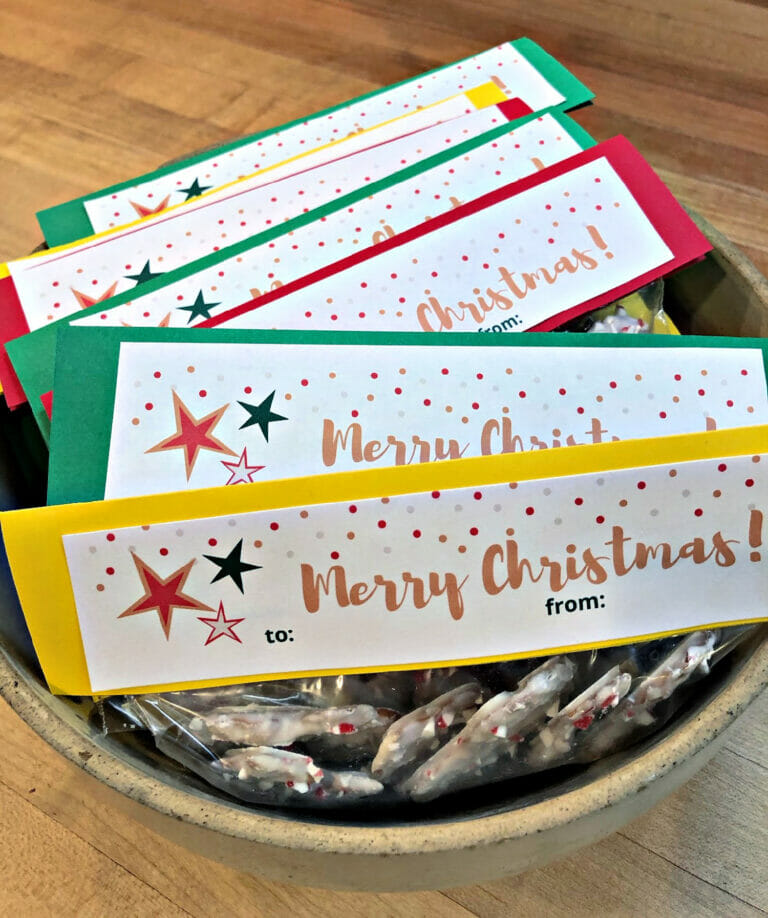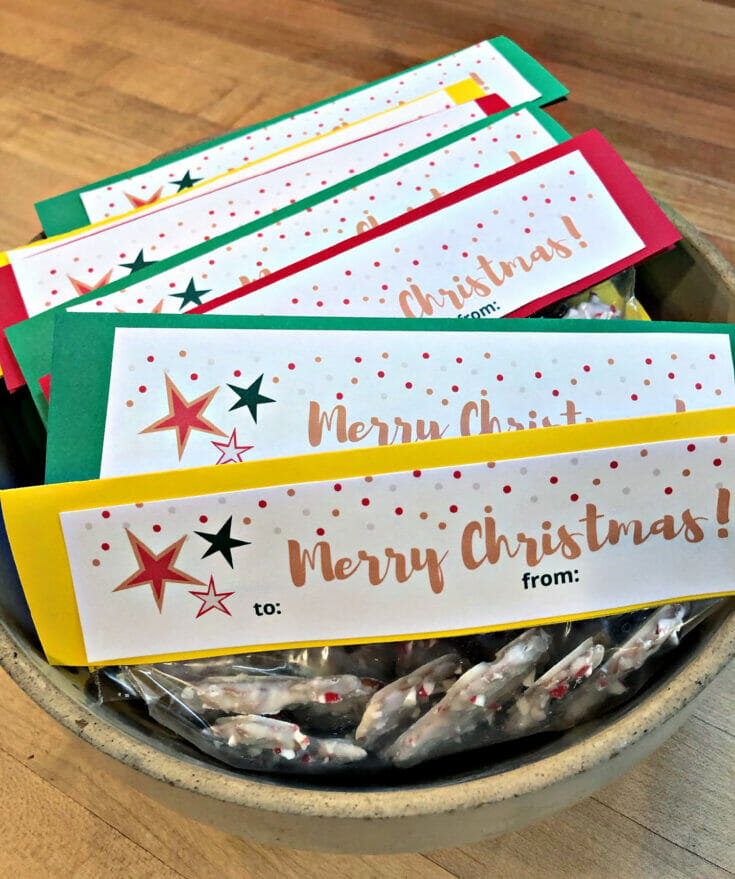 If you're looking for a simple, frugal, clutter-free way to spread a little Christmas cheer to all the special people in your life, THIS is it!
Be sure to use my free printable gift tags to make this gift extra special (and a little easier for you!)
Materials
Snack size zip-top bags
Whatever snacks you want to fill the bags with (see my suggestions below!) 
12" x 12" Colorful Cardstock or Construction Paper
Paper Cutter (or ruler and scissors)
Stapler
Glue Stick
FREE Printable Gift Tags (download below)
Instructions
Place your goodies in each zip-top bag (I did 5 pretzels or 5 caramels).
Print as many free printables as you need (there are 5 tags per page)
Cut printable tags to roughly 7" x 1.5"
Cut craft paper into 8" x 4" rectangles.
Fold cut craft paper in half (8" x 2" finished dimensions) and staple one paper on the top of each zip-top bag.
Glue printable tags to card stock (covering staples)
REPEAT and give to everyone on your gift list this year!
Notes
You can EASILY make this gift work for any season of the year -- just change out the treats inside, change the color of the cardstock, and add a different tag (or no tag at all).
Some other ideas for this type of gift are trail mix, granola, peanuts and M&M's, Chex mix, puppy chow, small pieces of fudge, fancy peppermints, fancy chocolates, peppermint sticks, and more!
Recommended Products
As an Amazon Associate and member of other affiliate programs, I earn from qualifying purchases.
Didn't they turn out so cute?!
Of course, you could beef up this simple teacher gift by adding a gift card or something else along with it. But even without anything extra, I feel these simple gifts will show the special people in your life that you value them and appreciate their role in your life (or your children's lives).
Some of you might feel that giving food gifts is not appropriate — and there are always allergy issues to consider. However, in my "circle" of people, food gifts are extremely common and very acceptable. Plus, I honestly can't think of a non-food gift idea that would be so simple, quick, and frugal to make.
If you're looking for simple holiday gifts to spread a little Christmas cheer to all the special people in your life, THIS is it!
no baking required
no crafting expertise needed (just a little cutting and gluing)
simple supplies (many of which you probably have in your home already)
quick and simple to put together
customizable based on your own preferences
easily transportable (even in a child's backpack)
simple ingredients with a long shelf-life, so you can make the gifts in advance
100% clutter-free — no more junk for others to feel guilted into saving!
Download your FREE printable gift tags and create your simple teacher gifts today!
FREE "Merry Christmas" Printable Tags

FREE "Happy Holidays" Printable Tags

FREE "A Gift For You" Printable Tags (for non-holiday gifts)
Seriously, you can whip out 30 or more of these cute little gifts in 30 minutes flat.
One more BIG to-do crossed off your list this holiday season!
What are your favorite SIMPLE teacher gifts (or simple gifts for anyone else on your list)?
Follow me on Instagram for a behind-the-scenes peek into our family's holiday season!