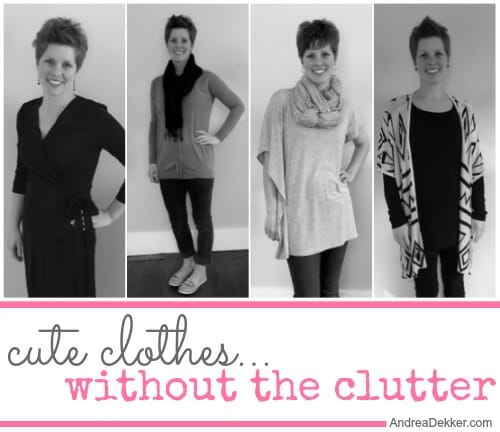 Is it possible to have cute clothing that's actually in style… without cluttering up your closet, shopping non-stop, and draining your bank account?
Yes, it IS (and I'm sharing how today!)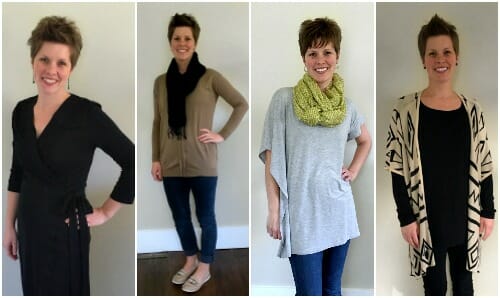 Many of you know that I do not consider myself to be the most fashionable person around.
I don't like getting out of the house to shop (especially not for my own clothes), I don't stay up-to-date on the latest trends and fashions, I feel the most comfortable in neutral colors and soft fabrics, and I much prefer a neat, organized closet versus one bursting with clothes.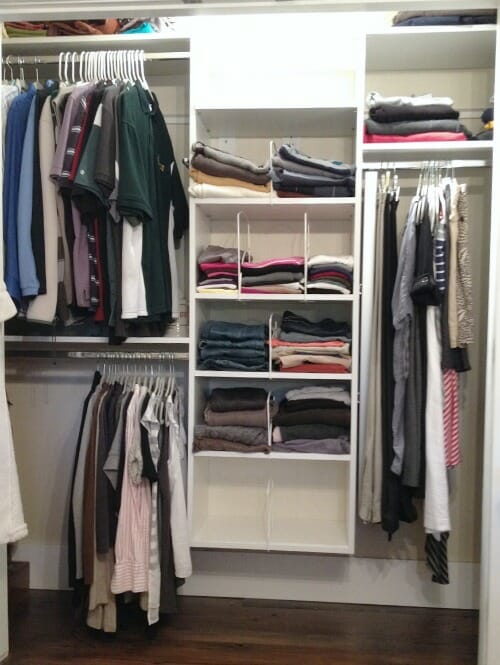 Plus, I have 3 children who spill on me, drool on me, wipe their snot on me, pee on me, spit up on me, sleep on me, pull on me, and request that I carry them or wear them for significant periods of the day…
This means that I can easily get stuck in a rut of wearing the same few things over and over and over again — especially if I'm just going to be at home and no one besides the munchkins will see me!
.
Almost 2 years ago, I transformed my wardrobe to include many mix-and-match pieces. This was a big project for me to tackle, but it really REALLY helped to simplify my closet and my morning routine. It also gave me a great sense of what styles flatter me (and what styles don't), what colors look better on me, and what things I feel most comfortable in.
I still wear those items (over and over again!) but 2 years and 2 babies later, I've been feeling like I need to mix things up a bit again.
I joked with Dave after James was born that I wished there was someone I could borrow clothing from on a regular basis, wear it a few times, and then give it back again.
This would have been SO helpful as I slowly lost my baby weight. I would have always had a few stylish items as my "go-to" clothes for getting out of the house… but I wouldn't need to clutter up my closet, spend a fortune buying cute items in various different sizes, or just wear frumpy-looking, too-big clothing as I lost the weight!
If only I would have known about Le Tote back then…
Le Tote offers unlimited clothing and accessory rentals for $59 per month (always with free shipping!)
So… basically EXACTLY what I was wishing for back when James was born!
Here's a quick breakdown of how Le Tote works:
Create your account and fill out your size profile
Add the items you like to your online "closet" by clicking the heart icon.
View the items Le Tote suggests based on your "closet" (you can swap out styles and customize your tote before it ships).
Wear your tote (3 garments, 2 accessories) for as long or as little as you want (2 days, 3 weeks, whatever!)
Send the tote back (NO need to wash anything!) in the prepaid envelope and they will ship you a new tote immediately. There is NO LIMIT to how many totes you can ship back and forth each month.
If you loved something so much that you don't want to send it back, you have the option to purchase it up to 50% off retail price!
My latest Le Tote shipment…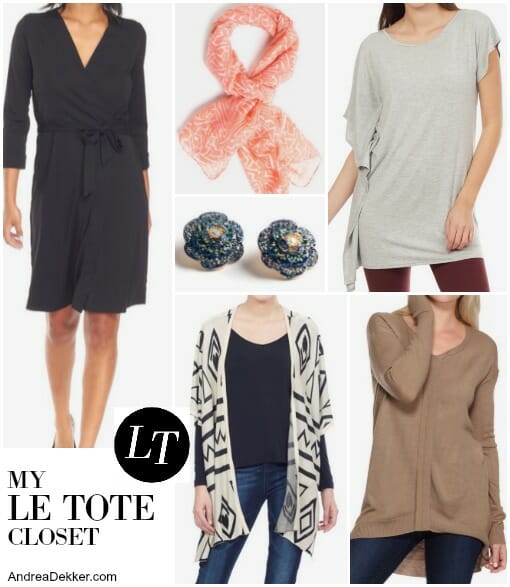 .
My LeTote shipments have really captured my casual, comfortable, practical, neutral-colored, chasing kids around all day clothing style — while mixing it up just enough to make me feel cute and not quite as boring!
Almost all the items they have sent are things I would have NEVER thought to purchase on my own (if I ever went shopping!) but they have all looked pretty cute, and I always get compliments on my Le Tote clothing and accessories when I wear them out and about.
Everything seems to fit really well too (although I have requested no pants as I really like the pants and jeans I have). It's amazing how well their stylists have captured my tastes, my style, and my size!
.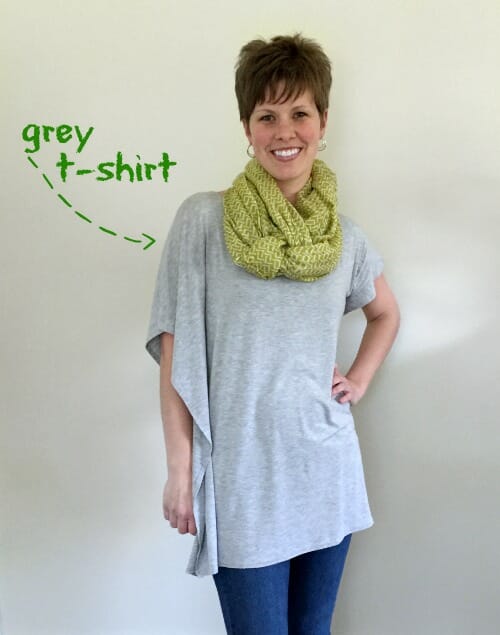 My favorite thing about the Asymmetrical T is that it's a T-shirt that is also cute! Also, it's super long (a must-have for me) and it's honestly one of the softest, comfiest t-shirts I've ever worn.
Plus, the extra fabric down the side really "dresses it up"!
.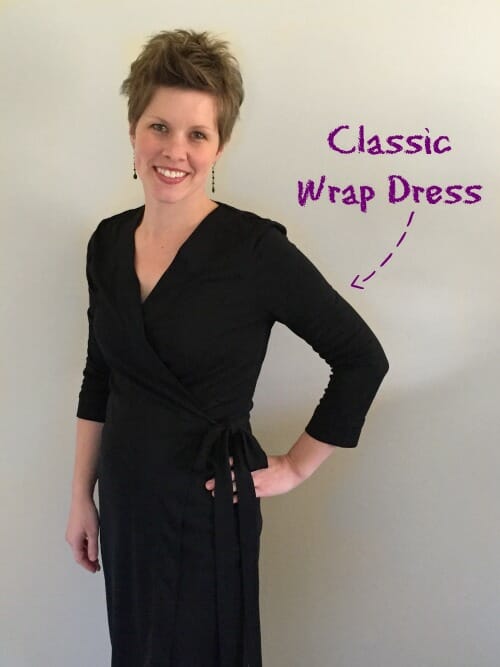 This is Simon and me before church in my Classic Wrap Dress (Nora was "helping" James watch TV!)
This dress is SO comfortable and fairly flattering for my figure. It looks great on it's own or when paired with a cardigan, cute scarf, tights, boots, etc I could easily wear this all year long (even in Michigan!)
Plus… bonus points as it's perfect for nursing a baby 🙂
.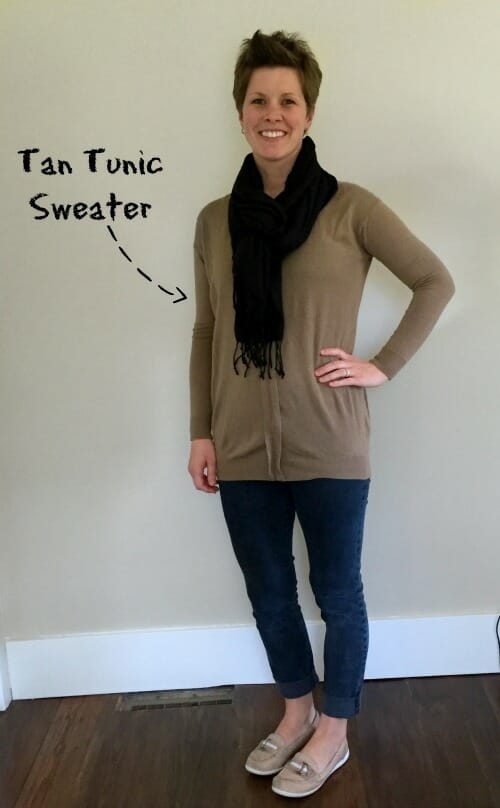 This tunic sweater is also nice and long for my very long torso. It's the perfect neutral color to go with black, brown, white, light jeans, dark jeans, or even my pink jeans! It's very lightweight (perfect for spring) and layers well if I want to wear a cardigan over top.
.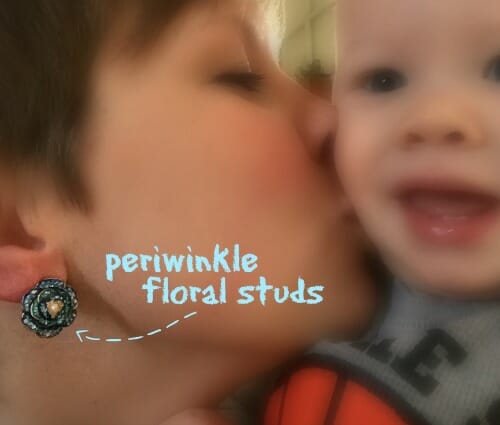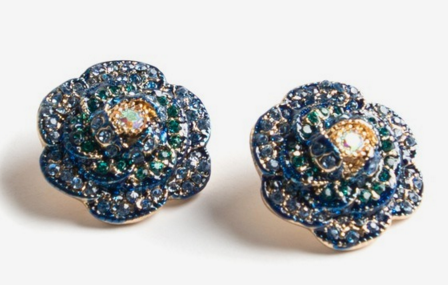 I don't wear much jewelry — but I ALWAYS wear earrings.
I know jewelry is an easy way to spruce up an outfit, but I'm fairly boring and usually rotate between the same 3-5 pairs of earrings — so I was THRILLED when I saw these Periwinkle Floral Studs in my most recent Le Tote shipment. They are larger than most of my normal stud earrings, but definitely not too large to overpower my short hairstyle — and they really add a pop of color to a neutral outfit.
My kids are obsessed with these earrings and every time I wear them, Simon says "ooooooooo!!!!" while pointing at my ears. Then he wants me to bend down so he can touch them 🙂
.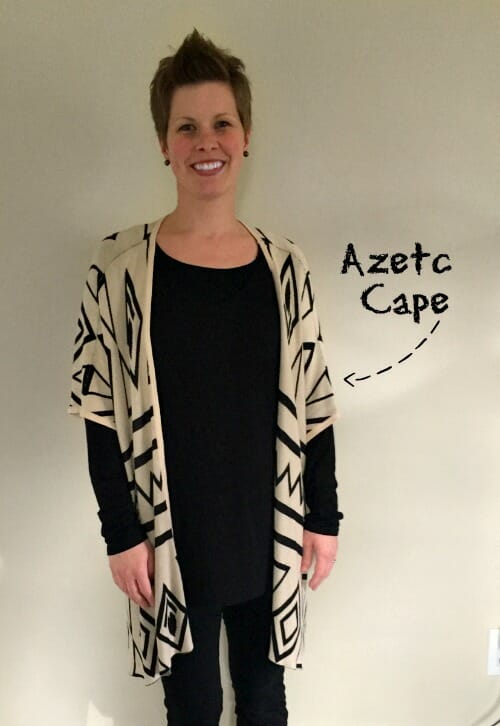 The Aztec Cape is definitely not something I would have purchased on my own — but I've worn it twice so far, and both times I've gotten multiple compliments on how cute it is.
Obviously, it's extremely comfortable — and a great spring-time "accessory" as I can easily pop it on or pull it off again depending on how warm or cold it is.
It looks really nice with jeans and black pants — and I've even worn it successfully with black leggings and a black t-shirt for a super comfy "around the house" outfit that is still cute enough to stop by the store or pop into the bank if necessary.
.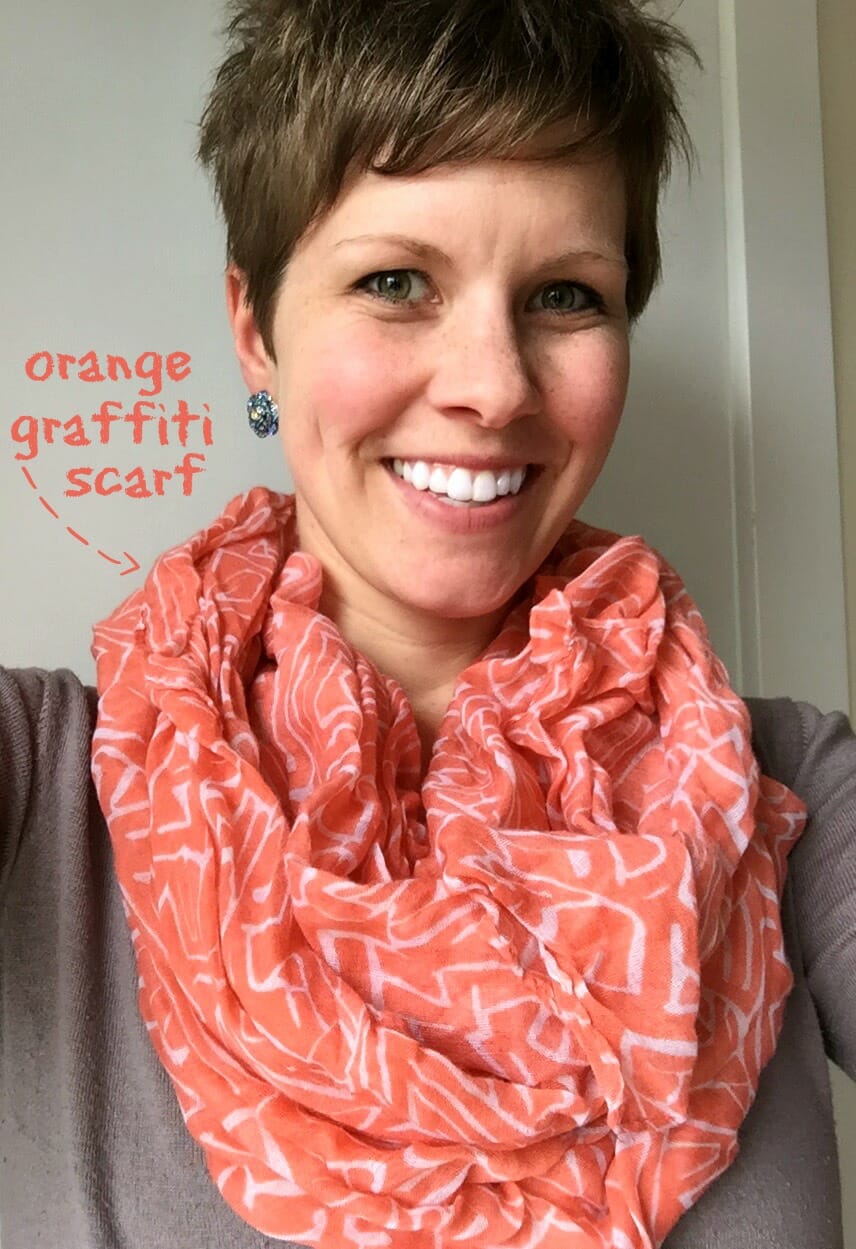 Since I don't wear jewelry (especially not necklaces) I was happy to see another scarf in my most recent shipment. I wear scarves almost every day — and this fun Orange Graffiti Scarf is a great color for spring.
It's super lightweight and very soft. I've already had to steal it back from Nora as she has been using it as a blanket for her babies 🙂
.
Would you like a few cute items to mix up your wardrobe?
Although I was a bit skeptical at the beginning, I have really enjoyed my Le Tote experience so far. It just seems like the perfect opportunity to wear a bunch of fun pieces without spending too much money, without cluttering up your closet, and without the obligation to love them forever.
In my opinion, Le Tote would be a great fit for…
anyone who hates to shop
anyone who can't easily get out of the house
anyone who loves fashion but can't afford to buy the latest styles all the time
anyone who is in a clothing rut and needs a few fresh, new pieces of clothing
anyone who is changing sizes (you can continue to change your size and measurements in your style profile)
anyone who is pregnant (they have a maternity line!)
anyone who doesn't even know what their style is and wants the help of an online stylist
anyone who likes to mix up their clothing and styles regularly
anyone who wants to keep excess clutter out of their closet
anyone who is hard to shop for (Le Tote offers gift subscriptions)
anyone who is short on time
anyone who wants a fun new wardrobe for an upcoming trip or special event
anyone who doesn't love doing laundry (they wash all the clothing for you!)
Basically… if you wear clothing, you would be a good fit for Le Tote!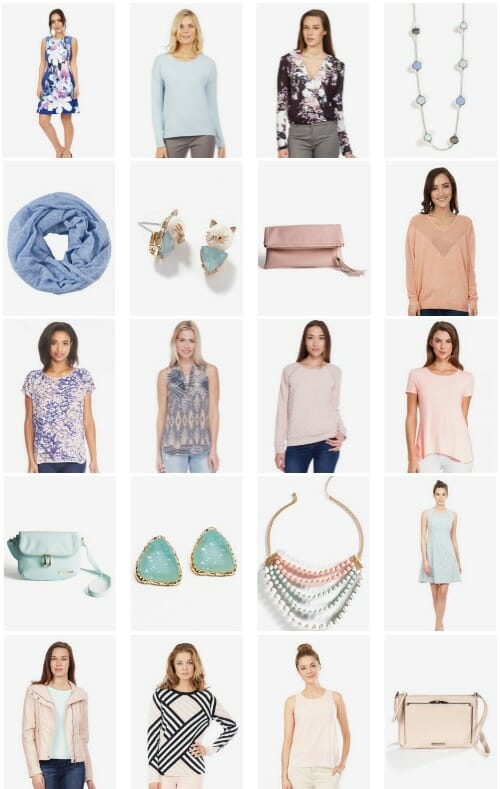 A special discount for YOU!
For a limited time, you can get 20% off your first month when you sign up here and use the discount code ANDREADEKKER!
That's less than $48 for a full month of fun, stylish, new-to-you clothing that you can wear as much or as little as you want without worrying about cluttering up your closet or draining your bank account!
There are no long-term commitments, you can cancel at any time, Le Tote includes free shipping both ways… and they even do the laundry for you! It doesn't get much better than that 🙂
.
Thanks to Le Tote for sponsoring this post and making it possible for me to provide all of the content on my blog free of charge! My opinions are 100% my own! Please see my full disclosure policy and contact me with any questions you have.