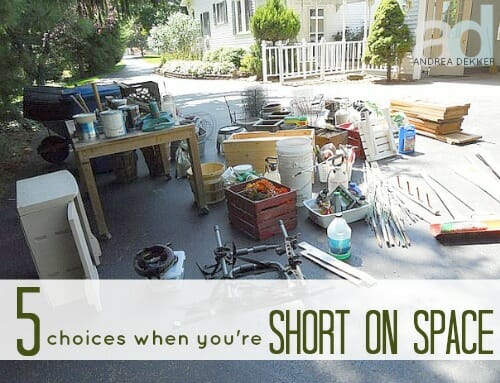 This post was inspired by a post I wrote a few years ago — 5 Choices When You're Short on TIME.
I thought I would turn the tables a bit and share my thoughts about 5 choices we have when we're short on SPACE — especially since it's the time of year when we're all trying to clean up and declutter our homes and lives.
If you're feeling a little cramped and crowded in your space, here are 5 options to consider.
1. Increase the amount of space you have.
This IS an option… but it's not always easy (or cheap) to do. Yes, you can buy/build a larger home or purchase storage units, but you're not really addressing the problem.
Plus, in my experience, the more space we have, the more stuff we fill our spaces with. Right?
This option would definitely be a last-resort for me personally, and it should be viewed as a temporary option (like if you're in the process of moving or downsizing and just need extra space for a short time).
2. Get organized.
You might be amazed with how much MORE you can fit into the same space if you simply take a few minutes to organize your stuff.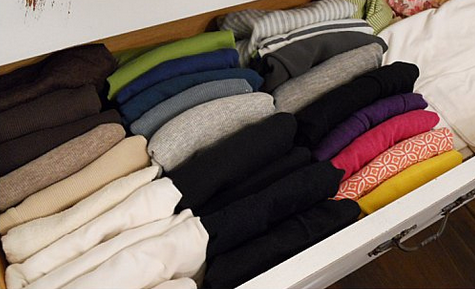 For example, instead of just shoving your t-shirts into a drawer, try folding them like I fold mine — I can almost guarantee you'll fit more shirts into your drawer. Plus, they will be so much easier to access (and less wrinkly!)
The same thing goes for your pantry, your closet, your medicine cabinet, your basement, and your garage. By taking the time to organize your space, you'll not only have the opportunity to purge anything you don't need or want, you'll also always know what you have on hand, and you'll be able to store more in the same space.
3. Maximize your storage.
If you're already quite organized but still short on space, try thinking of ways to maximize your storage.
Can you add another shelf to your pantry to store shorter items?
Can you put an over-the-door shoe organizer on the back of your closet door, your kid's door, or even your bathroom?
Can you fit a storage bin under your bed (for off-season clothing or gift wrap)?
Can you utilize the back wall of an extra-deep closet for storing craft supplies?
Can you install extra shelving in your garage or basement to house off-season items?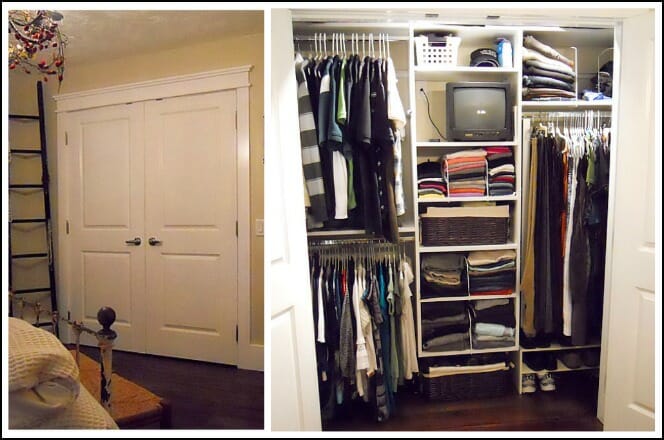 When we renovated our master bedroom 4 years ago, we knew we wouldn't have room for a walk-in closet. However, we also knew that with some careful planning, we could fully maximize our closet space to accommodate all our clothing and accessories. I'm still amazed at how much we were able to fit in a medium-size closet!
4. Use double-duty furniture.
Dave and I are not necessarily short on storage space in our house — but even still, I always try to incorporate double-duty furniture in all our rooms.
For example:
Other ideas:
Use bookcases with doors on the bottom so you can conceal unsightly items behind closed doors.
Use beds that sit up off the ground a ways so you can fit under-bed storage bins below.
Use storage trunks instead of benches (or even side tables) to store extra pillows, books, decorations, etc.
Whenever I'm purchasing furniture, I always try to consider how much storage space it will offer — and if there is a better option or not.
5. Purge.
Unless you're willing to purchase more space (see #1 above), there will come a point when you simply can NOT fit anything else into your space (no matter how good you are at organizing, maximizing, etc.)
At this point, you either become a hoarder, or you start purging!
Yes, it will take a bit of work on your part… and no, it's not always fun. But purging will give you the best overall results (especially if you vow not to replace everything you just got rid of 🙂
Start small, do 15 minutes at a time — or set a goal to remove 10 items from your home each day. It won't happen overnight, but you WILL begin to notice a difference, and you'll be able to reclaim your space again!
If you're feeling short on space (and slightly overwhelmed), try one of these ideas and just get started.
Won't it feel great to reclaim your spaces again — and enjoy a little extra breathing room!