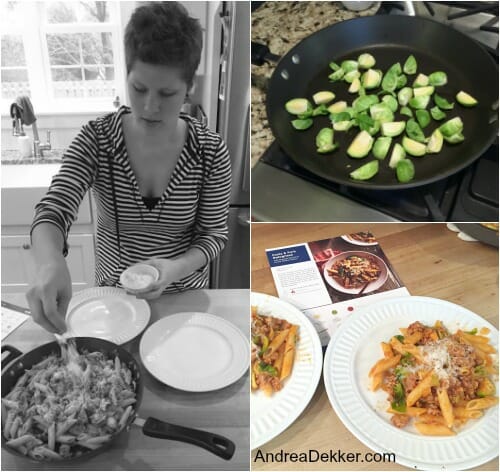 When it comes to eating vegetables, Dave and I are both fairly "boring". We enjoy (and eat lots of) cooked broccoli, cauliflower, carrots, corn, beans, and sweet potatoes. We also like lettuce salads and raw peppers, carrots, sugar snap peas, tomatoes, and cucumbers.
That said, we aren't picky eaters, so we'll eat (almost) any type of vegetable if someone else cooks for us.
I say "almost" because Dave is NOT a fan of cabbage, brussels sprouts, or other cruciferous vegetables (besides broccoli). He won't even try them when I make them at home.
However, thanks to one of our recent Blue Apron meal deliveries, I actually got him to eat a decent amount of brussels sprouts — and he admitted they "weren't bad". I'll take it! 🙂
NOTE: This post contains affiliate links. If you click through and make a purchase, I will be compensated. Read my disclosure.
I guess I had never previously thought of incorporating brussels sprouts into a pasta dish; I always think to roast them. However, the Pasta and Pork Bolognese I made a couple of weeks ago was fantastic, and SO simple — probably because all the Blue Apron meals come with pre-portioned ingredients so I don't need to measure anything or worry about forgetting something at the store!
I almost chose a different recipe for our delivery (there are 8 recipes to choose from each week) because I wasn't sure if Dave would like the brussels sprouts, but I'm glad we gave it a try!
Who knows… I might try incorporating brussels sprouts into a few more recipes.
I think there was enough meat and other ingredients in this dish that the brussels sprouts were easier for him to tolerate!
I really liked this recipe — especially since I got to eat the leftovers the next day for lunch!
Dave and I have been using and enjoying our Blue Apron deliveries for several years now — usually ordering once a month, depending on what the menu selection is and what our weekly schedules looks like.
The nice thing with Blue Apron is that it only takes 3 seconds to switch or cancel an order online, and you can skip as many weeks as you want and start back up again when you need a little meal planning inspiration, just want to try something new, or have an extra busy week — like over the holidays!
Would you like to liven up your weekly menu with a few FREE meals?
Blue Apron is offering $50 off 2 weeks worth of recipes to anyone who places their first order via this link!!
This could also be a fabulous clutter-free holiday gift for anyone who enjoys cooking, anyone who wants to learn more about cooking, anyone with a busy schedule and no time for meal planning… or essentially, for anyone who eats food!
And since the Blue Apron recipes are pre-portioned using nutritious ingredients, it might just be the perfect way kick off the New Year with a healthier start!
What are your thoughts on brussels sprouts?!?
This is a sponsored post on behalf of Blue Apron deliveries. All opinions are my own.