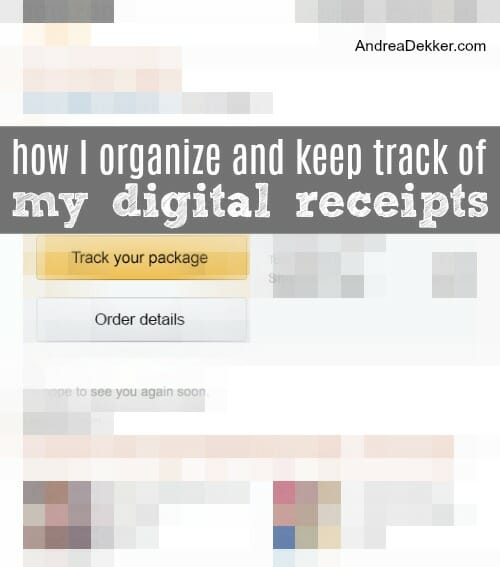 Several years ago, I shared my system for organizing paper receipts.
At the time, I did 95% of my shopping in stores (we had just finally gotten internet at home and I really wasn't doing much online shopping at all yet). Plus, I didn't have any children to drag around with me on all my errands.
Wow! That seems like ages ago!
Now, 4 kids and 7 years later, I do 95% of my shopping online — which means I no longer have paper receipts for my purchases.
Instead, I get what feels like 10 million emails regarding all my various online purchases — when the orders are places, when the orders are processed, when the products are shipped, tracking information for the products, when the orders are delivered, when the payments come out of my PayPal account, etc. etc. etc.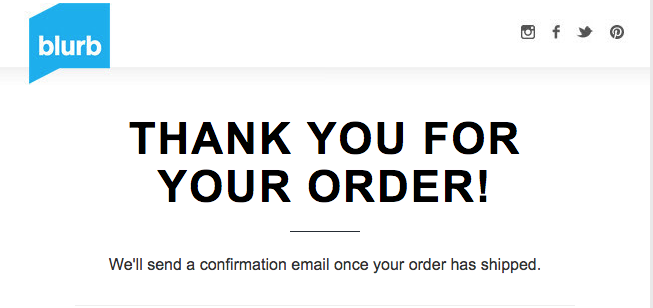 It can feel overwhelming and very disorganized if you don't have a system… to the point where you just want to delete all the emails and forget about them. However, deleting these emails can cause problems if you need to return something, if you want to keep track of your spending, or if you forget about a product that never arrives.
Thankfully, you do NOT need a fancy or elaborate system to track your digital receipts!
All you have to do is create 2 files/folders/labels within your email account.
You may name these folders whatever makes sense for you — these are the labels I use.
1. To Record
Everytime I make an online purchase, I get some sort of email confirmation with the payment information included. I immediately file this email in my "to record" file so I can eventually record it on my Finance Tracking Workbook (I do this roughly once a month).
Also, almost all our bills (utility, credit card, insurance, etc.) are set up on autopay programs, so whenever I get the digital receipt saying the payment processed, I put those emails in my "to record" file as well.
2. Follow Up
After I get the payment confirmation, I usually get a string of emails detailing the products I purchased, when they ship, information to track my packages, and information to return the items if necessary. I file all these emails in my "follow up" folder.
When an item arrives, I delete all the emails associated with that product, as long as I'm certain I don't need to return or exchange it.
As for our monthly utility, credit card, and insurance auto-payments, I have separate email files for each utility company, for each credit card or bank card, and for each type of insurance. I just archive all those emails because I have plenty of storage space in my Gmail account!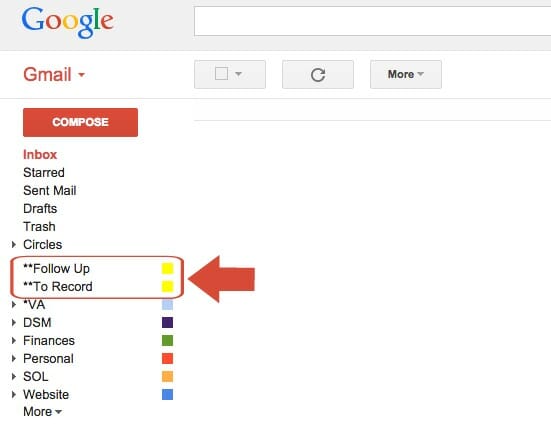 As you can see by the screenshot of my email account above, I put a double ** by the Follow Up and To Record files so they stay at the top of my labels. This allows me to quickly and easily dump emails into these files and keep all my digital receipts and payment information neat, organized, and easily accessible.
I realize you might need to tweak my system to work for your needs — but this is the super simple system I've been using for my digital receipts for at least 5 or 6 years now (so it definitely works!)
To the best of my knowledge, I've never forgotten about a package, I've never not had the paperwork I've needed to make a return or question a product that didn't arrive, and I've never had to weed through a sea of old emails to find what I'm looking for.
I just look in one of those 2 email folders and can quickly find the emails I need.
Oh, and one more quick tip for all of you doing a bunch of holiday shopping online, if you shop through eBates, you can literally get cash back on almost every single things you buy! I explain more in this post!

How do you handle digital receipts?