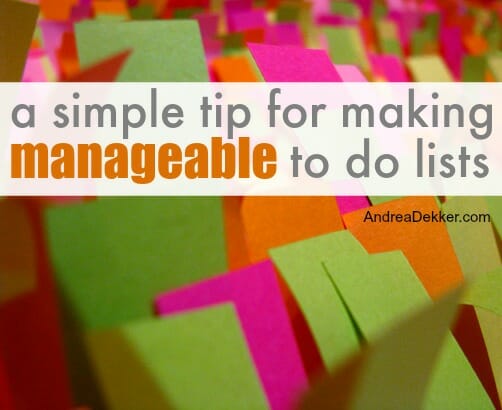 As many of you know, I use my beloved daily planner every single day to help me list, process, organize, and structure my days and weeks. However, during busy seasons of life, I often write my daily to-do list on a standard-size sticky note and stick it to the corresponding page in my planner.
Although it "wastes" one extra piece of paper, I've learned that using a sticky note for my to-do lists usually helps me keep my daily list more manageable — so I can actually accomplish the majority of my list each day (instead of feeling defeated when I move half the to-dos to the next day).
In fact, over the last 2-3 months, I've regularly accomplished all (or almost all) of my daily to-dos, even with a new baby, the busyness of back-to-school, and all the extra holiday activities.
This is not because I'm super woman and it's not because I work all night long. It's simply because I've gotten very good at making manageable to-do lists and knowing when enough is enough.
I know that if I have to write teeny-tiny just to fit everything on my sticky note, I'm probably trying to fit way too much in one day and setting myself up for failure.
On the other hand, if I can easily fit the following day's to-dos on one sticky note, I know I have a pretty good chance of completing my list before I go to bed at night.
Of course, there are always days that are more full than others, as well as days when things don't go according to plans and I basically accomplish nothing on my list… but more often than not, my sticky note trick works wonders for me!
I actually use my sticky note trick to keep track of blog post ideas, gift ideas, and long-term goals and projects too.
I love how quick and easy it is to move the sticky notes around within my planner — everything stays neat and in one place where I can easily find it.
If you struggle with too many to-do's, try limiting yourself to what you can fit on a sticky note. If your sticky note can't hold everything you want to or "have to" do, I'd suggest taking a long hard look at your daily and weekly schedules.
Is there anything you can give up?
Anything you can delegate to someone else?
Anything you can pay someone else to do for you for the time being?
Anything that isn't 100% completely necessary (be honest with yourself here!)
Anything you're doing just because you feel guilty saying 'no'?
You might be surprised how many items you can remove from your to-do list once you sit down and really think through things.
I know it won't happen overnight, but eventually, you will start to better manage your daily to-do's — and you'll most likely be much happier and less stressed as a result!
One more quick tip…
I always, always, always make my to-do list the night before — this way, I can organize my list, decide what the most important tasks are, and start mentally preparing for the things I want to accomplish the following day before I go to bed. Then, when I wake up, I can just jump right in and get to work.
Do you have any tips or tricks for making manageable to-do lists?