My Quickest 'Quick-Tip' to DeClutter Your Inbox
posted by Andrea | 04/26/2016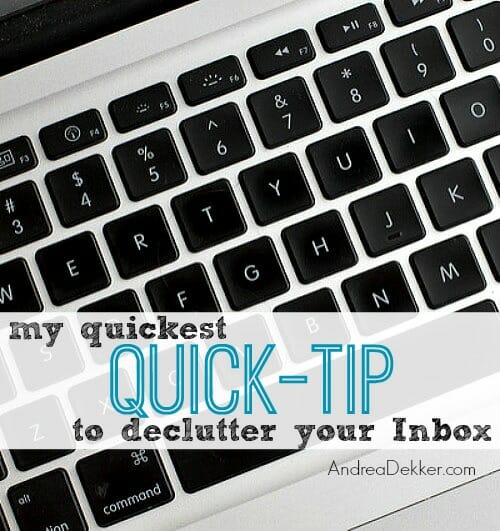 Although I rarely do massive amounts of deep cleaning at any point in the year (I try to spread it out so I'm not overwhelmed), I do find that almost every April, I get fed up with ALL paper clutter (photos, files, piles, books, magazines, emails, etc.)
It doesn't matter if it's physical paperwork sitting in my filing cabinet or digital paperwork in the form of Word Documents, Excel Spreadsheets, or even emails — I'm on a mission to purge, purge, purge!
Part of my anti-paper-clutter mission is because we usually file our taxes in February, get the tax return in March, and by April, I'm just ready to be DONE with any extra paperwork.
This year, I've been especially ruthless with email clutter.
I realized that I was spending more and more and more time checking, reading, filing, and responding to emails, and I wanted (and needed) a change. I didn't want to open my inbox and have 100 emails after just 1 hour… or feel like I would be totally overwhelmed with the quantity of emails if I didn't check it regularly throughout the day.
So at the very beginning of April (when Dave was home for Spring Break), I sat down and tried to figure out what I could do so my email wouldn't take up as much time.
At the time, I wasn't exactly sure what other systems I could implement. After all, I already use several Canned Responses to greatly reduce the amount of time I spend responding to frequent email requests. I also already use filters to neatly file almost all my emails into appropriate folders that I can then read when the time is right (example: I file all my various VA emails into separate folders and then I read them when I'm working on projects for each client).
I have certain emails color-coded or "starred" for easy access and reference later on, and I have a pretty efficient process for how I handle reading and responding to emails.
Then it hit me… I've been getting lots and lots of subscription-based emails (some that I signed up for, some that I didn't). I've also noticed a larger quantity of junk mail and spam mail that I was wasting time opening, scanning, and deleting because it wasn't relevant.
Right then and there, I decided that I would unsubscribe from almost every single email I could… and I did! 
I simply typed the word "unsubscribe" into the search bar at the top of my email inbox, and was AMAZED at the LONG list of emails that popped up!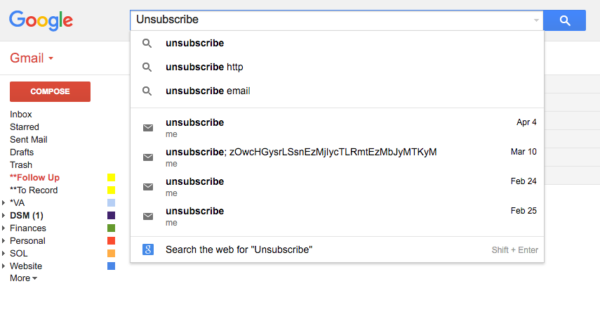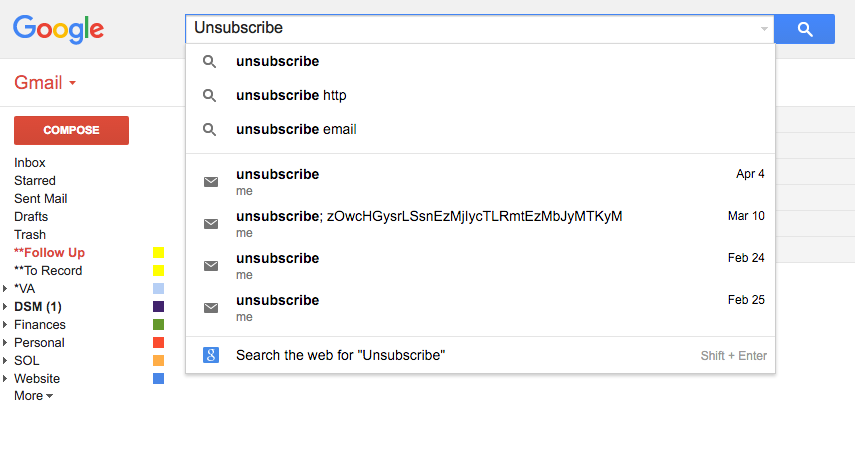 I just started clicking on each email, scrolling to the bottom, clicking on the "Unsubscribe" link, and unsubscribing — over and over and over again!
I went through a handful of emails each day for about 4 days (usually 10-15 minutes per day) and since then, I have continued to click the "Unsubscribe" links at the bottom of any email I get that I no longer want.
Ahhh… I love seeing this message pop up on my screen!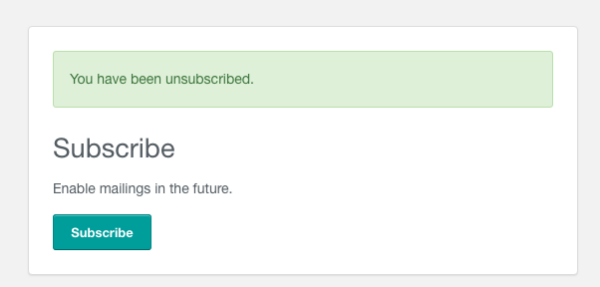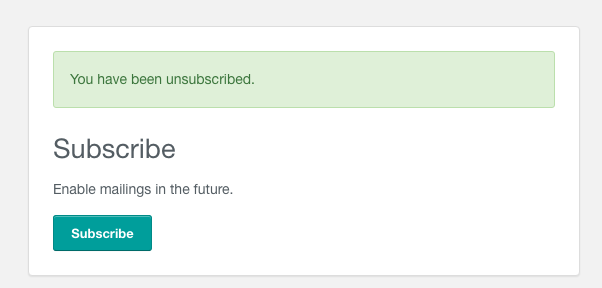 Many of the emails I unsubscribed from were for deals or coupons that I subscribed to years ago. Some were newer subscriptions I decided I just didn't need to read anymore, and a few were other blog posts or websites I subscribed to over the years and have just decided to let go for now — mainly in the interest of time.
I have nothing against any of the companies, blogs, websites, or brands who were sending me the emails (especially since I did actually subscribe to most of them myself). I'd just rather spend my limited amount of focused computer time working on my blog posts, my digital photo albums, or my Virtual Assistant work versus reading through emails I don't really need.
Although it did require a little bit of time up-front, I am honestly amazed at how much less time I have spent dealing with emails over the past month!
Now, it just takes seconds to click "unsubscribe" if a new, unwanted email makes its way into my inbox!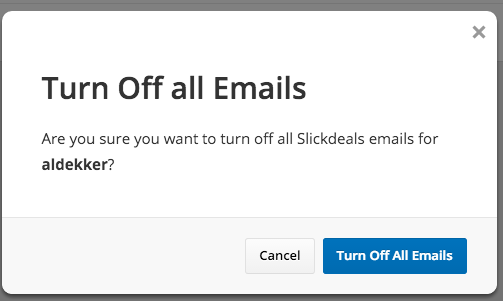 And yes, I realize the irony of ME telling YOU that I'm unsubscribing from various blogs that are emailed to me — because I know many of you are reading this post in your email right now! 
Truthfully, If you do not feel like your life benefits enough from the content of my blog posts to spend 3-5 minutes reading them each weekday, I hope you don't feel bad clicking the "unsubscribe" link (it's right down there at the bottom for those of you reading this in your email!)
The point of my blog is to help you simplify — not to clutter up your email inbox. I will not be offended 🙂
So that's my quick-tip for today…
If you're feeling overrun with too many emails and an over-crowded inbox, set your timer for 15 minutes and see how many emails you can unsubscribe from.
Then, continue to regularly click that "unsubscribe" button or link at the bottom of any future emails you no longer wish you receive.
After a couple weeks of doing this regularly, I think you'll be pleasantly surprised with the results! 
Looking for more email tips and tricks?
Here's the link to all my posts about email clutter and organization.
Do you have any quick-tips to declutter your Inbox?
.