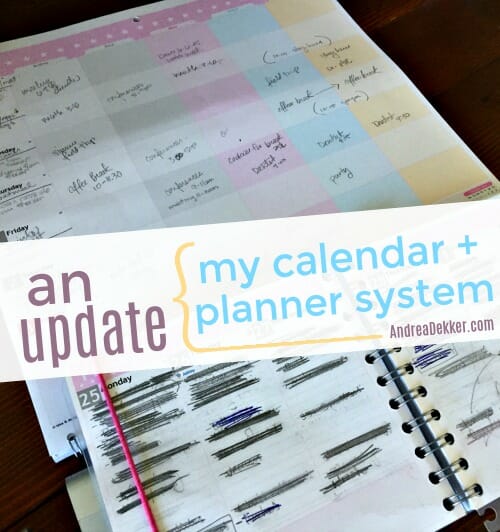 Back in November, I shared my new Calendar + Planner approach to the New Year.
This was/is a brand new system for me as I've never used a wall calendar before, nor have I used TWO separate tools to stay organized.
I honestly wasn't exactly sure how well this Calendar + Planner system would (or wouldn't) work for me, my family, my routine, etc. but I knew I wanted to give it a shot!
Now, 3 months after using this system on a daily (sometimes hourly!) basis, I have a short list of pros and cons to share!
First, A Quick Recap:

I've used a Personal Planner for many, MANY years now — and I love that I can customize it to meet my needs each year.

I have always ordered their A5 planner, but last fall, I decided I wanted/needed to try something new for 2019.

With 3 different school schedules, church schedules, and various library and community activities going on every week, I had too many "other" things written in my planner that I didn't have room for the things and to-do's I wanted to tackle each day.

I wanted a separate space for each family member so I could keep track of all the different things people were doing each day.

My thought process was that by using the Wall Calendar to clearly list each person's individual responsibilities (and our weekly meal plans) I would free up tons of space in my planner — which I would then use exclusively for MY OWN to-dos.
It's probably still a little too early to know if this will (or will not) be the "perfect" system for our family — especially since our organizational needs will continue to change as the kids get older.
However, now that I've been faithfully using my Calendar + Planner system for 3 months, I wanted to share a quick update, since so many of you have asked!
THE PROS:
So much extra space!
The wall calendar is HUGE, with plenty of space for me to write everything everyone has going on each day. I have never run out of space once, and I don't even write all that small!
I also have SO much extra space in my own planner now, as it's not "cluttered up" with everyone else's to-dos and schedules.
I have a spot for my menu plan.
I've never really had a dedicated spot to write my meal plan in my planner, so I often just wrote it at the top of each day. However, now that I have the calendar, I use the very first column to write my breakfast AND dinner plans for each day of the week.
This system has been extremely helpful for me as I can quickly glance at the calendar to see a full weeks worth of meals (I previously had to flip the pages in my planner to see a full week).
My own planner is much more organized.
Over the last few years, I've gotten into the habit of using my own planner as a daily to-do list — which works really well for me. However, with everyone else's to-dos, meetings, appointments, etc. I was running out of space for my own things, and my planner was getting very messy and disorganized.
This year, with the addition of the wall calendar, I'm back to using my planner for all MY various daily to-dos, many of which I transfer over from the wall calendar (more on this below).
I love the smaller sized planner.
I've faithfully used the A5 size planner for years, but now that I have fewer things to write in my planner, I absolutely LOVE the smaller square planner.
THE CONS:
I need to take the calendar off the wall to write on it.
I didn't think this would bother me, but I do not like taking the calendar off the wall every single time I need to write on it.
I'm used to quickly flipping through the pages of my planner, so using the wall calendar requires an extra step — just something I need to get used to yet!
The calendar weeks start on Monday instead of Sunday.
This isn't a huge deal for my planner (I like my planner to start on Monday) but I'd really rather have my wall calendar start on Sunday. I don't know why this bothers me, but it has thrown me off more than once when I look at the wrong day because I assume the first row is for Sunday, even though it's actually for Monday.
Currently, this is not one of their customizable options (which is surprising) so I might email their customer service and ask it to be considered for next year's calendars.
I need to transfer information back and forth.
Even before I started using 2 separate products to organize my life, I had a feeling it would be somewhat of a hassle to transfer things from the calendar to my planner… but I still wanted to give it a try!
Now, 3 months later, I can say that I definitely do not love transferring my stuff over every week, but I know I'm still getting used to this new system.
I forget things if I don't transfer.
Some of you might be wondering why I "waste" my time transferring things from the calendar to the planner every week (I do it every Saturday)…
Well, the truth is that I forgot 3 different activities in the month of January because they were on my calendar but NOT in my planner! 🙁
Seriously, I never forget anything!
So, I guess this is probably the biggest "con" for me because forgetfulness is definitely a huge pet-peeve of mine, and not something characteristic of me at all!
How I Transfer from Calendar to Planner:
Since I don't want to forget any more events, activities, or appointment, my current routine is to write all our "upcoming" and "long term" events in the calendar first… and then transfer the upcoming week's activities over to my planer every Saturday.
Dr. and dentist appointments
Upcoming school events and activities
Meetings and other church items
Upcoming parties, events, vacations or other planned activities with friends/family
etc. etc.
If it's a morning activity or appointment, I write it towards the top of the daily column in my planner; if it's afternoon or evening activity, I write it towards the bottom of the daily column.
It really doesn't take me much time or energy to do this, and the act of re-writing is one more step in helping me remember. However, it IS one extra step that I didn't need to do before.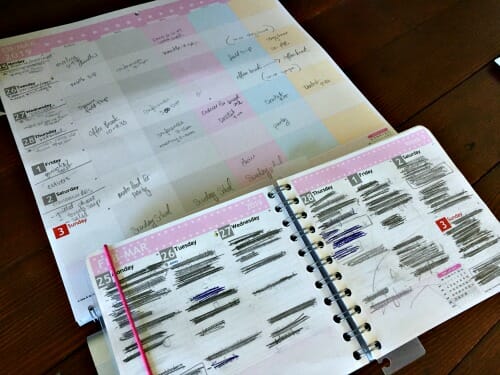 .
The verdict…
Honestly, I sort of wish Dave and I could find a digital system that worked well for both of us, for my business, for his school, and for our family… but the odds of that happening are slim to none!
Dave actually creates his own customized planner for school (literally draws the boxes and makes photo copies) because he can't find something that functions the way he wants it to for his classes… so between the 2 of us, we currently have 3 different planner/calendars.
It's not ideal, but it works for now.
I will continue to utilize my Calendar + Planner system for 2019, and revaluate my needs once we get closer to 2020 (wow, that's weird to type!)
What type of planner / wall calendar / digital calendar / app do you use to keep yourself and your family organized?