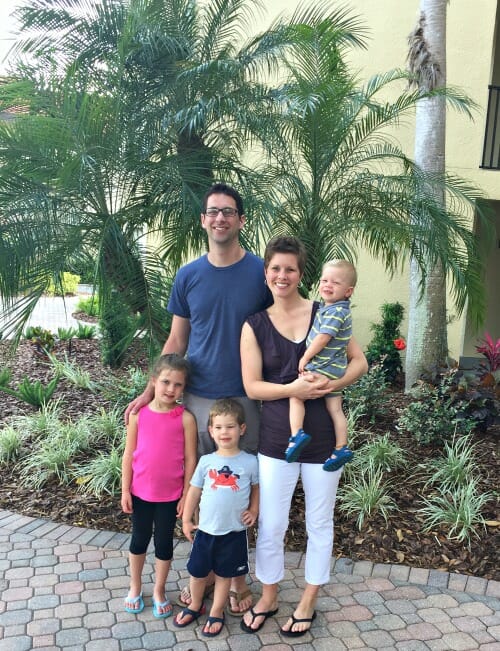 Last week, our family flew to Kissimmee, FL, with my entire side of the family for spring break.
It's a vacation that has basically been a year in the making — the first time my family has all been on vacation together in 14 years. My Dad planned every detail, found great deals, and everything seemed to go as expected.
The kids did REALLY great on the flight — much better than I expected. Thankfully, the flights were direct… so no layovers or risk of lost luggage! Also, bringing the car seat on the plane for James was a VERY good decision on our part. He sat so contently the entire flight!
We stayed at Orange Lake Resort — my family's most favorite vacation destination since we first visited when I was only 14. My parents go almost every year now.
It's basically a mini city with everything and anything you need and want — grocery stores, restaurants, pizza places, ice-cream shops, coffee shops, pool-side snack shops, arcades, activities for the kids, mini golf, regular golf, tennis, basketball, beach volleyball, water volleyball, splash pads, lazy rivers, huge water slides, rock climbing walls, SO MANY POOLS, a crazy number of TV channels, and SO much more!
Growing up, we took advantage of many of these fun activities… but when I go with my young kids now, we basically stick to pools, the splash pad, and the water slides.
Nora and Simon had such a fun time together — of course, it helped that they had plenty of aunts, uncles, and grandparents to spoil them and give them loads of extra attention.
They played in the water all day, every day, and crashed into bed around 7:30 every night without so much as a peep until morning.
James, on the other hand, had an allergic reaction to the sunscreen I put on his face the very first day (luckily I only put it on his face as he's prone to rashes from different lotions) and basically stayed in the shade with me most of the week.
We bought him a long-sleeve shirt to wear in the pool and had a really great hat that covered his ears and neck… but he could only be out in the sun for so long before he started itching and scratching again.
He loved the water, but seemed completely content to just sit in the shade with me, have a few snacks, and watch everyone else play in the pool.
He even took a few LONG pool-side naps right in my arms — so sweet!
I think the whole week really tired James out — he was a stinker about going to bed at night, and since we didn't want him to cry for hours and keep Nora and Simon awake, James ended up hanging out with the adults every night until he finally went to sleep around 10:00 (3 hours later than normal).
Of course, the one day he decided to sleep REALLY well was the day we had to leave to fly home. This is him, still sleeping soundly, even with the lights on, the other kids running around like crazy people, and Dave and I packing up our suitcases right in the same room 🙂
All in all, the week was a success.
It was busy in a good way, and even though I felt more tired when we got home than before we left, I figure the kids had so much fun that it was probably worth it!
After we got home and I had everything unpacked, I told Dave that on the flight home, I fantasized about a someday vacation we'll take once our kids are older. I told him we are going to pack everything we need in 1 suitcase, carry nothing on the plane except our phones and a snack, eat at nice restaurants every night, sleep as long as we want every morning, and do whatever we want every single day.
Someday… like in 10 years!