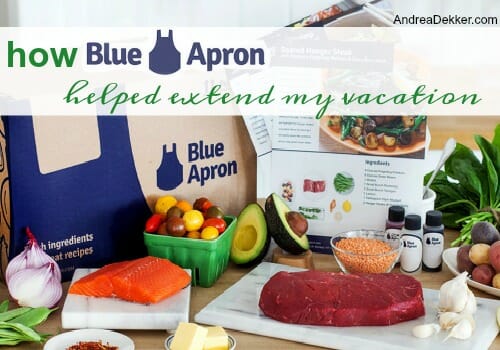 As I mentioned yesterday, our family had our first-ever real vacation as a family of 5 (well, I suppose 6 if you count the new baby!) It was a very fun trip, and although I am personally glad to be home again, it was a nice change of pace for a bit.
This meal contains affiliate links. If you click through and make a purchase, I will be compensated. Read my disclosure.
I don't know about you, but I always hate coming home from vacation to be greeted by a messy home, piles of dirty laundry, and an empty refrigerator… so I took a few steps to make sure coming home would be a bit less depressing this time 🙂
I cleaned the house really well before we left, emptied all the trashcans, made sure all the laundry was done, cleaned out the dishwasher, etc. etc. It was SO nice to walk in the door to a very clean home.
We were also able to do all our laundry while we were on vacation (we had a washer and dryer right in our condo unit) so 95% of the things we brought home were fully washed and ready to be put away, making the unpacking process relatively painless.
And finally, I schedule a Blue Apron meal delivery to arrive the day after we got home — hello instant groceries and meal plan for the first few days at home!
We had plenty of "staples" in the pantry and freezer — bread, muffins, pasta and sauce, taco meat and tortillas, canned fruit, frozen veggies, etc. etc. and I made sure to have eggs, cheese, and yogurt ready and waiting in the fridge for when we got home (those will last for weeks in the fridge).
We had "breakfast for dinner" our first night home (quiche, smoothies, french toast, etc.), and then Blue Apron meals for a few nights after that — meaning there was no frantic need for me to rush to the store the day we got home… when all I really wanted to do was unpack and go to bed!
I cannot tell you how fabulous it was to know I would have all the ingredients and my meal plan literally delivered to my doorstep the day after our vacation — I honestly think it made our vacation that much more enjoyable for me (especially since I did a fair amount of cooking during our vacation.)
Like I've mentioned before, we don't use Blue Apron meals every week — but since there is no commitment or long-term contract, I can simply pick and choose what weeks I want to have meals delivered and what weeks I want to skip.
I can skip 20 weeks in a row if I want, and then order meals 5 weeks in a row — or I can do every other week all year long. There is NO "one right way" to use Blue Apron — just whatever works best for you, your family, and your meal planning needs!
Would you like a few FREE meals delivered after your next vacation?
Blue Apron is offering $60 off 3 boxes of food to anyone who places their first order via this link!!
Won't it be such a fun treat (almost a continuation of your vacation) to come home to a mini grocery delivery and meal plan ready and waiting for you to get hungry?
Of course, even if you're not traveling any time in the near future, it's still fun to have a few days off from meal planning every now and then… right!?!
This is a sponsored post on behalf of Blue Apron. All opinions are my own.