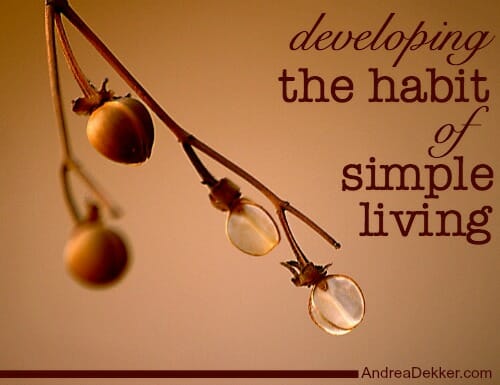 If I asked who would like to live a simpler, more organized, less chaotic life, I have a feeling the majority of you would raise your hand. Am I right?
However, if I asked how many of you absolutely LOVE cleaning, organizing, purging, scheduling, meal planning, cooking, grocery shopping, planning, list making, etc. I'm fairly confident a few of those hands would go down — probably more than a few if we're really being honest!
I get it, we want the end results without the massive amount of work it can potentially take to get there (that's actually pretty normal.)
.
Simple living can sound like an overwhelming task for many of us… and it CAN be at first. But in order for simple living to actually feel "simple" we first need to become consciously aware of our situation and force ourselves to be on the lookout for little shortcuts or opportunities to simplify and streamline.
This is NOT to say that we should completely devote every moment of our lives to cleaning, organizing, simplifying, and scheduling — please DO NOT do that!! However, over time (yes, it will take time) some of those "simple living" tasks will likely become less conscious and more like those other mindless tasks we do "because we've always done them".
Picking up after yourself, quick mini purges, meal planning, making daily to-do lists before you go to bed, setting up schedules, tweaking something so it functions more efficiently — those tasks that used to be super labor-intensive and totally overwhelming — will start to come more naturally.
Soon, they might even become second nature, or dare I say… a new habit!
For the record, this is how it usually works for any new habit you're trying to incorporate into your life — healthy eating, exercising, growing your savings account, getting more sleep, waking up earlier, finding more time for a hobby, etc. etc.

It starts with lots of labor-intensive conscious decisions that most likely will not be easy or fun. However, over time, those conscious decisions becomes less labor-intensive… then less conscious… then just one more thing you do… then a habit!
It certainly won't happen overnight — and for some people, it might be years in the making. But the point is that we're working towards something better instead of sitting back and doing nothing because we feel overwhelmed.
Certainly, nothing horrible can happen from trying to consciously simplify and organize your life. And if you fall off the bandwagon for a few days (or weeks or months) just hop back on again and don't worry about any lost time.
All of a sudden, you might realize that you just planned your weekly menu and made a coordinating grocery list in about 15 painless minutes, or that you folded a load of laundry immediately after it finished drying without even a second thought for procrastination, or that you got loads of happiness from the 5 minutes you just spent reorganizing your husband's sock drawer — not that I can relate to that at all 🙂
The definition of a "habit" is:
"A recurrent, often unconscious pattern of behavior that is acquired through frequent repetition." (source)
So like I said earlier, for simple living to actually feel "simple" we must take the time and put in the effort to create that habit.
It will not feel simple at first, and you might secretly hate me for convincing you to try; but I know from personal experience that when simple living becomes an "unconscious pattern of behavior" it just feels right, and easy, and oh so simple you won't even be able to imagine living life any other way.
Pick one simple living habit to work at this week… then, throughout the rest of the year, apply this habit-developing "formula" to those other goals on your list. It might not be easy (especially at first) but I know it will be worth it in the end.
What habit will you work to develop first?