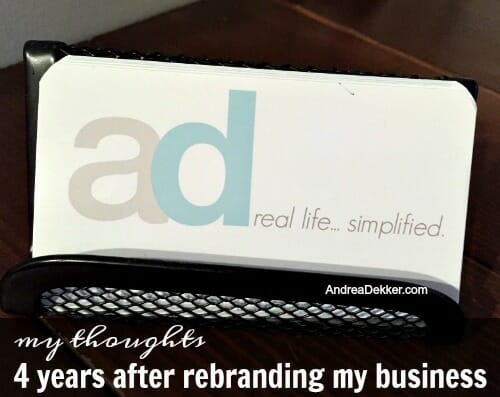 As we start a fresh new year, I thought it might be fun to revisit a time when I started over fresh with my business — that time I rebranded my entire blog and business!
Believe it or not, it's been almost FOUR years since I changed the name of my blog and my business — which means I've officially been "Andrea Dekker" for longer than I was "Simple Organized Living" — crazy!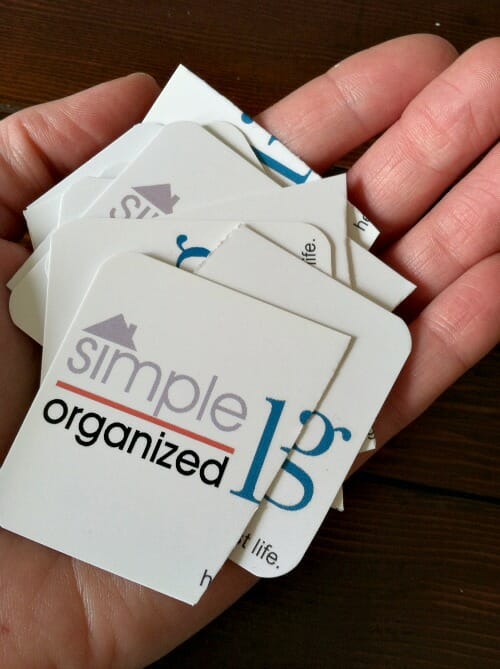 I'm regularly asked questions about why I rebranded, how I rebranded, if I'd do anything differently, if I wish I hadn't rebranded, etc. so I thought I might answer some of those questions today…
UPDATE: I've been asked a few times this morning how I pronounce my name ( AN-dree-a or AHN-dree-a, or An-DRAY-a or Ahn-DRAY-a?)

My name is pronounced: AN-dree-a DECK-er
WHY?
I LOVED my Simple Organized Living name… and Google loved my name too! The words "simple" and "organized" were SO good for search engine optimization, so Google sent boatloads of traffic my way every day!
I honestly think my name was one big reason my blog grew so quickly in the beginning. However… there are 3 main reasons why I decided to change my blog/business name.
1. It was a long name and hard to get anything to "match" — like an email address, twitter, instagram, etc. I had to use different names for different social media platform (which is never great for branding). Now, all my stuff is simply "Andrea Dekker".

2. Many other people decided they also liked the "simple organized" combo and I was soon lost in a sea of copycats – to the point where my own readers were having a hard time finding my blog because they would go to another similar blog instead.

simple organized life
simple organized family
simple organized home
simple organized money
simple organized you
simple organized kitchen
And then there were all the simpLY organized… life, living, home, family, business, food, etc.

I figured that using my own name was less likely to result in copycat websites — however, there is an "Andrea DeCKer" with a "CK" instead of "KK". I tried to buy both domains when we first got married, but the CK spelling was already taken.

SIDE NOTE: If you publish anything online, I would highly encourage you to register and purchase the domain for your name. You never know when it might come in handy!

3. People continually mixed up my name.

I don't know if it was the length of the name or what, but people constantly butchered my Simple Organized Living business name when they talked about my blog or introduced me.

I remember once, speaking for a pretty big conference at the end of 2012, and the lady introduced me as "Andrea Dekker from SimpLY Organized LIFE". I made a joke about it and corrected her so people would know my real name. But later at the same conference, a different person referred to me as "Andrea Dekker from… Simple…. um, Organized… Life?… or Living?"

I figured, if it was so hard for people to remember my name and blog URL, I'd just make it super easy for them and change it to my name! 🙂
.
HOW?
Changing my name was not an easy decision to make — and I didn't jump into the rebranding process quickly or hastily. I thought about it for almost a full year. I met with a lawyer, with my accountant, with my web designers, and with other web-savvy friends before making any final decisions.
I signed, faxed, scanned, and emailed a fair amount of paperwork.
I changed my bank accounts, tax records, 1099's, LLC info, and PayPal information.
I updated my email addresses, my social media profiles, and I ordered new business cards.
One thing I did NOT do was to update all my old photos that still had the "Simple Organized Living" brand on them. That seemed like way too much busywork for me so I never did it. Sometimes people ask about it, but for the most part, it doesn't seem to be a huge issue (at least it's not an issue for me!)
As for all the URL links to my old website domain name — my amazing tech people magically rerouted all of those for me; and to this day, I haven't had any issues with broken links due to my name change. I could never have done this without the help of my web people!
I do still own the domain name for Simple Organized Living — and I will continue to pay for that domain name every year because if someone else ever purchases that domain and uses it to create their own website, all my rerouted URLs would be messed up.
.
WOULD I DO ANYTHING DIFFERENTLY?
Honestly, it would have been MUCH easier if I had simply used the AndreaDekker name from the very beginning — but as I mentioned earlier, I don't think that name would have drawn as much traffic as "Simple Organized Living".
I also would have designed a different logo for the new Andrea Dekker site. I like how my logo is very wide and spreads across the top of my website header, but it's so light in color, which means it doesn't show up well on social media or on other websites. I think I would have chosen something narrower and taller — more square.
Thi is not a huge deal — and something I could change if I really wanted to. Obviously it doesn't bother me enough to change it now!

PROS:
I'm using my own name so there's no confusion as to whose blog it is — plus, since the name doesn't specifically say "simple" or "organized" I'm not limited as to what I want to talk about.
A shorter name that was much easier to get social media names, email addresses, LLC's, etc.
I never had a tagline with my Simple Organized Living name… but obviously, if I was going to operate under the very vague "Andrea Dekker" name, I had to come up with a tagline. I remember the exact moment I decided on my tagline and I LOOOOOOVE it so much! "real life… simplified." truly embodies so much of what I want for this blog, for my business, and even for my life.
.
CONS:
Obviously, it was a good amount of work to rebrand. I spent a considerable amount of time, and also a decent amount of money paying Agathon Group to do all the techy, behind-the-scene work for me. (Have I mentioned they are amazing?)
Since I'm using my own name, it's not nearly as clear what type of information my blog actually shares — but as I mentioned above, I'm also more free to write about whatever I want to.
Believe it or not, my whole web presence is actually SMALLER now than it was 4 years ago — due in large part (I assume) to the sad fact that Google doesn't send nearly as much traffic my way. I've also cut back on the amount of marketing I do (I don't do any right now) so, of course, that could be part of the equation too.
Probably the most frustrating "con" for me was that Facebook penalized me for changing my name. I'm still not sure how or why, but I lost thousands and thousands of Facebook followers in the 2 months after I changed my Facebook name. In fact, even almost 4 years later, I have just a few more followers now than I did before I switched my name.
Of course, since my Facebook reach is down, all that potential traffic to my site is down as well — so it converts into less exposure, less traffic, and less income.
Finally, although I don't have any intentions of selling my website or my business, the fact that my business and blog run under my own name makes it almost impossible to sell it.
.
It might sound like the "cons" outweigh the "pros", but I factored in all the cons (except for Facebook) before I made the switch. For me, it still made sense and I'm still glad I made the switch; but I do hope I won't need or want to rebrand again any time in the near future!
I'm certainly not an expert, but I get enough questions about my rebranding process that I figured it might be smart to write up my answers in a blog post.
If you have more questions, feel free to ask in the comments or shoot me an email!