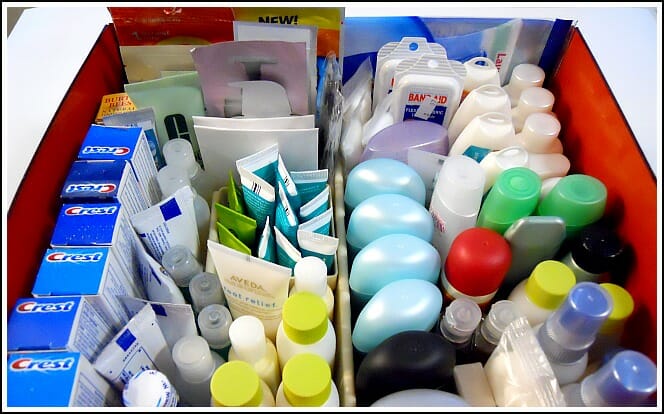 Over the years, I've been known to stock-up sample-size products (see picture above)!
I'm positive I get that from my mom; but I just love the small sizes… and the fact that I get all of them completely free!
If you've ever followed any of the many coupon blogs out there, you know that there are tons of coupons for products that are valid even on sample/travel-size items, which means you should be able to stock up for free (and sometimes you might even make money!)
However, I don't just stock up for the sake of getting free stuff. We do actually use our sample size products on a very regular basis… and I continue to restock them on a regular basis too 🙂
Anyway, last week I posted some pictures of My "Sample Size" First Aid Kit and explained how I used empty baby wipe containers and a handful of my sample-size products to create completely free first aid kits for both of our vehicles.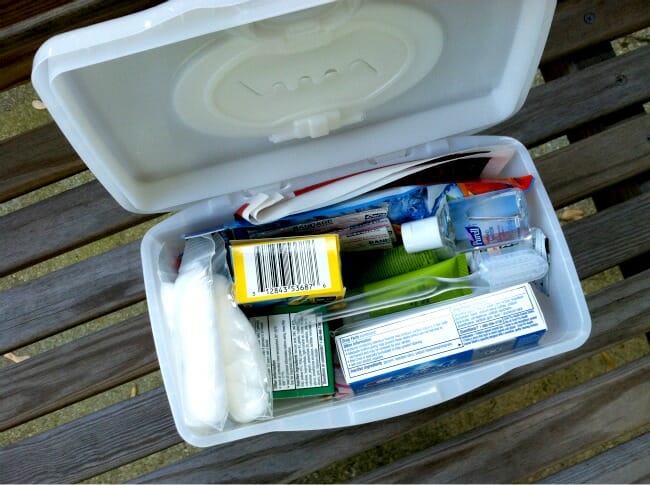 However, a first aid kit isn't the only use for sample-size products.
No Way!
Some of my favorite uses for sample-size products are:
Travel with them.
OK, so this one is pretty obvious but I didn't want to skip over this super practical option. Not only will sample-size products save a ton of room in your suitcase, the small sizes allow you to take them in your carry-on bag.
Donate them.
Homeless shelters, women's shelters, or pretty much ANY other non-profit organization would love to have sample size products to pass out to those in need. I'm pretty sure you can even bring sample-size products to Goodwill and Salvation Army.
Also, many churches have "basket ministries" (or something similar) that are always in need of sample-size products to put in baskets for sick people, new moms, the elderly, etc.
Gift them.
Don't worry, I don't give everyone sample-size products for birthday and christmas gifts, but I have created some fun "sample-size gift baskets" that I've included as part of another gift.
For example…
BABY GIFTS: before Nora was around, I would package up all my cute sample-size baby items and include it as part of a shower gift (perfect sizes for the diaper bag).
HOUSE WARMING GIFTS: I've packaged up sample size cleaning products and given them to college students moving into the dorms or young married couples moving into an apartment. They are the perfect size for small spaces — plus, do you know any college student who actually remembers to buy cleaning products!
DOOR PRIZES: I've been to many wedding showers, baby showers, and home parties — all of which need door prizes. Many sample-size lotions, body washes, etc. make excellent door prizes — especially if they are the fancy products from Bath and Body Works.
GAG GIFTS: A few years ago, we hosted a Christmas party and gave everyone a gag gift that included all sorts of sample size medicines, denture cream, muscle relaxers, etc. It was a fun gesture that didn't cost me a thing 🙂
Use them yourself!
I once did laundry for an entire month with sample-size laundry packets I'd gotten for free! Dave and I also go in spurts where we use sample-size lotions, body washes, and deodorants to save money on buying the full-size ones.
Sometimes, if the bottle has a twist-off lid, you can even reuse the containers by refilling them from full-size products.
These are just a few of my favorite uses… and I just want to reiterate that the ONLY reason I use sample-size products at all is because I can get them completely free. Please don't go out and start stocking up on sample-size items just for these purposes — full-size items are MUCH more cost efective!
What are your favorite uses for sample-size products?