Seriously! 6 months already!
Nora is getting so big, and you know what… I LOVE it!
I've never been a huge baby person and I just can't wait for Nora to start crawling, walking, talking, and growing into a cute, chubby toddler. I suppose that when all my children are grown, I'll look back and regret wishing them through the newborn phase of life… but right now, I couldn't be happier!
I'm so glad that I decided to take these monthly pictures… it's crazy how much she changes each month!
Here'a s quick look back through the last 6 months… (you may click on the number above the picture to see more pictures from that specific month)
And I still can't believe how much our lives have changed in only 6 months…
Nora's 6-Month Milestones
1. She can sit up all by herself
This literally happened overnight! One day she was still really wobbly and always tipping forward; the next day, she was sitting tall all on her own!
2. She wants to stand… all the time
I'm not sure if this is good or bad, but once she figured out how to sit, she immediatly decided that she wanted to start standing…
And yes, she can even do it without help!
3. She doesn't stop talking.
Remember my post about silent time? Yeah, we don't get any of that around here — Nora "talks" constantly! It's actually pretty cute… and if she's being fussy, all we have to do is play back a video recording of her making noise and she is instantly mesmerized by her own voice.
4. She loves sucking on people food.
She still refuses to eat any type of baby food but she absolutely loves sucking on carrots, apples, etc.
I'm honestly not sure why she refuses the baby food — I've even tried peaches, applesauce, and bananas (which are supposed to be the good flavors, right!) We'll keep trying… and meanwhile, she's definitely still packing on the pounds!
5. She rolls in every direction
Maybe she can't crawl… but this girl can get around.
She finally figured out how to roll in all directions and if we're not watching her close enough, she'll be all the way across the room before we realize it!
6. She laughs… a lot!
Dave can get her to laugh at almost everything he does — but especially if he jumps out from behind the couch… or out of our closet. I tried to get a video uploaded but something wasn't working quite right — maybe next month!
7. She goes to bed at 7:30 almost every night!
Can I get an "Amen"!
She's still a horrible napper and she still wakes up at least twice every night, but the fact that she is routinely going to be around 7:30 every night (right after her bath and last feeding) makes me one of the happiest moms around.
Yes, I'm still tired from waking up in the middle of the night, but I actually have a couple hours to myself each evening… I can catch up on a little work, clean up the kitchen, shower in peace, or just go to bed REALLY early 🙂
She used to lay the 'short' way in her crib… but now she's too big!
Oh and just for good measure, here is one of the cutest pictures I've taken so far (at least in my opinion). She absolutely LOVES being outside!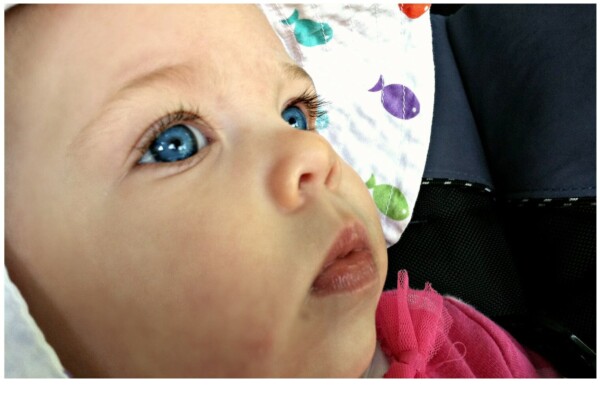 Nora, Nora… what are we going to do with you?
Our theory is that she's one of those super brilliant children and needs to be stimulated all the time otherwise she gets bored 🙂
At least she knows how to turn on the charm for the camera!