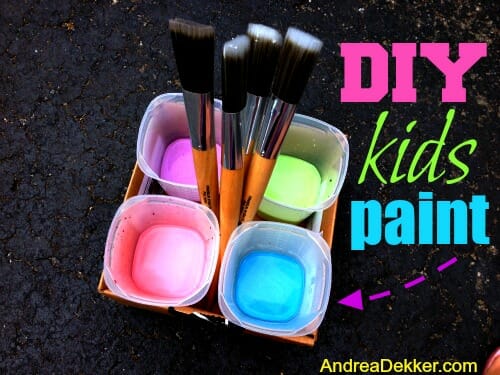 A few weeks ago, Nora saw some of our neighbor kids painting on their driveway with paint brushes. Of course, she immediately wanted to be able to do the same thing… and even though we have buckets of sidewalk chalk, she NEEDED paint 🙂
I looked into buying sidewalk paint from the store — but it was EXPENSIVE, and I don't think it would have lasted long either.
So instead, I turned to Pinterest to find a DIY recipe for kid's paint.
The next day, we walked to the dollar store to pick up some paint brushes and cornstarch and we were ready to paint. Nora was THRILLED!
She has been enjoying "decorating" our driveway with paint during Simon's naps that past couple of weeks now — and I love the fact that this recipe is so ridiculously simple and cheap (like literally pennies to make a big batch!)
If you're looking for a fun, frugal summertime activity to do with small people in your life, I would definitely recommend giving this DIY kid's paint a try. It's not the most mess-free activity ever, but so far, I haven't noticed that it stains skin or clothing… plus, it's outside!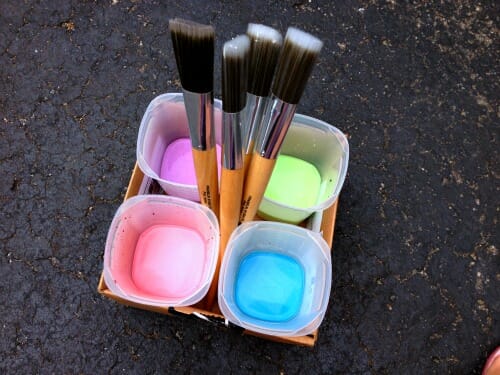 Recipe for DIY Kid's Paint:
INGREDIENTS:
2 c. cornstarch (I've also heard it can be done with flour, but I've never made it that way)
2 c. water
several drops of food coloring
containers for different color paints
brushes, foam rollers, or even squirt bottles (I found my brushes at the dollar store)
DIRECTIONS:
Mix equal parts cornstarch and water in a large measuring cup or bowl (it will take a while to stir and it will be VERY thick at first)
Divide mixture between multiple smaller containers (I like to use containers with lids for easy storage)
Add several drops of food coloring to the different containers and stir to make desired colors.
Rinse out brushes and cover containers of paint when finished.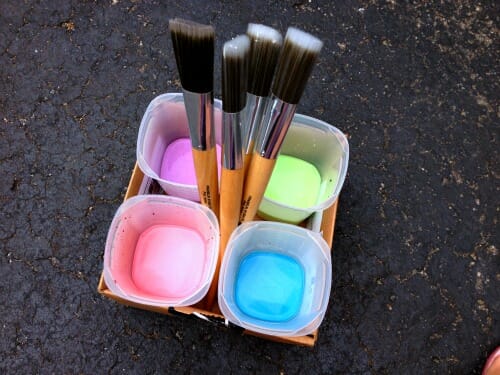 It literally took me less than 5 minutes to whip up a big batch of the paint… and aside from the containers of paint, the only dishes I got dirty were a measuring cup and a fork for stirring.
Nora and Dave had fun painting for a while during Simon's nap. Then we put the paints away until the next day. The colors showed up REALLY good on our black asphalt driveway and continued to get brighter as they dried.
Aren't you impressed with Dave's artwork?!
You will have to stir up the paints again after they sit for a while as all the cornstarch settles on the bottom (it could take a few minutes to get it stirred in again). Otherwise, the paints are actually VERY liquidy and easy to squirt or spread.
This was such a fun and super simple project to put together for Nora — she has enjoyed getting her "driveway paint" out several times since I first made it — and it actually keeps her occupied for quite a while!
Yay for lazy summer afternoons spent outside… and kids who can (sometimes) entertain themselves for more than 5 minutes!