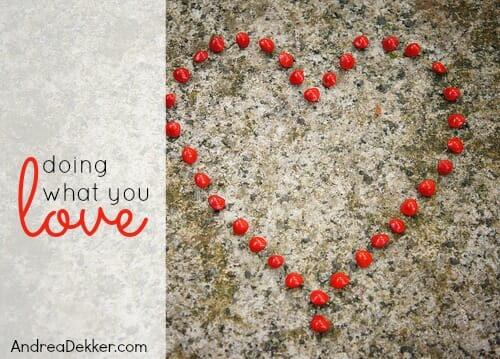 Seven years ago (almost to the day) I walked through the front door of my very first in-home organizing client.
I was hardly 21 years old, just a few months out of college, a few months into my marriage, and a few months into my first real job.
I had no business name, no business cards, no business experience, no website, no real "training", and honestly, I had no idea what I was getting myself into!
However, there were a few things I DID know:
1. I didn't love my full-time job all that much
2. I liked the idea of setting my own schedule and working from home
3. I REALLY loved helping others get organized and simplify their homes and lives
4. I was good at helping others get organized and simplified
5. I liked making money and I wasn't afraid of a little hard work 🙂
So 7 years ago, I started an in-home organizing business — and I can honestly say that NO part of me ever guessed I'd be doing what I'm doing now!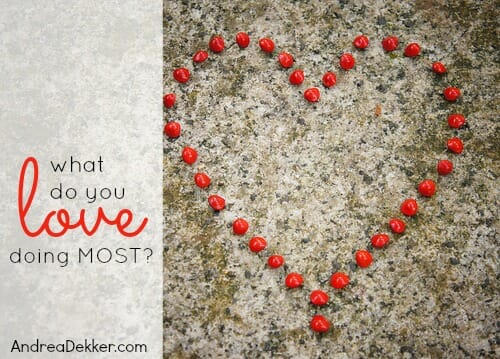 I've always been somewhat entrepreneurial; and growing up, I can vividly remember my parents encouraging me to think about what I loved doing most, and then figure out a way to get paid for doing those things.
SIDE NOTE: It's my Dad's birthday today — Happy Birthday, and thanks for the great advice 🙂
So when I went to my very first organizing appointment full of anxious anticipation, I vividly remember thinking "what if this is IT? what if this is THE THING that will allow me to make a living doing what I love?"
But things definitely didn't go as planned.
I did enjoy doing the organizing, but I didn't LOVE it as much as I thought I should. It was a ton of work, lots of heavy lifting, digging through strangers' dirt, dust, and grime, dealing with cancellations, driving long hours in bad weather, etc. etc.
Plus, as I mentioned in this post, things were really slow in the beginning and I hardly made any money those first 3 years. Not only was I not doing something I truly loved, I also wasn't making money — definitely not ideal!
I knew there had to be a way to make a living AND do what I loved — I just needed to find it.
I would often joke with people and tell them that my DREAM JOB would simply be a more practical, down-to-earth, version of Martha Stewart (minus the fake smile, pastel button-ups… and jail time.)
Can you see the resemblance?!?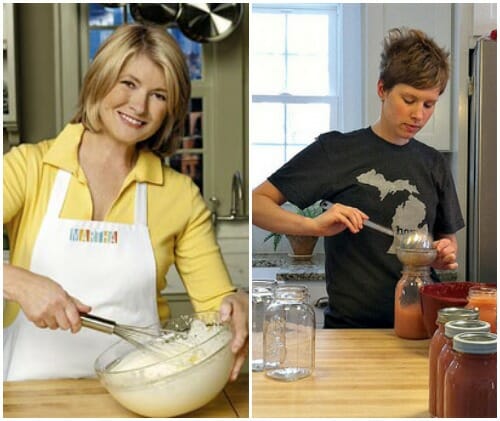 After all, I loved to cook, clean, bake, decorate, organize, plan, entertain, garden, etc. etc. etc. and I was good at all of that stuff too. I just needed to figure out how to get paid for doing those things.
.
Thankfully, Dave was always supportive from the very beginning, and he kept encouraging me to expand and try new things. I also had a couple good friends who kept "pushing" me to start a blog. They explained that I could share my love for cleaning, organizing, cooking, house projects, gardening, etc. via the web and maybe SOMEDAY down the line, I'd be able to make an income from it.
At the time, none of us really understood how blogs worked, but I thought it sounded like a pretty good idea, so I figured I'd give it a shot.
It was very humbling writing blog post after blog post, day after day, with almost no page views, no comments, and certainly no income — but I did enjoy doing it and it was fun to document all the projects I was doing.
Slowly the traffic started coming, and with it, a teeny, tiny bit of income started rolling in. Then, I was asked to write a few paid guest posts… and only a couple months later, I got my first job as a Virtual Assistant for another blog.
All of a sudden, I was making a small part-time income just from "sitting at home on my computer".
And you know what… I LOVED it!
Over the next 2 years, I slowly transitioned to the online world and by the time Nora was born, I was making a full-time income online (read more about that here).
.
Although it most definitely was not a quick and easy career change (it took 5 relatively frustrating years of working way more than full time to finally earn a full-time income) I feel beyond blessed to say that I truly do what I love and love what I do.
Obviously, there are hard days, rough weeks, and bumpy roads to navigate (just like any job) but for the most part, I feel as though I'm helping people, I'm enjoying myself, I'm doing something I'm passionate about, and I'm able to stay home and take care of my family at the same time (not that it's necessarily easy to juggle it all — but I really can't complain too much!)
And wouldn't you believe that one of the VERY FIRST comments I ever got here on this blog said,
"Love the look and style of your blog Andrea — aren't you just a little miss Martha Stewart!"
It looks like I found my dream job after all!
Since February is the month of love, I thought it might be kind of fun for all of us to sit back and reflect on what we would absolutely LOVE to do if we could do anything in the whole world.
It might be working full-time, part-time, over-time, from home, outside the home, doing volunteer work, or staying at home with the kids full-time — whatever it is, I'd encourage you to really sit down and ask yourself, "Do I love what I'm doing?"
And if not, ask yourself, "If I could do anything, what would it be? What is MY dream job?"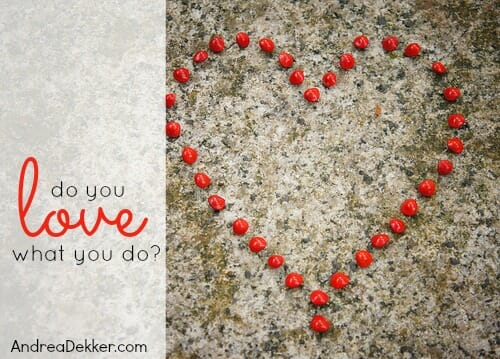 So do you love what you do?
And no, I don't expect you to love what you do 100% of the time (even moms can't say we love mothering 100% of the time!) I'm just talking about "in general" do you enjoy what you do on a daily and weekly basis?
Do you feel like you're making a difference?
Do you feel fulfilled at the end of the day?
Do you feel excited to get back to work and learn more about your field?
If so, count your blessings and give thanks for a job, or volunteer work, or a family and a home you love.
If you're simply working for the paycheck — I totally get that too and there's nothing to be ashamed of. Any job is something to be grateful for in this economy — but that still doesn't mean you can't dream just a little!
You never know what a little dreaming (and a lot of hard work) might turn into!
.