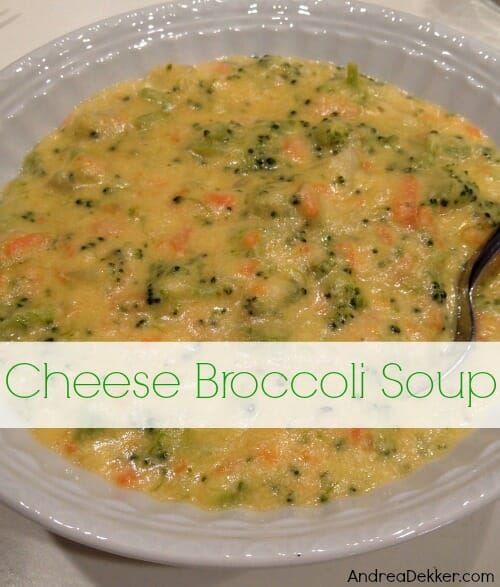 It's been REALLY REALLY cold and REALLY REALLY snowy here in West Michigan lately. Dave even ended up with 3 snow/cold days last week — making 6 snow days for the entire year (definitely the most he's had in one year since he started teaching). It was so nice to have him home all day, have a break from full-time "Nora duty", have the opportunity to run errands ALONE, and work on some of those "to-do-before-baby projects" I'm trying to knock of my list.
However, with all the frigid temperatures, I found that we were craving warm comfort foods like soup and homemade bread — so since I hadn't made Cheese Broccoli Soup all winter yet, I decided to give it a go with a new recipe for us.
I'm actually not a huge fan of Cheese Broccoli Soup (or any super thick and rich cream soups) but it's definitely one of Dave's top favorite soups, so I figure I should make it every now and then. This time, I made a couple changes that I think improved the soup — and Dave didn't complain, so they must have tasted OK!!
I used mashed potato flakes instead of flour or cornstarch to thicken the soup — we all really liked this change.
I chopped the broccoli up into REALLY REALLY tiny pieces (mostly because Nora won't do big chunks) but also because I don't particularly love eating creamy soups with large chunks in them. I even peeled the stems of the broccoli (with a veggie peeler) and then chopped those into tiny chunks so nothing went to waste!
I shredded the carrots (using a cheese grater) which, along with the tiny broccoli bits, really helped the soup to taste thick and creamy.
Nora loves cheese, broccoli, and potatoes so I figured this recipe would be a winner with her — and I have to admit, I was pleasantly surprised with how well I liked it myself 🙂
If you're looking for a creamy, cheesy, winter-friendly meal you can whip up in about 30 minutes on a cold day, give this one a try!
Recipe for Cheese Broccoli Soup:
Serves 6-8
Ingredients:
3 T. butter
1 onion; minced
1 T. minced garlic (or approximately 3 garlic cloves)
1 quart water or broth
2 large carrots; shredded
2 medium potatoes; peeled and chopped into very small pieces
1 full head of broccoli (including the stems) chopped into very tiny pieces
2 c. milk or cream
1.5 c. mashed potato flakes (a.k.a. instant potatoes)
2-4 c. shredded cheddar cheese (or 1 "loaf" Velveeta cheese — which Dave ALWAYS requests)
additional water or broth to thin soup as desired
Directions:
In a large sauce pan, melt butter and sauté onions and garlic until soft
Add water (or broth) carrots and potatoes and simmer for 5-10 minutes
Add broccoli and continue simmering until veggies are tender
Add milk and potato flakes and stir until thickened (it will only take a couple minutes)
Add cheese and additional water or broth to reach desired consistency
Serve with fresh bread and a salad
Store leftovers in the refrigerator (this soup does not freeze well)
Although Cheese Broccoli Soup wouldn't make the top of my "favorite meals" list, this recipe did hit the spot on a cold winter day. Plus, it's really quick to make, it's a great meatless meal, and you should have seen Dave and Nora gobble it up (totally worth my efforts!)
What are your favorite "cold winter day" soups?
Visit my virtual recipe box for more simple, delicious, family friendly, recipes!