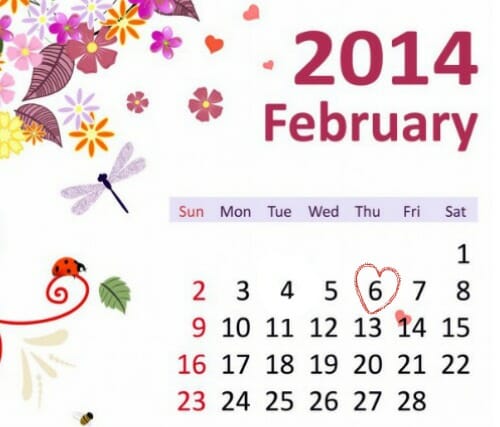 My due date is officially less than one month away!
It was one month from Tuesday in case you're wondering — but I'm not naive enough to think the baby will definitely be here by then (especially since Nora seemed to enjoy staying inside for an extra week or so)… but still.
My due date is ONE month away! How did that happen?
On one hand, 1 whole month seems like an eternity to be so physically huge and uncomfortable…

But on the other hand, with only 1 month left, I feel like there's a whole lot of mental and emotional preparations I need to make — not to mention stash a few more meals away in the freezer!
Two weeks ago, I shared my to-do before baby list — and I'm happy to say that I have almost everything crossed off!
The only thing I haven't even started yet is the sewing projects… but I have ideas!
I also still need to file my business taxes (I already filed our personal taxes), but I'm waiting a couple pieces of information to arrive in the mail… everything else is ready to go to our accountant.
I've done a good amount of freezer cooking and tons of freezer baking — but I'll keep plugging away at this over the next few weeks too.
And of course, the 2014 digital photo albums will always be a work in progress — but at least I'm finished with January.
The nursery is totally 100% finished (besides hanging some pictures of the new babe once he arrives) and it's so dang cute I can't even stand it! I never thought I'd have so much fun getting ready for a boy.
I've always ALWAYS pictured myself having girls, but that's probably because I only had sisters and never really experienced baby boys ever. So far, baby preparation for a boy is equally as fun as it was for Nora.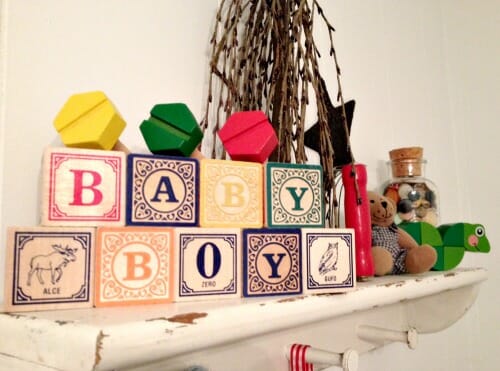 My Pregnancy Differences:
I can't get over how completely different my two pregnancies have been so far — which I'm secretively hoping means the two babies will also be very different 🙂
Pregnancy Symptoms:
With Nora, I never felt sick and was just a little tired for a couple weeks in the beginning. But this time, while I never actually threw up (I have an iron stomach, I swear) I felt pretty gross from mid July – mid September. I was also EXTREMELY tired for the first few months and am still way more tired now than I ever was with Nora (but I'm sure part of that is because of Nora.)
Food Cravings:
With Nora, I never craved any specific foods and I also never had a time when foods didn't sound good. With this baby, NOTHING sounded good except hamburgers (specifically McDonald's Double Cheeseburgers) for the fist few months. I definitely didn't give into that craving all the time, but I visited the McDonald's down the road more times in those few months than I have in the past several years of my life!
I'm also totally craving popsicles and crushed ice right now — and I never had that with Nora.
Different Seasons:
With Nora, I was pregnant all spring and summer — which was really nice for getting outside, going for walks, and breathing some fresh air. This time around, I was feeling gross and sick for most of the summer, and then the fall and winter have been exceptionally cold, snowy, windy, icy, etc. Pair that with a huge belly and a toddler who does NOT like cold, and I've basically been hibernating inside for the past 8 months… not exactly ideal, I know!
Also, I will say that spring/summer maternity clothing is WAY cuter and WAY more flattering than fall/winter maternity clothing. I just tell myself that it's the bulky sweaters making me look so huge 🙂
Weight Gain:
Speaking of looking huge… with Nora, I gained exactly 23 pounds — and it was ALLLLLL belly. This time around, I've already gained 35 pounds (not necessarily all belly either!) and I still have a month to go! By my next Dr. visit, I have a feeling I'll weigh more than Dave for the first time in my life — and although he is pretty skinny, he's also 8 inches taller than me!
Weight Loss:
With Nora, I lost every single pound of baby weight (and more) due to her intense nursing requirements — so although I hope that losing the weight this time around will be just as easy, I'm not super optimistic since so many other things have been different with baby #2.
Labor and Delivery:
Nora's labor and delivery was a breeze — or so I'm told. I obviously have nothing to compare it too (exept stories from friends and family) but it did go quickly and seemed to be relatively uneventful. We're hoping for a repeat this time around!
Expectations:
I think this might be the biggest difference of all. With Nora, I didn't know what to expect, so I just believed everything other people told me and everything I read in parenting books — which is OK, except when you end up with a baby like Nora. As I've mentioned before, I literally felt like a complete mothering failure for months and months before we realized Nora really was just "different".
This time around, I have a lot more parenting experience, a lot more confidence in my own abilities, a lot more common sense, and an entirely different set of expectations for myself and life after the baby arrives.
I'm honestly not surprised (or even disappointed) that things seem to be very different this time around — it's just so interesting to me how different the two pregnancy experiences have been this far.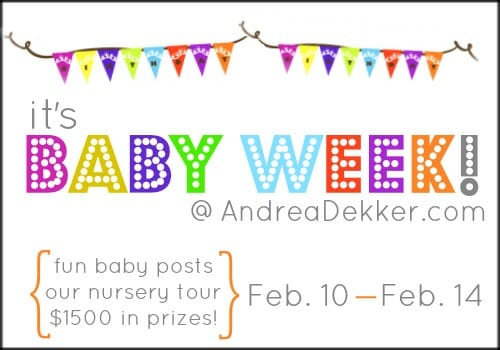 Oh, and guess what… Next Week is 'Baby Week'!
I have a fun week of posts planned for next week — all with the intention of celebrating Baby #2 here on the blog. I'll be sharing some of my best tips for frugally preparing for babies, our full nursery tour (yay!), and a special post that is near and dear to my heart on Valentine's Day.
Oh, and I'll also be hosting TWELVE fabulous giveaways on Tuesday and Wednesday!
Since I'm not having any baby showers with baby #2, I figured I might as well host a "virtual baby shower" of sorts and give away over $1500 worth of prizes and gifts to YOU!!
Many of the giveaways will be geared towards babies and new mommas, but there are plenty of other goodies for toddlers, all females, and even a few gift cards that would work for anyone!
For those of you who can't handle all the excitement and anticipation, here's a sneak-peek of the companies and products that will be included in the giveaways.
I'd LOVE for you to come back every day next week to read all the fun posts I have scheduled and enter the fabulous giveaways! Of course, feel free to share the goods with your friends and family on Facebook, Twitter, etc.!
Even though I'm getting really huge, feeling kind of uncomfortable, constantly out of breath, and basically tired all the time, I have to admit that these last few weeks are SO fun for me.
I absolutely LOVE making all the final preparations, washing and folding those tiny clothes, putting the finishing touches on the nursery, packing our freezer with food, running any last-minute errands, tying up lose ends on various projects around the house and with my business, etc. etc.
As you all know, I'm definitely a "planner" by nature — so all that planning I mentioned above is just right up my alley! However, I find it extremely exciting to not know exactly when this baby will come. My doctors said that from now on, they won't try to stop labor — even if it starts a couple weeks early (which I don't think will happen).
And at the same time, the thought of another tiny baby who needs my constant attention 24/7 is enough to make me curl up and cry.
At least I have a whole month left to prepare! 🙂
top image credit