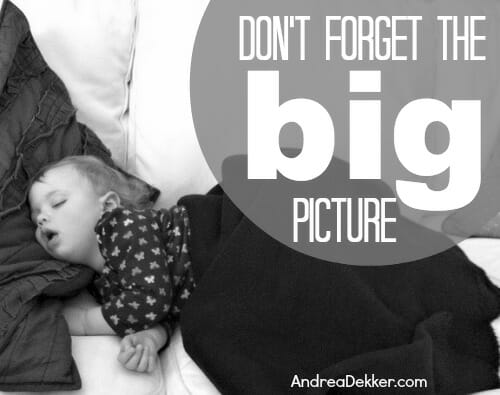 Before Nora was born, I asked a handful of moms to write a post about motherhood, parenting, family, or another related topic (read the posts here). I used those posts for a 3-week maternity leave after I returned home from the hospital and began real life with a new baby.
The posts were fabulous; I read them ALL over and over again!
Even now, almost 18 months later, I still regularly go back and read through many of those posts — especially this one from Sarah of Clover Lane. Her blog is one of my favorite blogs, and I know many of you enjoy reading her motherly advice as well.
At the end of Sarah's guest post, she says "Remember the little things, but don't forget the big picture." And that phrase has really stuck with me through the many long months since Nora's birth. However it's the 2nd part of the phrase that I recite to myself on a daily basis.
Don't forget the big picture.
I repeat this phrase whenever I feel overwhelmed with my job as a Mother (so usually around 50 times a day!)
For example, at this VERY moment, Nora is screaming at the top of her lungs from her bedroom and refusing (once again) to take a nap. She's been screaming for a while now, and I know from months and months of experience that she will NOT fall asleep. However, without her daily screaming sessions, I get absolutely no time to sit and think (did I mention our babysitter had to quit two weeks ago.) So I sit and type while she screams and refuses to give in to how tired she is.
In a few minutes, I'll get her out and take her for a walk. She'll be asleep by the time we get to the end of the driveway.
It's not ideal, it doesn't make me happy, but it is what it is.
I wish she would be like normal children and take a nap each day.
I wish I could get her on some sort of schedule.
I wish I wasn't so exhausted all the time.
I wish that even one piece of sleep-training advice we've been given would work.
I wish she would fall asleep at night without hours and hours of crying.
I wish Dave and I could have one full night of sleep… just ONE night in 18 months. That's not too much to ask, is it?
And while right now, at this point in my life, Nora's sleep issue seems like a huge deal (it IS a huge deal when your so tired) I do realize that in the scheme of my entire life, it is just a phase.
Yes, I know that "time goes so fast", I know I should "enjoy every moment", I know that "this too shall pass", and I know that "the days are long but the years are short". However none of those overly-used cliche phrases helps with my exhaustion right now.
Don't forget the big picture.
By constantly (and I mean CONSTANTLY) reminding myself not to forget the big picture, I feel like I can make it through one more hour, one more day, one more week.
After all, Nora is happy, she's healthy, she's loved… and if she's still not sleeping by the time she's 18, she'll go off to college and keep someone else up all night 🙂
Don't forget the big picture.
As I continue to recite this phrase over and over each day, I realize that it can also apply to so many facets of life…
Maybe your home isn't nearly as neat or organized as you'd like it to be right now — but in the big picture, your home is a place where family and friends gather regularly and enjoy spending time together. They don't care how neat and organized it is. They just know that your doors are always open and you will always welcome them in.
Maybe your career isn't where you thought it might be right now — but in the big picture, you have enough to provide for your family, you've met so many great people along the way, and you've learned a lot in the process. Maybe your current job is just a stepping stone to something really great.
Maybe your life feels overwhelming and completely out of control right now — but in the big picture, you have your health, your family, and so much more to be thankful for.
Maybe you have a difficult baby, teenager, adult child, or spouse that's creating all sorts of stress and problems right now — but in the big picture, at least you have a baby, teenager, adult child, and spouse. They are alive, and there is always hope that the problems will be resolved with time.
I know these examples are overly simplified and won't resonate with everyone, but I think you get the idea.
I'm not naive… I realize that it's really easy to say "don't forget the big picture" but it's completely different to actually believe it (yes, I speak from experience).
Even after MONTHS of telling myself not to forget the big picture, there are still plenty of times when I think, There is just no way I can do this. I am not cut out to be a mother. I can't handle one more night with such little sleep. How did I ever think I could work full time and be a mom full time?
Then I snap out of it and realize there are SO many worse things we could be dealing with than "just" lack of sleep. Our house could burn down (or flood), we could have a life-threatening disease, we could lose our jobs and all our savings, we could experience death, etc. etc.
Right now, our lack of sleep feels like a huge deal… but in the big picture, it's just a phase (maybe a long phase, but still a phase).
Life will go on.
We will be OK.
Nora will sleep eventually… right?
What area of your life could use some "big picture" thinking?