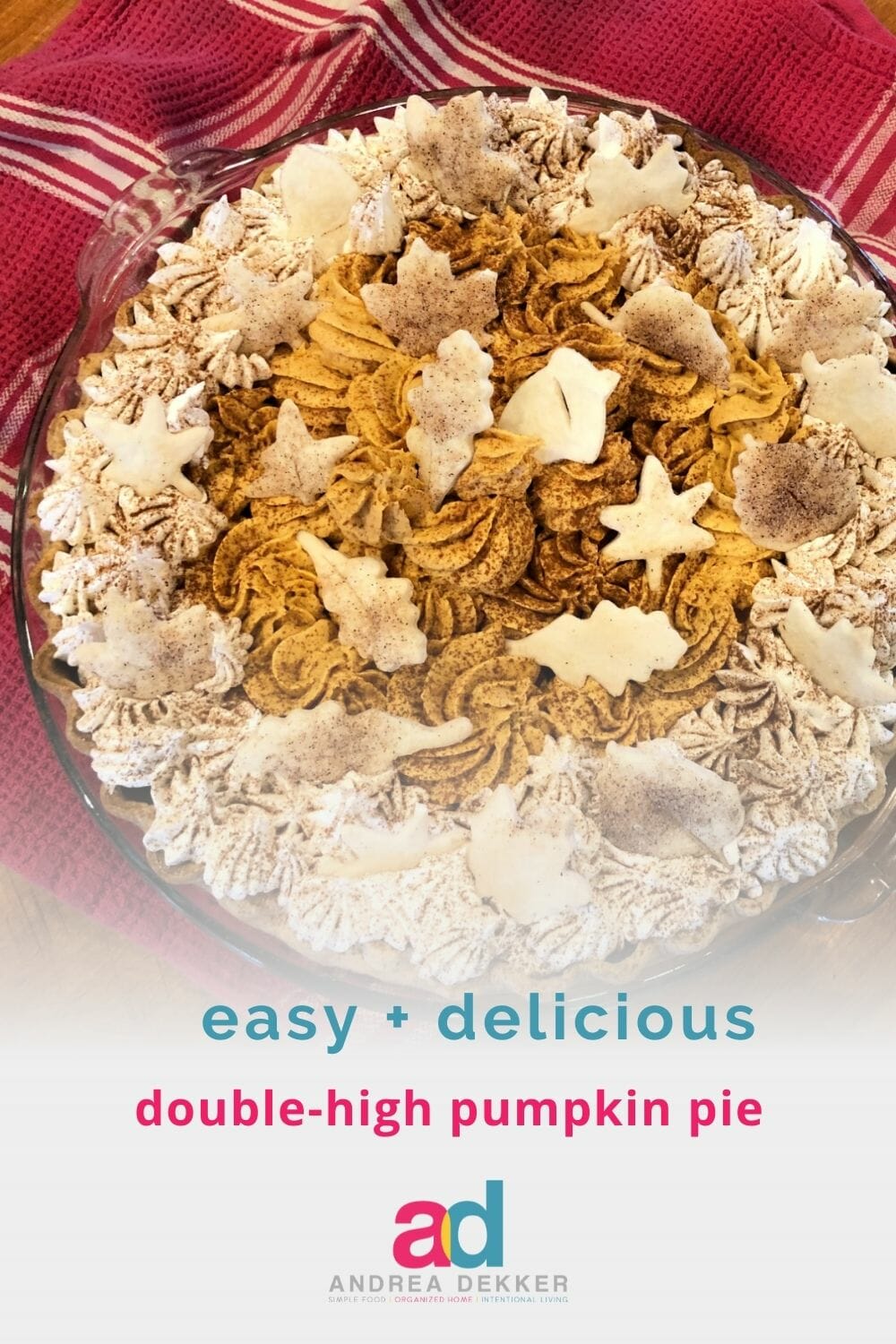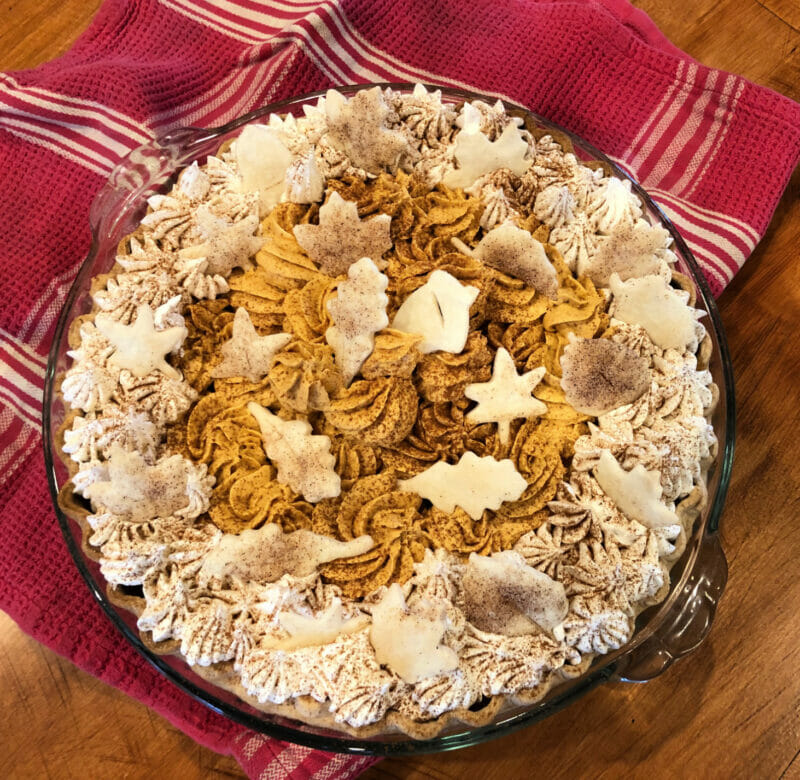 Every year, I challenge myself to come up with one new pumpkin recipe to add to my growing collection.
Of course, I still enjoy the old stand-bys… but since I usually only bake with pumpkin in the Fall, I like to try sometime new each year.
My new pumpkin recipe for 2021 is something our family has officially named: "Double-High Pumpkin Pie" — mainly because it rhymes and the pie literally has 2 layers of pumpkin deliciousness!
The idea for this double-high pie came from an older woman at church.
As she told me about the "pumpkin mousse" she makes, and how it tastes really similar to a fluffy pumpkin pie, I thought, "I wonder if I could put pumpkin mousse on top of pumpkin pie?"
Three days later, I confirmed that pumpkin mousse + pumpkin pie was a really great combo!
I know it looks sort of fancy, but I promise it's easy!
My family gave me 10 thumbs up on this recipe, and we are all eagerly anticipating Thanksgiving Day when we can enjoy my Double-High Pumpkin Pie again!
Of course, you don't need to use a fancy piping bag for the mousse or the whipped cream — you can simply spread it on with a knife or spatula.
And if you really don't feel up to baking a pie from scratch, just head to the store and buy a pre-made pumpkin pie and add the mousse topping at home to make it "double-high". Keep in mind that if you buy a Costco pumpkin pie, you'll want to make a double-batch of the mousse to assure you have enough for the entire pie!
Have I convinced you yet?
Here's my recipe!
Yield: 10
Double-High Pumpkin Pie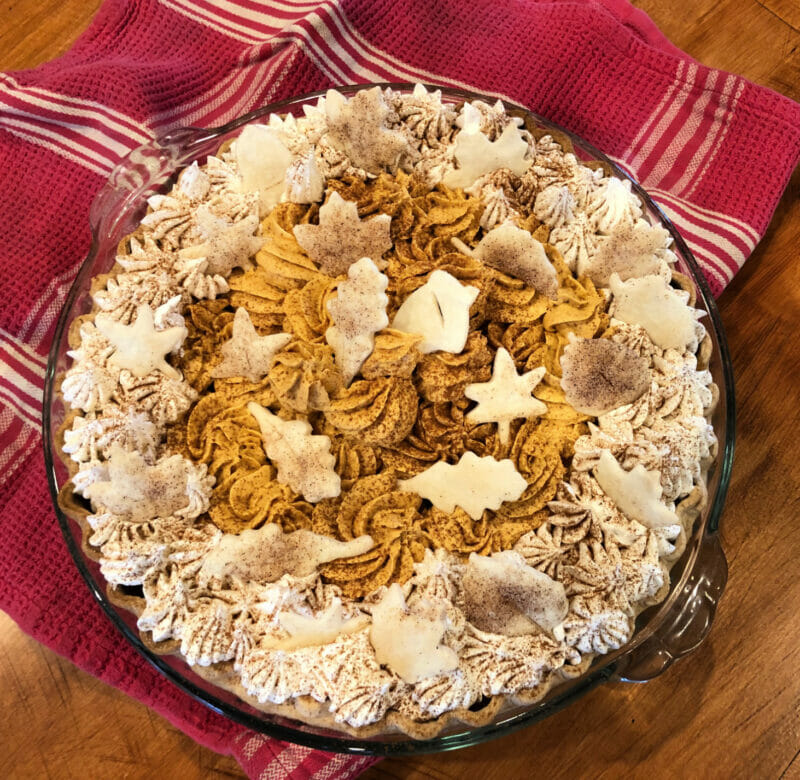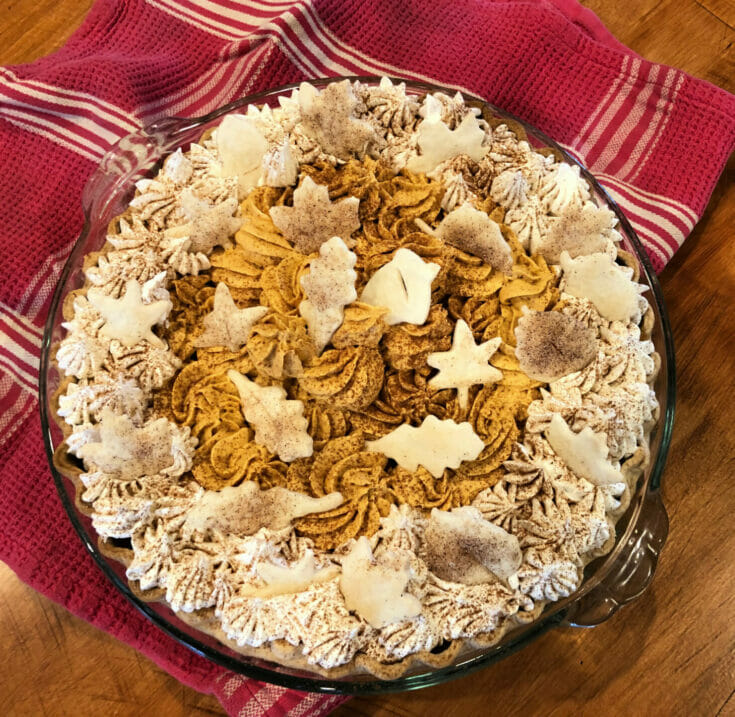 Your favorite pumpkin pie topped with a light and fluffy pumpkin mousse will make this double-high pumpkin pie a hit at your next holiday gathering!
Cook Time
1 hour
15 minutes
Additional Time
15 minutes
Total Time
1 hour
40 minutes
Ingredients
FOR THE PIE
1 crust for a 9" pie (unbaked)
1/4 c. crushed pecans (optional)
15 oz. can pumpkin
12 oz. can evaporated milk
2 large eggs
3/4 c. granulated sugar
1 tsp. cinnamon
1/2 tsp. nutmeg
1/2 tsp. salt
1/4 tsp. ginger
1/4 tsp. cloves
FOR THE MOUSSE
1 c. canned pumpkin
1 pkg. instant vanilla pudding mix (4 serving size)
1/2 tsp. cinnamon
1 c. thawed whipped topping (not real whipped cream)
Additional whipped topping to pipe around the edges
Instructions
Preheat oven to 375ºF
Make pie crust dough (or unroll store-bought dough)
(optional) press crushed pecans into dough
Place dough in a 9" pie plate, press the dough up the side of the pan, and "crimp" the top edge
In a large bowl, mix all ingredients for the pie and pour into unbaked shell
Bake in preheated oven for 20 minutes
Turn oven temp down to 350ºF and continue baking another 45-55 minutes, or until the middle is set
Let pie cool completely at room temperature
Refrigerate cooled pie (uncovered) for 4 hours, or overnight
In a medium bowl, mix 1 c. canned pumpkin with dry pudding mix and 1/2 tsp. cinnamon.
Fold in whipped topping and spread or pipe on top of chilled pie
Add additional whipped topping around the edges
Eat and enjoy! Or refrigerate for later.
Notes
This pie will stay fresh in your refrigerator for a couple of days if you want to make it ahead of time.
For a variation of this recipe, make YOUR favorite pumpkin pie and top it with the pumpkin mousse and whipped topping after the pie is chilled.
Alternatively, you can buy a pumpkin pie and simply add the mousse topping at home.
One note about the whipped topping, if you use real whipped cream, your mousse will deflate and get runny after a few hours... which is why I recommend using whipped topping (like Cool Whip).
Recommended Products
As an Amazon Associate and member of other affiliate programs, I earn from qualifying purchases.
Nutrition Information
Yield
10
Serving Size
1
Amount Per Serving
Calories

488
Total Fat

20g
Saturated Fat

8g
Trans Fat

0g
Unsaturated Fat

11g
Cholesterol

48mg
Sodium

543mg
Carbohydrates

73g
Fiber

3g
Sugar

49g
Protein

7g
Nutritional information is approximate and does not account for additional ingredients or added toppings.
Let me walk you through the process visually…
My double-high pumpkin pie is such an improvement on traditional pumpkin pie without all that much extra work. The extra layer adds so much visual appeal and a super creamy texture that our whole family loves!
The optional crushed pecans in the crust also add depth of flavor and a nice crunch(no need to buy pecans if you don't already have them in the house though.)
I'm so excited to make this pie again for my own family and for upcoming Thanksgiving parties. Then I'll pack the recipe away again until next year.
More Pumpkin Recipes:
Let me know if you have questions regarding this recipe… and please feel free to leave links or full recipes of your favorite pumpkin desserts in the comments below!
Happy Baking!