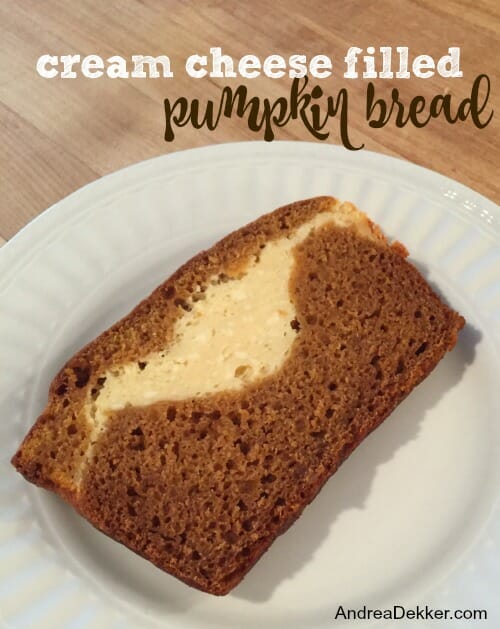 Now that we're a full week into November, I definitely feel like it's time for another pumpkin recipe!
I try to share a couple new pumpkin recipes every year, and this one is one of my favorites as it combines 2 of my most favorites desserts — cheesecake and pumpkin pie — into one deliciously huge loaf of quick bread.
And yes, it IS a BIG loaf!
This is a fairly straight-forward recipe with "normal" ingredients, and it looks really nice in thick slices on a plate because you can clearly see the different layers of pumpkin and cream cheese.
If you love cheesecake and pumpkin pie as much as I do (or if you simply want your kitchen to smell like the holiday season and have a nice gift for a friend or neighbor) this cream cheese filled pumpkin bread should be on your next to-bake list!
Recipe for Cream Cheese Filled Pumpkin Bread
makes one LARGE 9″ loaf
INGREDIENTS:
For the Bread
1 c. pumpkin puree
1/4 c. applesauce (or vegetable oil)
1/4 c. sour cream
1/2 c. granulated sugar
1/2 c. brown sugar
2 eggs
1 2/3 cups all-purpose flour
1 t. baking soda
1/2 t. salt
1 t. cinnamon
1/2 t. nutmeg
1/2 t. pumpkin pie spice (I only use this if I have it in the house)
For the Cream Cheese Filling
1 package (8 oz.) cream cheese, softened
1/2 c. granulated sugar
2 T. flour
1 egg
1 t. vanilla extract
DIRECTIONS:
Preheat the oven to 325º F. Grease a 9″ bread loaf pan and set aside.
In a large bowl, combine pumpkin, applesauce, sour cream, sugars, and eggs with an electric mixer.
Add flour, baking soda, salt, and spices. Mix until combined and set aside.
In a medium bowl, combine cream cheese, sugar, flour, egg, and vanilla until smooth. Set aside.
Pour a little more than half of the bread batter into prepared loaf pan.
Spoon all of the cream cheese into the pan and spread evenly.
Pour remaining bread batter over cream cheese layer.
Bake in preheated oven for 65 to 75 minutes, or until a toothpick comes out clean. (Sometimes I put aluminum foil over the bread for the last 20 minutes if I don't want the top to get too brown.
Cool in pan for 10 minutes, then cool completely on a wire rack. Refrigerate bread in an airtight food storage container after it has cooled completely.
Eat and Enjoy!!
YUM!!
This recipe could also work as more of a brownie/cake if you poured all the pumpkin mixture into a 9″ x 9″ pan, then dolloped the cream cheese mixture on top, and use a knife to swirl it around. Of course, you'd want to reduce the baking time to roughly 35-40 minutes (depending on your oven).
What's your favorite pumpkin recipe?
Visit my virtual recipe box for more simple, delicious, family friendly, recipes!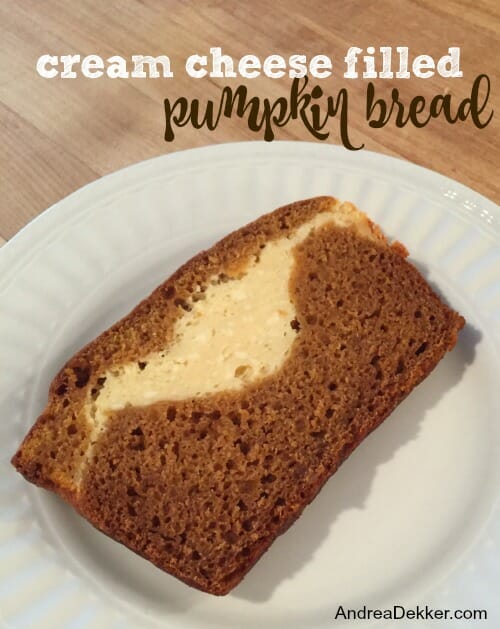 .
More of My Pumpkin Recipes: