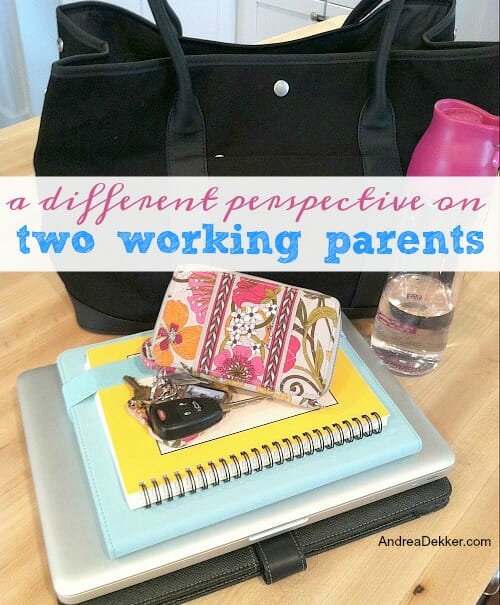 As I've mentioned so many times before, I feel like my current job is the most perfect job I could have at this point in my life.
That said, it does require quite a bit of time and effort to run a business, run a household, and run a family at the same time — not to mention all the sacrifices Dave makes to coordinate his schedule to allow time for me to do what I need to do each day.
If I'm honest, I've often felt a little guilty about the time I spend working (even though I'm working from home). There are probably better ways I could utilize my time… and in the process, free up more time for Dave to do other things as well.
However, I recently realized that although it can be tricky to find the right "balance" and enough time for everything when both Dave and I work, with a little bit of a different perspective on things, I can see the HUGELY positive effect my job (and my income) have on our family.
Let me explain…
Unlike other teachers whose spouses stay home during the day, Dave has never worked a summer job since we've had children — which means he gets to spend all summer with our kids (and with me). If we didn't have my income, one of us would most likely get some sort of summer job, since Christian school teachers often earn less than many other "year-round" jobs.
Also, Dave has been able to give up several extra-income opportunities in the interest of spending more time at home — coaching 3 different sports, leading student council, proctoring ACT exams on the weekends, and more. Of course, he did enjoy those activities, but I know for a fact he enjoys having a simpler schedule and more time at home these days. There will be plenty of time for coaching and student council in future years.
Dave has less stress as he doesn't need to worry about being the sole "breadwinner" for our family, and I can run my business without worrying about the fact that I'm self-employed and don't get benefits (because we get benefits through Dave's job).
I can enjoy being home with my kids during the day and also having time to pursue something I enjoy and am passionate about when Dave is home in the afternoon and after the kids are in bed for the night. And honestly, the fact that I just have SOMETHING outside of mothering to devote my energy to does wonders for my mental state as a stay-at-home-mom!
Our children are able to see Dave and I work together, make sacrifices for each other and for our family, and do our best to balance our home, our jobs, and our family each day.
We have more time (and disposable income) to work on home and yard projects — something we BOTH enjoy doing together, and something our entire family benefits from year-round.
.
So when did my perspective change?
Several months ago, an acquaintance questioned me about what sports Dave would be coaching in the upcoming school year… and when I told him Dave quit coaching after our 3rd child was born, I initially felt a wave of guilt wash over me when I saw the shocked expression on that person's face.
He made a joke about how I must have Dave "wrapped around my finger" to get him to quit coaching… and then went on his way.
I kept thinking about that comment and wondering if Dave was giving up too much… but then my thought process shifted and I realized we are BOTH giving up a lot in the interest of having more time at home with our kids.
In fact, after mentioning this conversation to Dave, we both agreed that if it wasn't for my job and my income, he would hardly see our children at all — and I would probably feel completely trapped at home with all 3 kids and no adult interaction.
Obviously, my job is a blessing for ME because I love what I do, but it really helped to look at the situation with a new perspective and realize that my job and my income is a huge blessing for our entire family.
Dave can be home more, our kids spend more time with their dad, mom is more fulfilled and has a renewed sense of purpose, and everyone is happier (most of the time!)
So often, I feel like families with 2 working parents get put into this group of money-hungry people who only want to buy bigger houses, go on fancier vacations, and buy their kids the biggest and newest gadgets all the time — and I suppose this could be true in SOME situations.
However, I know so many 2-income families who don't use the extra income for bigger or better toys and vacations — but rather, for more time with their kids.
I know… we almost always think the opposite, but I have a feeling that's the way the media wants us to think.
We don't live in a world where one parent goes to work and the other stays home all day — and although I have absolutely nothing against moms or dads who stay home with their kids, I do think women especially are so much happier and healthier when they can pursue some of their own passions instead of resigning to social pressures to stay home.
I hear SO much negative talk about how destructive it is for families when both parents work — and although I'm sure there are situations when this might be true, I also know that in our family, the fact that Dave and I both contribute to our family's income means that we BOTH have more quality time to spend with our family.
My job and my income affords Dave an enormous amount of time at home with me and with our children — of course, it's helpful that I actually love my job, but even if I didn't, I could look at it from the perspective of all the time it allows Dave to be home with our family instead of working a summer job, coaching after school, or picking up odd jobs on the weekend.
I realize not every 2-income family has the same experience as we do — but I wanted to share this in hopes that it will encourage those of you who might be struggling with the decision to work at a job you love.
I would never encourage anyone to work over staying home with their kids if they really wanted to stay home with their kids. However, with all the part-time jobs that offer flexible hours and work-from-home options, there are so many great opportunities for families to make a little extra income AND enjoy lots more quality time together!