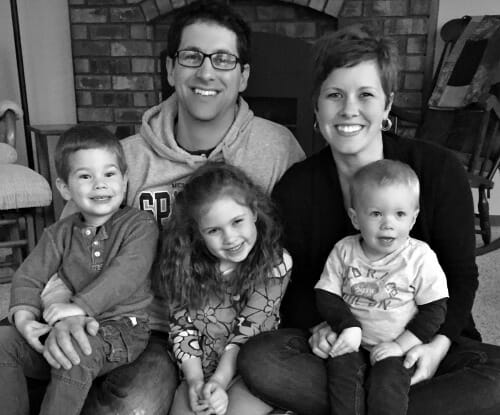 Wow… it's been over TWO months since my last Peek Into Our Week post!
This is partially because we don't have much to "peek at" during the long, cold, winter months. We stay inside, playing dress-up, trucks, "food", house, games, puzzles, reading books, watching our favorite shows, etc.
It's not bad, but there's also not a whole lot to write about.
Another reason I haven't posted a peek into our week lately is because of the big news we shared last week 🙂
In case you missed it, we're having another baby… and wow, have I been tired!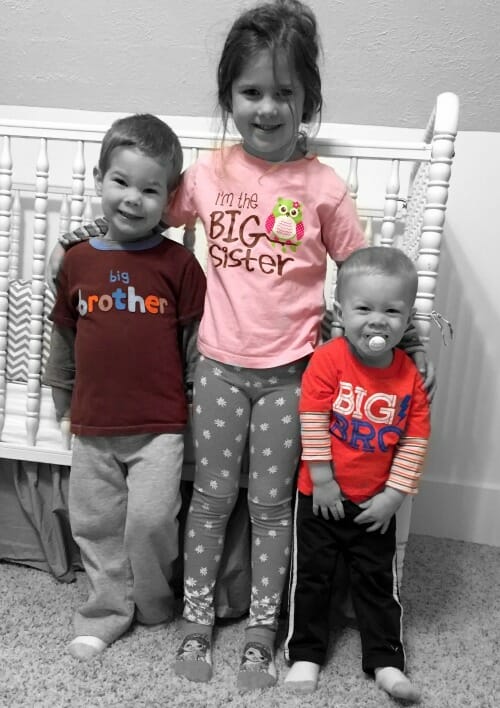 I had virtually ZERO pregnancy side effects with Nora or with James, and a bit of tiredness and nausea with Simon, but that was it. This pregnancy, however, is totally kicking my butt!
I jokingly told Dave that it's because I'm over 30 now and my body is revolting against being pregnant again.
I also decided that if pregnancy sickness is any indication of the baby's disposition, this baby will be our easiest and least fussy baby. Nora's pregnancy was the easiest, and she was our most challenging baby. On the flip side, Simon's pregnancy was my hardest and he was such an easy baby.
So my fingers are crossed that the last 2 months of basically wanting to sleep all day long and and eat only carbs will be "rewarded" with a sweet snuggly newborn who doesn't scream constantly!
I'm roughly 15 weeks along now and finally starting to feel slightly less exhausted. I'm hungry all the time, but food still doesn't sound good (I know, it's maddening for someone who loves to eat!)
.
What I've been up to:
Despite being very tired, I have managed to cross a few to-do's off my list over the last 2 months during random bursts of energy:
Dave and I did tons of yard work in the middle of February, thanks to a full week of almost 70º temps
I did a major purge of my closet and Nora's closet and moved any clothing that was too small for Simon into James' drawers.
I purged James' clothing but didn't get rid of it yet because my sister is having a baby in July (exactly the same as James) and if she has a boy, she wants to look through my things.
I read quite a few books (more on those below) and enjoyed watching a bit of HGTV thanks to Dave's month-long Sling TV subscription
I ordered a few cute maternity items from ThredUP.com and did a bit of online shopping for our upcoming vacations
I attended our local Just Between Friends pre-sale last Tuesday and found a few cute items for the kids
Nora and I went to a bridal shower for my cousin this past weekend
.
Nora enjoyed a fun preschool field trip to our local planetarium — oh my word, she thought it was just amazing.
She is elated that we will have another baby around the house and has asked if I could homeschool her for Kindergarten so she could be home with the baby all day long (yes, that's exactly what I want to do right after having a baby!)
It will be so different when she's gone 3 FULL days next year — I'm just happy she'll be able to ride the bus so I won't need to get out with all 3 of the other kids to bring her and pick her up.
Nora loves school, she loves learning, and she loves making new friends. She will do just fine in Kindergarten next year! She will also be a fabulous big sister to the new baby (whom she desperately hopes is a girl).
.
Simon has had a couple big, exciting months….
For starters, he is now fully potty trained (he's even dry at night 99% of the time). Also, he turned 3 earlier this month (see his firefighter party here).
He talks (and sings) NON-STOP and is so stinkin' funny too!
However, the biggest news from Simon is that he gave up his "blue pipe"! For the past 3-4 months, we've told him that when he turns 3, he's too big for a pacifier and will not be able to have it during the day at all. We still let him sleep with it at night (because Simon is an amazing sleeper and Dave and I are too tired to deal with constant wakeups from him right now!)
I was so nervous and figured he would cry and cry and cry without he beloved blue pipe during the day… but to my surprise, the transition has gone really well. There were a couple rough days at the beginning, but now he doesn't ask about it or whine for it ever. We keep it right next to his pillow so he can get it when he goes to bed, and he's never tried to sneak it out during the day.
Yay Simon!
.
James has been interested in hats lately, and has to point out if anyone is wearing a hat by shouting (at! at! at!)
He talks quite a bit as well — and he giggles and "sings" ALL the time. If you need a smile, watch this super cute video of James "singing" Skinamarinky Dinky Dink with me!

The biggest news from James (aside from the fact that he'll soon be a big brother) is that HE IS FINALLY SLEEPING THROUGH THE NIGHT!
Once in a while he wakes up asking for a drink of water (and then goes right back to sleep) but for the most part, he sleeps from 7pm to 7am without so much as a peep. Hallelujah!
.
What I'm Watching and Reading:
Various HGTV shows — thanks to our month of Sling TV
Gilmore Girls on Netflix
The 5 Love Languages of Children — I've wanted to read this for a while now but our library never had the digital version. I finally got it last week and it's SO good. I highly recommend it!
I read 5 or 6 books by Samantha Chase via my free Hoopla membership through our library. They were all cheesy romance books — but quick reads and entertaining.
Once Upon a Wager (free for Kindle right now)
I read 3 books by Kim Vogel Sawyer (more romance books set in the 1800's)
I tried reading a few parenting books or "self-help" books but I just couldn't get into them. I was falling asleep after 2 pages so I had to switch to the romance books to keep me interested 🙂
Our Weekly Menu:
SUNDAY:
MONDAY:
We welcomed the first official day of Spring with Brats on the grill!
Brats on the grill
Fresh fruit
TUESDAY:
WEDNESDAY:
THURSDAY:
Soup supper / fundraiser at church
FRIDAY:
Olive Garden ToGo
There was a really good online coupon code and we had a gift card — so we ended up getting 4 full-size meals, 10 breadsticks, and a ton of salad for around $26 (before our gift card). We still have SO many leftovers 🙂
SATURDAY:
Went to Dave's parents' house for dinner
.
We are gearing up for a vacation in Florida with my entire family — it will be the first vacation we've taken since James was born (and probably the last "big vacation" we take for a couple more years).
When we get back from vacation, we have a laundry list of yard projects, home projects, and a couple renovations to tackle before the new baby arrives in September.
It should be a fun (but full) spring and summer for the Dekkers!