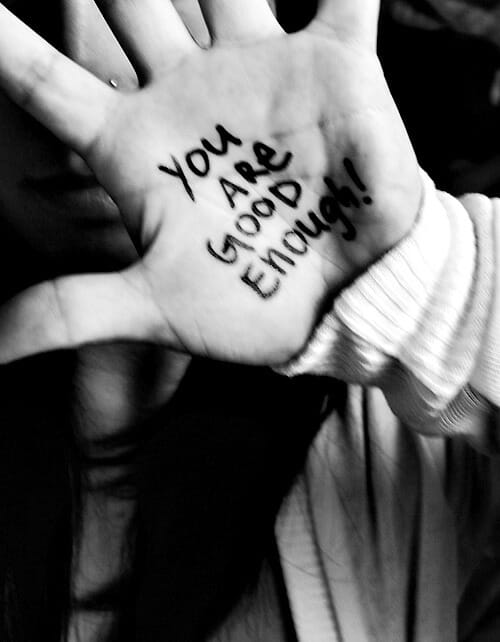 Today's post is a repost from over a year ago — however, due to this busy time of year, I honestly can't think of a better message to share with you today!
---
Over the years, I'm sure the number of times I've said "that's good enough" is astounding. I catch myself saying it ALL THE TIME — and honestly, I'm not sure that's such a bad thing.
Although I'm always striving for "better", I also know that perfection is unattainable. So "good enough" is often the place I find myself at — better, faster, cleaner, kinder, stronger, wiser, more organized, more efficient than before — but still plenty of room for growth.
Good Enough
Over a year ago, heard someone say:
"For a woman to say she is searching for a "good enough life" is NOT failure — it is maturity and self-knowledge."
I immediately fell in love with that quote and started reciting it to myself over and over again — obviously, it stuck with me!
You see, sometimes I feel like saying, "that's good enough" is me being lazy or taking the easy way out. I could be making fancier meals, I could be doing more in my church and community, I could be putting up more decorations around our house, I could keep everything cleaner and more organized, I could be doing TONS more with my blog and my business, I could be planning more fun activities for Nora and Simon, I could be going on more dates with Dave….
I could, but I'm not.
Not because those things aren't important to me — simply because I only have 24 hours a day to do everything I want and need to do. So instead of doing one or two things 100%, I do a lot of things at 85%… and that's "good enough" for me!
Seriously. I'm not trying to be silly or flippant. I know full well that there are many things I do each day that I have not given 100% time, effort, and energy towards; but that extra 15% is going to something else that's probably more important or more pressing at the time.
Good Enough
Instead of spending tons of time cleaning my house each week, moving every piece of furniture when I sweep and vacuum, I usually get the job done in half the time by doing the bare necessities.
Instead of spending all day in the kitchen making every single thing from scratch, I make lots of semi-homemade foods to free up loads of time for other activities.
Instead of getting every single great deal on groceries and other daily necessities, I shop at only one store and do my best to save as much as I can — or we just do without.
Instead of spending time and money planning fancy vacations or family outings, we often just opt to stay home, work on house projects, and have fun in our own neighborhood.
I could go on and on — but I think you get the idea.
It's easy for me to feel discouraged or lazy because I'm not doing as much as I could — or maybe as much as others are doing. But at the same time, I love that by striving (or maybe settling) for "good enough", I'm able to do SO many more of the things that are important to me.
I am good enough.
You are good enough.
"Good enough" is good enough for me!
What about you?