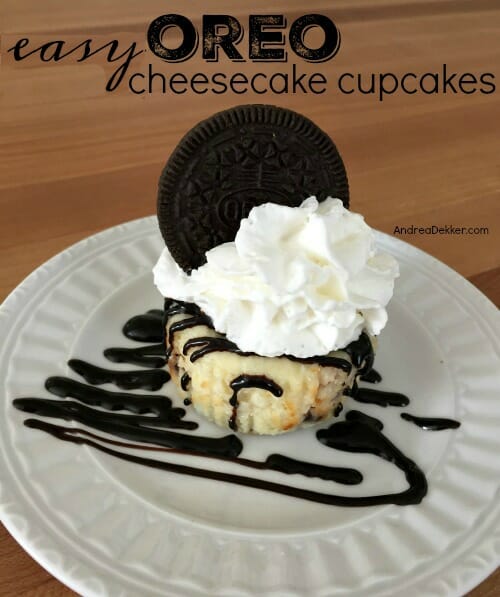 Our family loves sweets… and since I enjoy baking, we usually have at least 2 different types of baked goods in our pantry at all times. Even still, my kids will often choose an Oreo cookie for dessert over any other homemade option… unless it's a dessert with Oreos in it!
Today's recipe for easy Oreo Cheesecake Cupcakes is so quick and simple that I can actually have the cupcakes ready for the oven before it finishes preheating.
They are a great make-ahead dessert option and they travel really well too (a bonus for upcoming holiday parties)! Plus, you can really "dress them up" with chocolate sauce, whipped cream, or other favorite toppings.
They are pretty much the perfect dessert for any meal, any time of day, all year long (at least in my cheesecake-loving opinion).
Recipe for Easy Oreo Cheesecake Cupcakes
Makes about 24 cupcakes
INGREDIENTS:
24 chocolate sandwich cookies (a.k.a. Oreos)
3 blocks of cream cheese (8 0z. each) at room temperature
1/3 c. sour cream or plain yogurt
3 eggs
1 c. sugar
2 tsp. vanilla extract
1 c. mini chocolate chips or crushed Oreos
DIRECTIONS:
Preheat oven to 350ºF
Line two 12-cup muffins tins with papers and place one cookie in each muffin cup.
In a large bowl, mix cream cheese, sour cream, eggs, sugar, and vanilla with an electric mixer
Stir in chocolate chips and spoon batter into muffin cups (I fill them full)
Bake in preheated oven for 20-25 minutes or until middles are almost set.
Cool completely and refrigerate for a few hours before serving (the middles will sink down considerably as they cool).
Serve with chocolate sauce, caramel sauce, whipped cream, and/or more crushed Oreos or chocolate chips.
This was a fun recipe for the kids to help me with (especially since they each got to eat an Oreo).
Nora also had fun pretending to "serve" us cheesecake in the waitress costume she got for her birthday 🙂
These cheesecake cupcakes are the PERFECT size for a little something sweet after a big holiday meal — and since I usually make them a couple days in advance, it's one less thing I need to worry about the last minute before guests arrive.
I've never tried freezing them, but they easily last a week or two in the fridge — if you don't eat them all first!
Are you a cheesecake fan? If so, what's your favorite variety?