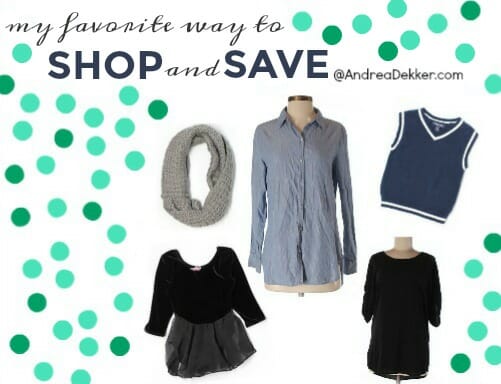 Anyone who's read my blog for any amount of time knows I'm a huge advocate for buying secondhand whenever possible.
For me, buying secondhand means LESS CLUTTER for the seller, LESS EXPENSE for me as a buyer, and LESS WASTE for the environment — win, win, win!
And if I can save a bunch on like-new items ONLINE, without stepping foot into a store, I'm that much happier!
Enter thredUP – one of my favorite ways to save on clothing for myself and my children!
As many of you know, I've been a faithful thredUP shopper for almost 5 years now (I placed my first order just a few months after Nora was born). Back then, they only sold children's clothing, but they have since expanded to offer a massive selection of women's clothing (including petite, plus size, and tall), maternity wear, hand bags, shoes, and even a designer collection for fashion-lovers!
Since I'm not normally an avid shopper, I usually place 2 large thredUP orders every year — one for Spring/Summer items and one for Fall/Winter items. My Fall/Winter box arrived a few weeks ago and almost every item worked for me and for the kids (if you're interested, here's a look at my Spring/Summer box).
This year, Nora needed a few warm tops, Simon needed some dressier clothes for church, James needed a pair of jeans, and I ordered several long tunic-style tops, a couple chunky scarves, and 2 more pairs of my favorite Ann Taylor skinny jeans (one of which was on clearance for $2.99!!)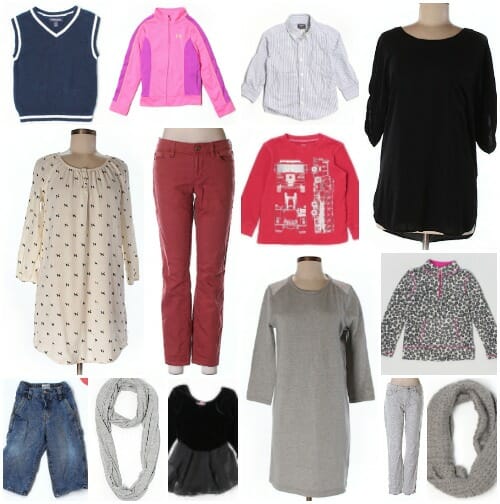 So far, my favorite item is this Gap "sweatshirt dress", as I call it (only $8.99). It is literally made out of super soft sweatshirt material with a little fun lace detail on the back. I've worn it successfully as a dress and as a shirt — and I've gotten compliments every time!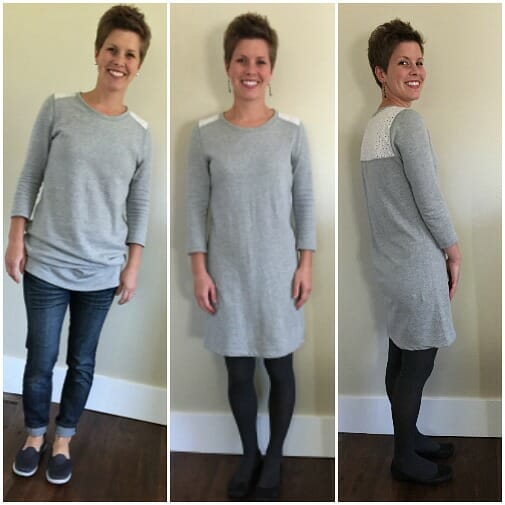 photo credit: Nora 🙂
Two of Nora's birthday gifts were from thredUP — a super cute dance costume ($4.99) and a long-sleeve Frozen t-shirt ($2.99). And Simon will be opening 2 like-new fire truck shirts and dump truck pj's for Christmas this year — all thanks to thredUP!
In fact, now that I think about it, I've saved so much money giving like-new items from thredUP (several still with the tags) for gifts — to my own children, my sisters, and even as baby gifts. I've always been more-than-satisfied with the quality, the money-saving aspect is fabulous, and shopping from my computer couldn't be easier.
I love that I can narrow my search by gender, size, style, clothing type, brand, price, and even color to make it super easy to search for the specific items I need and want.
Then I just wait for the fun polkadot box to show up on our doorstep!
If something doesn't work, doesn't fit, or I just don't like it, thredUP is great about accepting returns. I just print out the return form and pre-paid postage, put the items back in the thredUP box, and bring it to our local post office — DONE!
I always get free shipping and free return shipping because I always order at least $79 worth of merchandise. Also, if you spend at least $150 in any given calendar month, you get unlimited free shipping and free return shipping on all future orders through the end of the following month (which is perfect if you forget something or find one thing you'd like to order but don't want to pay for shipping).
What's really crazy is how much I SAVE — usually between 60% – 90% off retail!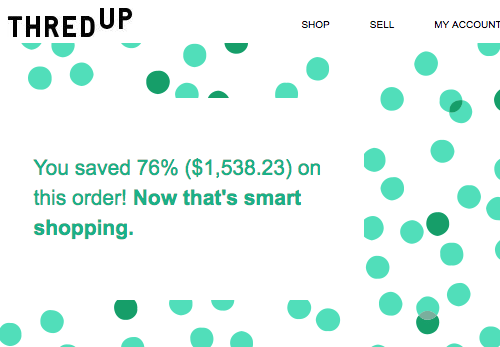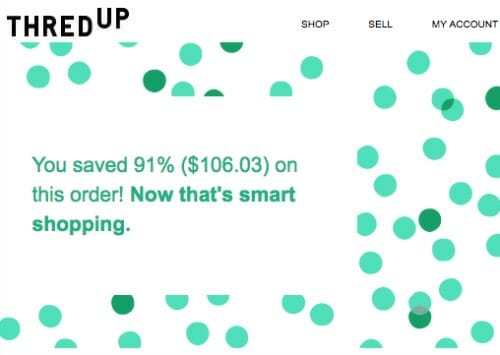 Did you know thredUP will buy your clothes?
If you'd like to clean out your closet in an effort to get a little more organized, simply order a free "cleanout kit" and you could get cash or credit for your unwanted clothes — meaning less clutter in your closet, fewer trips to the donation center, and new fashion at a fraction of the price of retail!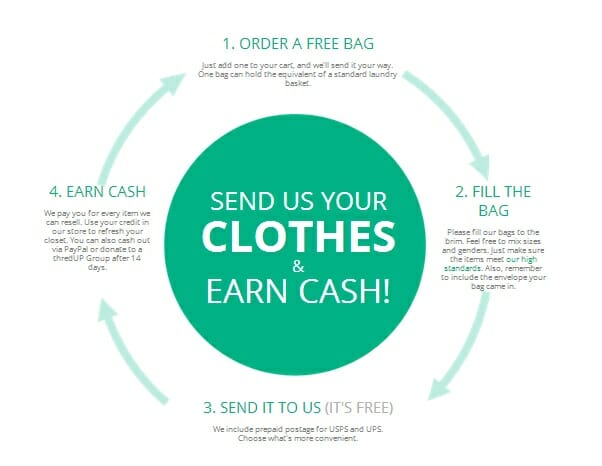 In my opinion, thredUP is truly the best online resource for high-quality secondhand fashion for women and children!
Visit thredUP on the web
Website: thredUP.com
Facebook: thredUP
Twitter: @thredUP
Instagram: @thredUP
Pinterest: thredUP
Get their App for iPhone
Get their App for Android

A Special Offer for New Customers!
If you're new to thredUP, you can get an additional 40% off your first order when you shop via thredUP.com and use the code REAL40 at checkout! (For new customers only. Maximum discount of $50. Good through 2/1/17)
.
If you've never shopped with thredUP… now is a great time to start!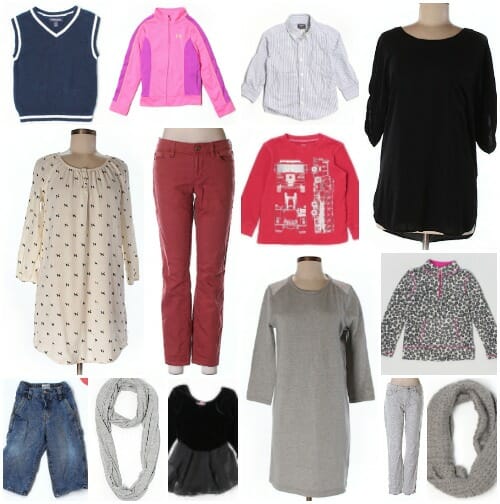 A big thanks to thredUP for sponsoring this post and making it possible for me to provide all of the content on my blog free of charge! My opinions are 100% my own! Please see my full disclosure policy and contact me with any questions you have.