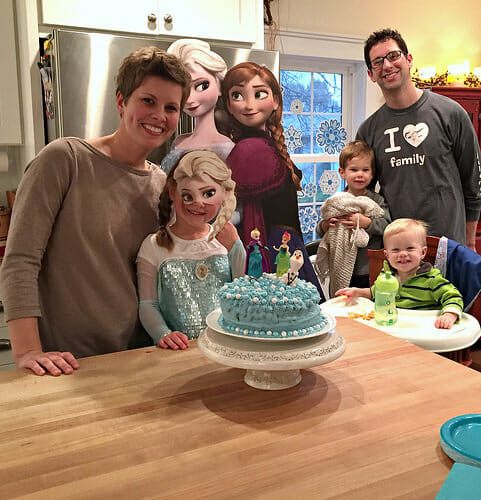 It's been almost 2 months since my last Peek Into our Week post — so I figured it was time for another update.
Last week was NOT a "normal" week for our family. For starters, we all enjoyed having Dave home most of the week for his nice long Thanksgiving break (Wednesday – Sunday).
We celebrated Nora's 5th birthday with 2 Frozen-themed birthday parties, and we celebrated Thanksgiving with 2 gatherings (one with each of our families).
I canned a bunch of applesauce, and we finished the week by putting up our Christmas tree, a few outside decorations, and the kids' Little People nativity set!
NORA:
In case you missed the big announcement last week, Nora is officially 5 years old now!
It felt like we celebrated all week long — and I suppose we sort of did.
We celebrated Thanksgiving and Nora's birthday with Dave's family on Sunday, she brought her birthday treat to school on Monday, her actual birthday was Tuesday and we celebrated by getting her ears pierced and going to Culver's for dinner, she helped me bake and decorate her cake on Thursday, and then we had her 2nd birthday party with my family on Friday!
We were fortunate to borrow ALL the decorations from a friend who recently had a Frozen birthday party for her daughter. Nora was so excited about the huge cardboard cutout of Elsa and Anna — and I was excited to be able to give everything back to our friend after we finished using them 🙂
We made a simple boxed cake and cupcakes with blue frosting — and Nora had fun putting a few decorations on the cake. Both parties were SO simple, but the birthday girl sure enjoyed them!
More big news from Nora is that she got her ears pierced!
She asked me to get them pierced last year, but then backed out after I told her it would hurt. This year, however, she did not back down. She SCREAMED so loud — it was completely ridiculous, but at least it's done and over with now!
I actually got my ears double pierced at the same time — so now we twist our earrings and clean them together twice a day!
SIMON:
Simon has been enjoying many of Nora's gifts (that she surprisingly shares quite well with him), the fun parties and special guests, and all the extra cake and cupcakes we've had in the house. He even asked for a cupcake after breakfast the other day!
It rained (and was very cold) for most of the week, but we still got outside a few times. Simon headed straight for his bike (a.k.a. police car, ambulance, or fire truck — depending on the day) and proceeded to ride around the driveway making very loud siren noises the entire time.
He also continues to try so hard to skip his naps — but has only been successful 2 or 3 times.
He says, "No mom, me no sweepy!! Me no need nap!" and fights like crazy if I try to force him to take a nap. On the flip side, he plays fairly well with Nora until he's too tired… so I let them play and usually find him somewhere in the house sleeping with his blanket about 30 minutes later.
He feels like he's winning this battle, I get some free time while he and Nora play together, and he still takes a nap almost every day — that's a "mom win" in my book!
JAMES:
We have entered the stage of "mine" with this little boy — especially at meal time. He wants to do everything himself (including holding his own bowl) and yells "mine" until I let him. I'm all for independence, but yogurt is a tough one for me to give into!
James has been obsessed with puzzles the last few weeks — to the point where he stands next to the place we store our puzzles and cries until I open it and get his favorite ABC puzzle out. Then we sit and do the SAME alphabet puzzle over and over and over again.
This puzzle is the first thing he requests when he wakes up in the morning, he begs for his puzzle all day long, and he cries whenever I put it away. It's weird — but he is actually starting to learn several of the letter names, so I guess it's having some sort of positive impact on him.
I'm amazed we haven't lost any of these letter pieces over the past 5 years!
James also likes being outside whenever he gets the chance… scooters and bubbles are his current favorite outdoor activities. Of course, he can't do either of them on his own, so I have to bend over and push him around or blow bubbles until my lungs can't take anymore blowing — at least he's cute 🙂
James is acting more clingy and has even cried a few times when I bring him to nursery at church. I think that's pretty typical for 16 months… and it is sort of fun to be the "favorite mom" for a little while.
This is one of my favorite pictures of him so far — he's such a little peanut (only about 10% according to his doctor) and he loves squeezing in little places — behind the couch and chair, under the kitchen table, under the piano bench, etc.
ME:
I got a really good deal on 2 bushels of apples… so even though I really didn't want to spend a full day in the kitchen over Thanksgiving break, I decided to use up all the apples by canning 45 quarts of applesauce. I'll probably do a bit more over Christmas break… but it feels so great to have most of my applesauce done for the year.
Along with the applesauce and general meal prep for 5 people 3 times a day, I made cupcakes, cake, and food for 2 birthday parties, birthday treats, food for 2 Thanksgiving celebrations, and food for a friend's dinner… so I was basically in the kitchen all week long.
I literally can't even think of anything else I did (except wrap Nora's gifts and write a few blog posts).
I started watching 10 minutes of The Crown (on Netflix) while cutting up apples — but quickly realized I was not nearly as efficient when I watched TV!
Also, I signed up for a free trial of JellyTelly over the weekend. It's all Christian shows for kids (from the creator of VeggieTales) and so far, it seems to be really great. It's only $4.99 a month, so if my kids seems to like it a lot, I will most likely try it for a few months.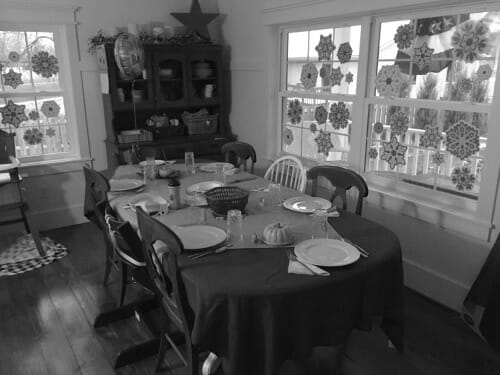 Our Weekly Menu:
SUNDAY: We had Dave's family over to celebrate Thanksgiving and Nora's birthday
Pork tenderloin (in the slow cooker)
Green beans,
Fruit
Bread
Mini Oreo cheesecakes (recipe coming tomorrow!)
Cupcakes
MONDAY:
Broccoli and Cauliflower
Fruit
Applesauce
Leftover cupcakes
TUESDAY:
Culver's for Nora's birthday
WEDNESDAY:
Shepherd's pie
Applesauce
Rolls
M&M cookies
THURSDAY:
Thanksgiving dinner with my family — and lots of leftovers!
FRIDAY:
Pizza for Nora's birthday party with my family
Raw veggies
Cake
SATURDAY:
Spaghetti
Green beans
Applesauce
Leftover birthday cake
We also made these cute turkey "cookies" for Thanksgiving.
We decided it was finally cold enough for Nora and Simon to break out their footie pajamas — they were both thrilled!
Oh, and we got face paint… need I say more 🙂